Student Bio
Andrew Voorhees is currently in his 5th year of study in the Architectural Engineering Program at Penn State University. In May 2013 he will graduate with an Integrated Bachelor/Master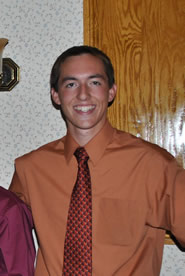 of Architectural Engineering degree, with a focus on structural systems. Andrew passed the FE Exam this past April and will gain EIT status upon graduation. He plans to pursue his PE license after graduation and looks forward to working as a structural engineer at a design firm where he can gain professional experience.

Over the past two summers, Andrew has worked in renovations and tiling. The experience has given him the opportunity to work with his hands while also developing important skills. He has learned how to coordinate between the different disciplines involved in the projects, as well as how to communicate effectively with the clients. Working on the contractor's side of the project has proven to be valuable experience.

Outside of the classroom, Andrew is involved in other activities. Over the past four years he has been an active member of Cru (Campus Crusade); which has included leading a Bible study as well as leading the Community Team, which plans and runs the organization's events. He has accompanied several concerts for different music groups on campus, and enjoys playing piano and guitar in his spare time as well. He also enjoys outdoor activities including hiking, fishing, and skiing.
To view Andrew's resume, please click here.