BUILDING STATISTICS PART 1
GENERAL BUILDING INFORMATION
Building Name: Cannot Disclose
Location and site: Maryland
Building Occupant Name: Prince George's County Public School
Occupancy or function types: (E) – Education
(I-4) – Institutional
(B) – Business
Size of building: 254,878 GSF
Number of stories above grade: 3 Stories 70' in height
Dates of construction: December 2011-August 2013
Project Cost: Approximately 75 Million
Project Delivery: CM at Risk, Cost + Fee w/ GMP

PRIMARY PROECT TEAM

Architecture – Design and Functional Components
This project entails the demolition of an existing high school built in 1959, and the construction of a new state of the art school with a capacity of 1,200 students. The new building is located within close proximity of the present one so that it can be tied into the existing gymnasium. The new three story building consists of two, three story classroom wings, a connecting atrium, an auditorium, cafeteria, administrative offices, culinary labs, and auxiliary gym facilities connected to the existing gym which was finished in 2003. In the heart of the building is a large rotunda and spiral stair case topped with a curtain wall that creates a nice architectural feature for the building. Typical finishes consist of painted CMU and abuse-resistant gypsum drywall, tile, resilient flooring, and acoustical tiled ceilings.
Architecture – Codes & Zoning Requirements
Code:
International Building Code (IBC) 2006
Life Safety Code 2009
Zoning Requirements:

Height and Area Limitations:

Height Modification:

E

Tabular Height:

2 Stories 55'

Automatic Sprinkler System add 1 story & 20'

Tabular Area:

14,500 s.f.

Allowable Height: 3 Stories 75'

I-4

Tabular Height:

2 Stories 55'

Tabular Area:

13,00 s.f.

A-1

Tabular Height:

2 Stories 55'

Tabular Area:

8,500 s.f.
Building Enclosure
Building façades
The exterior for this building is comprised of 4 differently colored Trenwyth/Prairie Stone ground-face CMU's, prefabricated architectural Aluminum faced plastic core panels, Phenolic panels, corrugated steel panels, perforated aluminum panels, and translucent curtainwalls. The windows are aluminum with a low-E insulating glass.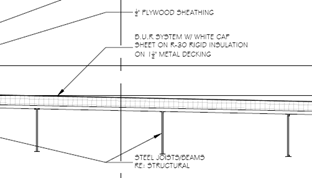 Roofing
The roof for the new high school will be primarily built up roofing with a white cap sheet on top of fiber glass insulation to reduce the heat island effect. The roof to the auditorium is a metal roof panel system.
Sustainability Features
This project has been designed to achieve a LEED Gold rating by acquiring no less than 39 points under the US Green Building Councils LEED® Green Building Rating System ™ for New Construction. The majority of the projects points will be coming from Sustainable Sights and Indoor Environmental Quality. Several ways this rating will be achieved is by focusing on alternative transportation, water efficiency, reducing the heat island effect of the roof, recycling/managing construction waste, and using Low-Emitting Materials. However the building falls short of capturing any points for day lighting and renewable energy.