GENERAL BUILDING DATA
Building Name: Taylor Hall, George Mason University
Location and Site: Campus of George Mason University
10444 Presidents Park Drive
Fairfax, VA
Building Occupant Name:  George Mason University
Occupancy Type:  Dormitory, New Construction
Mixed Use:
R-1/R-2: Residential - Dormitory
R-2: Residential – Apartment
A-3: Assembly
S-2: Storage
B: Business
Size (SF): 70,057 GSF
Number of stories above grade:  4
Primary Project Team:
                Owner: George Mason University
                CM:  Balfour Beatty Construction (www.balfourbeattyus.com)
                Architect:  Gensler (www.gensler.com)
                Structural Engineer:  Thornton Tomasetti (www.throntontomasetti.com)
Civil Engineer: Paciulli, Simmons & Associates (www.psaltd.com)
MEP Engineer: Encon Group (www.encongroup.com)
Dates of Construction: May '13 – June '14
Overall Project Cost: $16,000,000
Delivery Method:  Design-Build (with competitive bid)
ARCHITECTURE
Architectural design function: The building will function as a freshman dorm building and is intended to be separated into different communities or groups (See figure 1) of rooms with several study and congregation areas. The ground floor will a multi-purpose common room, staff apartments, a full laundry room, a housing office, group living rooms, and bathrooms, in addition to mechanical, electrical, and sprinkler rooms.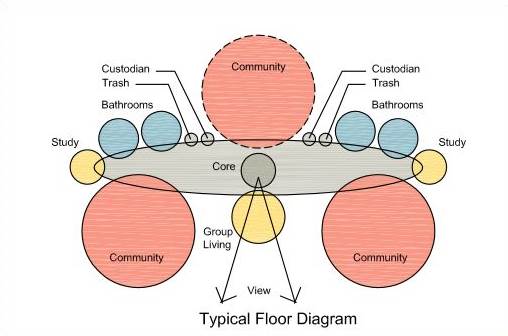 Figure 1. Floor Diagram representation from George Mason University's Request for Proposal
Major Codes:
General:         -       ICC International Building Code (IBC) – 2009
The Americans with Disabilities Act Accessibility Guidelines "ADAAG "– 2004
CC. USGBC LEED 2009 for New Construction and Major Renovations
National Fire Protection Association (NFPA) – 2007
Mechanical:   -      ASHRAE Standard 62-2010 Ventilation for Acceptable Indoor Air Quality
ICC International Mechanical Code (IMC) – 2009
ASHRAE Standard 90.1-2010 Energy Standard for Buildings Except Low-Rise
                                               Residential Buildings
Electrical:       -       National Electrical Code (NEC) – 2008
 ICC International Energy Conservation Code (IECC) – 2009
 National Electrical Code/NFPA 70 – 2008
Plumbing:       -      ICC International Plumbing Code (IPC) – 2009

Zoning: Must maintain 100' tree buffer (save area) between site and Roberts Rd per University tree protection agency. Must maintain silt fences to trap job-site runoff from nearby stream 350' south of site.

Historical requirements of the building:  BCOM must approve that the design meets regulations and verify that it matches the design of the surrounding buildings. Traditionally, GMU has a very modern Architecture type.
BUILDING ENCLOSURE
The typical building façade is a weep holed running-bond brick face with an air space, followed by 2" polyisocyanurate building insulation, moisture barrio, spray foam insulation, 6" metal studs, and 2 layers of 5/8" GWB. In some cases there are insulated composite metal panels installed in place of the brick. There are aluminum storefront segments in the multipurpose rooms and on the first floor with both vision glass and spandrel glass. These aluminum storefronts have thermal barrios within them to avoid the creation of a heat bridge. Frosted glass is also used in bathroom areas.
The roofing system is the standard applied to surrounding buildings, as required from BCOM. It is an asphalt shingle system attached to a self-adhering, high-temperature rubberized asphalt underlayment. In areas not covered by the self adhering underlayment, a felt underlayment is to be used. This is attached to blocking and substrate insulation on metal decking.
SUSTAINABILITY FEATURES
The building is expected to meet or exceed DEB Notice 121510 (Virginia Energy Conservation and Environmental Standards) and will exceed 2006 IECC energy standards. It is also expected to implement Green Building educational features, that monitor and display live building power consumption to help influence conservation of energy. Enthalpy Plate Heat exchangers are used in the rooftop air handling unit which help to precondition the incoming outside air. This system is also a variable speed system to slow down air production when the building is in low occupancy. These steps help to reduce energy usage. Combined with usage of local materials, daylighting strategies, low emitting materials, and site sustainability features, the building is currently tracking 58 LEED points and is expected to easily obtain LEED Silver certification.