The Building
Building Name: Tobin Center for the Performing Arts
Location & Site: 100 Auditorium Circle, San Antonio, TX 78205
Occupant Name: Tobin Center for the Performing Arts
Occupancy Type: Assembly Group A-1 (Primary Occupancy)
Size: 172,970 GSF
Stories: 6 + 1 Basement
Dates of Construction: January 8, 2010 - July 29, 2014
Delivery Method: Design-Bid-Build
Projected Cost of Project: $135 million
Second Cost (addresses upgrades to site, specifically for improved access to the riverwalk, a plaza outside the Tobin Center, & a memorial to veteran Medal of Honor winners from San Antonio): $7 million construction & $1 million design/soft costs
Project Team
Owner: Bexar County Performing Arts Center Foundation
Owner's Rep: The Projects Group, Zacry Construction Corp., Marmon Mok
Construction Manager: Linbeck
Architect of Record/Front of House (Prime): LMN Architects
CA Lead/Back of House (Associate/LEED Consulting): Marmon Mok
Landscape Architect: Mesa Design Group
Historic Preservation Consultant: Fisher Heck Architects
Civil Engineer: Pape-Dawson Engineers, Inc.
Structural Engineer: Walter P. Moore (Prime/Front of House); Alpha Consulting Engineers (Associate/Back of House)
Mechanical & Plumbing Engineer: Timmons Designer Engineers (Prime); Coetting & Associates (Associate)
Electrical Engineer: TTG Goetting
Interior Designer/Environmental Graphics: Sussman/Prejza & Company, Inc.
Theater Consultant: Fisher Dachs Associates, Inc.
Acoustical Consultant: Akustiks
Architecutral Lighting: Horton Lees Brogden, Inc.
Telecommunications/Security: Sparling
Food Service Consultant - Design: Ricca Newmark Design
Code Consultant: Rolf Jensen & Associates
Commissioning Agent: TTG Goetting
Architecture
The Tobin Center for the Performing Arts is an inspiring expression for the performing arts in San Antonio. Its design integrates functionality, theatricality, and community in both its historic elements and new addition. The design is driven by four distinctive objectives:
To maintain the primary historic and iconic facades, as well as enhance the south entry
To create a dynamic interplay of form, geometry and material between historic elements and the new addition
To orient the Studio Theater and lobby toward the San Antonio River
To integrate a new Event Plaza along the San Antonio River Walk, encouraging more city events and outdoor performance space
The key to these objectives is the geometric relationship of the new multipurpose auditorium to the historic south façade and arcade wings, known as the Municipal Auditorium. Therefore, the new multipurpose auditorium will be positioned at a 75 degree angle to the existing south façade, and the back of the orchestra level will be at the same level as the existing lobby. This configuration allows for the Studio Theater to be located within the historic west façade and a new Event Plaza alongside the river walk.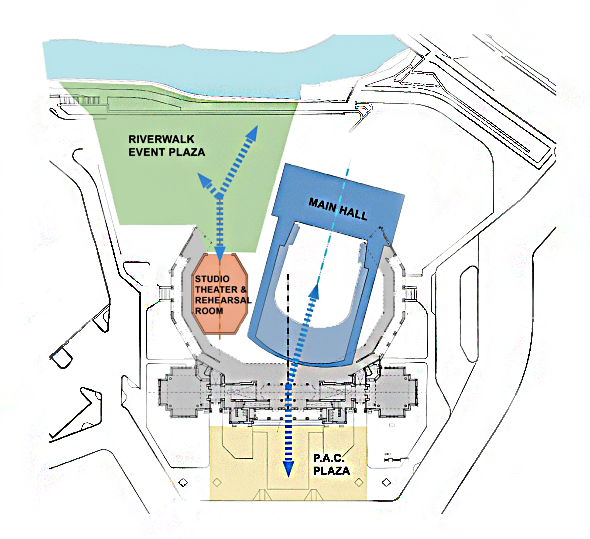 [Courtesy of LMN Architects]

It will function as a state of the art performance center for various performing arts organizations in San Antonio. The Main Auditorium will include 1750 seats, an appropriate setting for symphonic, operatic, theatrical and amplified presentations. Additionally, a flat floor Studio Theater, with 200 seats, will feature theatrical configurations, music rehearsals, and community events.
Major National Codes
2009 International Building Code
2009 International Mechanical Code
2009 International Plumbing Code
2009 National Electric Code
2009 International Fire Code
Zoning
Construction Type 1-B
D H HE RIO-3: downtown historic (D), historic district (H), historic exceptional district (HE), RIO-3 (river improvement overlay District 3)
Parking: N/A, the project reduces the occupant load of the current building, which has no dedicated parking. There are public parking lots adjacent to the project site.
Historical Requirements
The Municipal Auditorium, which is the historical façade of this facility, is a prime example of the Spanish Colonial Revival style, which at the time of its construction in 1926 was very popular. The south elevation is detailed with carved Indiana limestone, while the front façade's towers have tile domes at the top. Destroyed by a fire in 1979, the remaining structure is still a San Antonio landmark. Therefore, preservation philosophies to save, use, restore, and salvage have been considered.
Much of what is being saved, including the original south arcade and main entrance, the towers, and the flanking pavilions on the east and west will be incorporated and function with the new program. Parts of the building being demolished will be salvaged and reused, and/or recycled for the use of the new facility design, site, or transition to the river. An estimated 15,447 SF of stone is to be dismantled, while 31,593 SF is to remain.
The Municipal Auditorium is listed in the National Register of Historic Places. Historic portions and new additions will be guided by The Secretary of the Interior's Standards for the Treatment of Historic Properties. As such, to correctly handle the historic portions, preservation, restoration, and rehabilitation treatment approaches have been considered, especially towards LEED accreditation.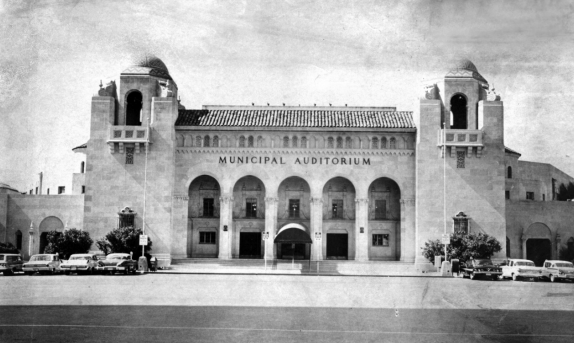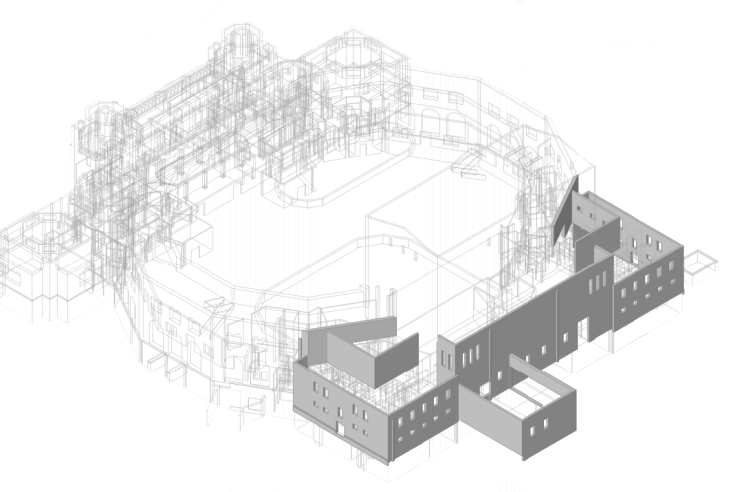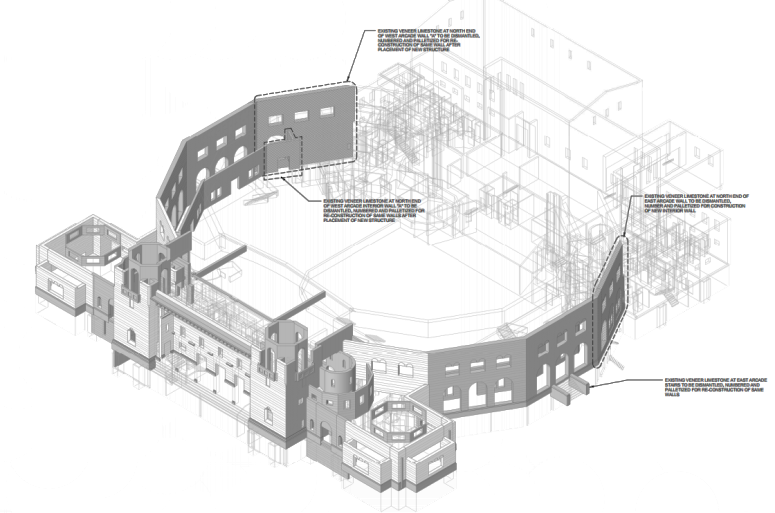 Estimated Indiana Stone to be Dismantled – 15,447 SF

Estimated Stone to Remain – 31,593 SF

[Courtesy of LMN Architects]
Building Enclosure
The existing façade of the Municipal Auditorium includes Indiana limestone, found as block courses or carved, and can be seen primarily at the south elevation. The front façade includes an arcade book-ended between square-based towers with tile domes at the top. It's roofed with metal and clay tile, as well as colorful glazed mosaic tile. The building has steel casement windows, primarily on the sides at the balcony level, and carved wood doors.
The new addition's façade, known as the "veil", will incorporate a panel system. The panels are 0.063" aluminum sheets, coil coated on both sides with a PVDF paint system in a custom color. All panels are fastened to a custom extruded aluminum rail, with a minimum length of 16'-0" and also sprayed with a PVDF paint system in a custom color. Exterior lighting will be integrated to illuminate and animate the rhythmic pattern of the façade.
Panel Configurations


MP-1A & B

MP-1C & D

MP-1E & F

Open to
Beyond

Typical
Panel

Typical Panel with Perforated Infill

Paired Perforated
Fin Panels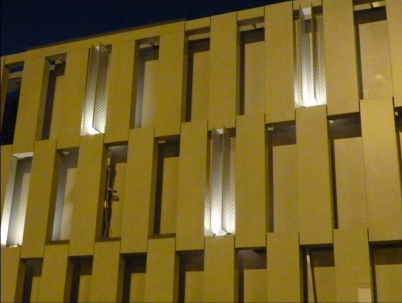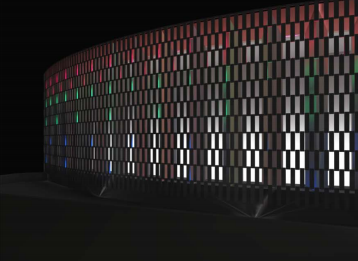 Typical Veil Mock-up & Rendering
[Courtesy of HLB Lighting]
Roofing
Three roof systems of single ply, fully adhered thermoplastic membrane exist in this project. Roof Type 1 includes a new or existing concrete deck substrate. It has a fully adhered single ply roofing system installed directly over, protections board, rigid insulation, and an air/vapor retarder sheet. Roof Type 2, similar to Roof Type 1, is a new concrete deck substrate with new concrete floating roof slab system. Roof Type 3 includes a metal deck substrate with a thermal barrier sheathing that is mechanically attached to the substrate.
Sustainability
LEED-NC 2.2
LEED-NC 2009
Registered as a LEED NCv2.2
The Bexar County Performing Arts Center (BCPAC) strives for sustainability in this venue. Through preservation, restoration, and rehabilitation, especially with an existing structure such as the Municipal Auditorium, a sustainable act is in practice. To evaluate sustainable features, two versions of the LEED for new construction (LEED-NC) Rating System have been adopted: version 2.2 & 2009. Using either version makes it possible to achieve LEED certification.
As a guide to sustainability, the target is to understand the location of the city. This promotes public transportation, use of exterior plazas for public space, outdoor air delivery monitoring, and water conserving plumbing fixtures and water reuse.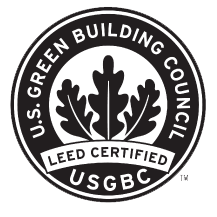 Construction
Linbeck Group, LLC is the construction management firm for the Tobin Center. The delivery method is design-bid-build, with a projected budget of $135 million. Additionally, the project has a second budget that addresses upgrades to the site, specifically for improved access to the San Antonio Riverwalk, an Event Plaza, and a memorial to veteran Medal of Honor winners from San Antonio.
Structural
The ability of the structural frame to resist lateral loads and provide stability under gravity loads derives from the complete installation of a lateral-force resisting system and diaphragm. Included in the structure are steel braced frames. A concrete slab cast on composite metal deck diaphragm is completely attached to all steel floor members. A metal deck diaphragm is completely attached to all roof members. The entire diaphragm creates a continuous element linking the lateral-force resisting system to all other columns.
Lighting
Fluorescent, incandescent, HID, and LED fixtures are used throughout. The stage and house lighting control system will include a number of twenty ampere and fifty ampere high-density, solid-state dimmers, as well as single-pole and two-pole relays that feed receptacles in outlet boxes above the stage and in the auditorium in a dimmer-per-circuit configuration. This system will be controlled by an electronic memory to establish, store, and recall preset intensity levels and fade times that can be accessed from both the main control console and remote pushbutton or touchscreen preset stations.
Electrical
The utility service, CPS Energy, provides power for each of the four submersible, dry-type main service transformers, each rated at 13.8 kV on the primary and 480/277V on the secondary. They are sized, controlled and engineered by the local utility company. The main service from these transformers is provided through two indoor, surface-mounted, single-ended main switchboards, MSB-1 and MSB-2, located in the main electrical room of the basement. Both switchboards are 480/277V, 3-phase, 4 wires + ground, 150 kAIC, with NEMA 1 enclosure. MSB-1 and MSB-2 steps down the voltage of either 208Y/120V or 218Y/126V to switchboards and distribution panels. Emergency power is provided by a diesel generator rated at 250 kW/312.5 kVA. No optional back-up power exists in the system.
Mechanical
The mechanical system, which is run by a BAS, is designed to optimize performance, and minimize maintenance and energy use. A newer technique of displacement ventilation is utilized beneath auditorium seating. It offers thermal comfort for patrons, the quietest possible air distribution, and energy efficiency advantages. Conditioned air is distributed near the patrons, and as it warms, it rises to the top of the auditorium volume. Optimum indoor air quality is provided by supplying air at low levels and driving contaminants out of the occupied air zone. In addition to comfort, the noise reduction associated with displacement helps to meet acoustical requirements, especially since auditoriums and theaters, in general, are sound-sensitive.
Fire Protection
The building will be protected throughout by an approved automatic sprinkler system, fire alarm system, and fire extinguishers, with a design standard based on NFPA 13, 2007 edition. Approved audible devices (alarms) shall be connected to every automatic sprinkler system. Sprinkler water-flow alarm devices are to be activated by water flow equipment to the flow of a single sprinkler of the smallest orifice installed on the system. Emergency voice/alarm communications systems shall be provided with an approved emergency power source. The fire alarm systems include manual and emergency voice/alarm communication.
Transportation
There are seven (7) elevators in the Tobin Center. The theater's main passenger elevators will provide service to a total of seven levels. Several of these levels are secondary as they are provided to meet accessibility requirement codes and not intended as the primary route for patrons.
Telecommunications
Data and control systems are implemented into the design of the Tobin Center. They serve telephone, data, CATV, access control, overhead paging and intercom, and security video surveillance.