Below are the technical assignments required for the mechnical students for Penn State AE's senior thesis course. Each assignment is described and a link is provided. To access the PDF, click on the picture of the report below.
Technical Assignment One
For technical assignment one, a analysis of the Gaige Building's compliance with ASHRAE Standards 62.1 and 90.1 was conducted. The report can be viewed by clicking on the graphic of the assignment below: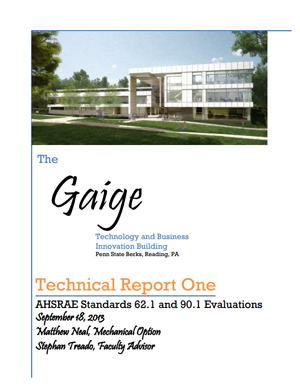 Technical Assignment Two
For technical assignment two, a complete analysis of the current building's design loads, energy consumptions, and annual cost estimation is explored. The Gaige Building was modeled in Trace 700 for the current analysis, and all the analysis are compared to a Carrier HAP model provided by the mechanical engineers on the project: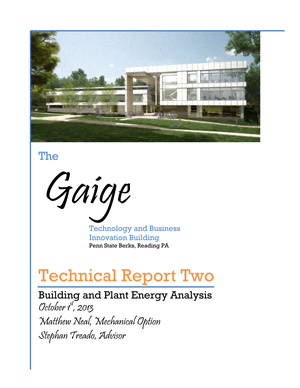 Technical Assignment Three
In Technical Report Three, an in depth analysis of the Gaige Building's mechanical system is provided. First, ventilaiton, heating, and cooling load compliance and summaries are reviewed and discussed. Then, in depth analysis of the airflow and hot/chilled water systems are provided, with much discussion of the overall builiding's control system. Finally, an analysis of the Gaige Buidling's compliance with the 2009 LEED Rating System for New Construction is provided.