Russell is currently studying in his 5th year at the Pennsylvania State University majoring in Architectural Engineering with a focus in Construction. He is expected to graduate in May of 2014 with a Bachelor of Architectural Engineering, a minor in Architectural Studies, and a LEED Green Associate certification.
After participating in the 2011 AE study abroad program in Rome, Italy, Russell interned in the estimating department of L.R. Costanzo Construction Services in Scranton, PA during the summer of 2012 gaining valuable experience with reading construction documents and assembling lump sum bids in a wide variety of markets. In the summer of 2013, Russell interned with the project management team of HSC Builders & Construction Managers on the Cancer Treatment Centers of America Eastern Regional Medical Center in Philadelphia, PA. It was here that he supervised a 4-week deep foundation operation, organized submittal logs, and managed Department of Health documentation for multiple phases of the job.
In his spare time, Russell leads an active lifestyle serving as a guide for Penn State Adventure Recreation, a university program that takes students outside to participate in outdoor adventure sports such as rock climbing, whitewater rafting, backpacking, caving, mountain biking, and other activities. As Russell has always held great interest in a wide range of athletics, he dubs his favorites to be skiing, golf, and mountain biking.
Russell will be starting his professional career with Wohlsen Construction as a project engineer in June of 2014.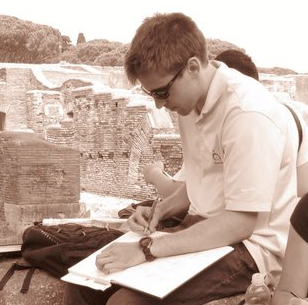 Note: While great efforts have been taken to provide accurate and complete information on the pages of CPEP, please be aware that the information contained herewith is considered a work‐in‐progress for this thesis project. Modifications and changes related to the original building designs and construction methodologies for this senior thesis project are solely the interpretation of Russell Voigt. Changes and discrepancies in no way imply that the original design contained errors or was flawed. Differing assumptions, code references, requirements, and methodologies have been incorporated into this thesis project; therefore, investigation results may vary from the original design.