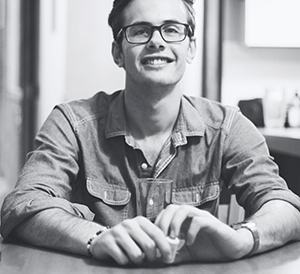 Reinhardt Swart is currently a 5th Year Architectural Engineering student at The Pennsylvania University. He will be graduating in December 2014 with an integrated Bachelor/Master of Architectural Engineering, focusing in lighting design. Reinhardt is the current President of the Penn State Chapter of IES (Illuminating Engineering Society). He is a member of the President's Council of AE and Penn State Chapter of the Architectural Engineering Institute (Student Society of Architectural Engineers).
During the past three summers, Reinhardt has worked with general contractor, Grunley Inc, and specialty architecture subcontractor, ISEC Inc. Most recently, Reinhardt worked with a nationally recognized AE firm, SmithGroupJJR, in Detroit, MI doing lighting design. These past experiences have provided Reinhardt with a unique look at the industry, both from a construction managers' viewpoint and a lighting designers' perspective. He is looking forward to interning at Tillotson Design Associates in New York, NY this next summer.
Reinhardt passed the FE Exam in spring 2012 and will gain EIT status upon graduation. In the near future, Reinhardt aspires to get his LC (Lighting Certified) license as well his Professional Engineer (PE) license. Collaborating with two classmates, Reinhardt won the Design with Light 2013 Student Lighting Competition in the spring of 2014. Reinhardt has received The Litecontrol Outstanding Performance in Lighting/Electrical in 4th Year AE Class Award, The EwingCole Award, Bechtel Corporation Scholarship, Sharron E. Williams Memorial Scholarship, and the Evan Pugh Junior and Senior Scholar Award.
Besides lighting design and architectural engineering, Reinhardt enjoys dancing, music, volunteering, and leadership opportunities. He has danced for five years, serving as the Treasurer, THON Weekend Family Relations Chair, dance instructor, and THON Dancer in his dance crew, Raw Aesthetic Movements. Related to expression, Reinhardt enjoys drawing, making art and sculpture, learning about and listening to music, and helping others express themselves.
note: while great efforts have been taken to provide accurate and complete information on the pages of CPEP, please be aware that the information contained herewith is considered a work-in-progress for this thesis project. modifications and changes related to the original building designs and construction methodologies for this senior thesis project are solely the interpretation of Reinhardt Swart. changes and discrepancies in no way imply that the original design contained errors or was flawed. differing assumptions, code references, requirements, and methodologies have been incorporated into this thesis project; therefore, investigation results may vary from the original design.