NEIU El Centro

Chicago, Illinois

Michael Gramarossa

Mechanical Option

Student Biography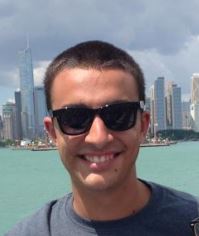 Mike Gramarossa is currently in his 5th year of study in Architectural Engineering at Penn State University. In May 2015, he will graduate with an integrated degree of a Bachelor and Master of Architectural Engineering with an emphasis on mechanical systems. During the summer of 2012, Mike studied abroad in Rome, Italy and received an Architecture Studies Minor. Upon graduation, Mike will be certified as an Engineer in Training (EIT). Mike has accepted a job with Jaros, Baum & Bolles upon graduation. JB&B is an MEP engineering design firm located in New York City and Mike has plans to obtain a Professional Engineering License at this firm.
Mike has had two internships during his college career. His first was with Severud Associates as a structural engineering intern in New York City. There he utilized computer programs as well as hand calculations to contribute to the structural design and cosulting services for multiple projects throughout New York City. Mike's second internship was with Primera Engineers in Chicago, Illinois as a mechanical engineering intern. There he performed heating and cooling load calculations, reviewed construction submittals, and other tasks to contribute to the design of systems throughout Chicago, including schools, hospitals, and universities. Mike's unique work experience in two different disciplines has allowed him to better understand the technical aspects that go into designing a building.
During his time at Penn State, Mike has been involved in the SSAE mentoring program and a student member of ASHRAE. He is also involved with Penn State's Dance Marathon serving on two committees in the worlds largest student run philanthropy. Currently, Mike is a 2014 Homecoming Captain and was the coordinator for the 2014 Penn State Color Run. Apart from his involvement in school, Mike enjoys travelling and hiking.
Contact: mvg5182@psu.edu
Note: While great efforts have been taken to provide accurate and complete information on the pages of CPEP, please be aware that the information contained herewith is considered a work‐inprogress for this thesis project. Modifications and changes related to the original building designs and construction methodologies for this senior thesis project are solely the interpretation of Michael Gramarossa. Changes and discrepancies in no way imply that the original design contained errors or was flawed. Differing assumptions, code references, requirements, and methodologies have been incorporated into this thesis project; therefore, investigation results may vary from the original design.
This page was last updated on 09.08.2014, by Michael Gramarossa and is hosted by the AE Department ©2014.