RESIDENTIAL BUILDING CONSTRUCTION
Program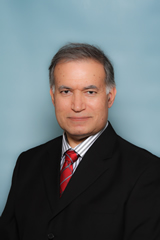 The Dean of the College of Engineering at Penn State has appointed Dr. Ali Memari to be the next Bernard and Henrietta Hankin Chair of Residential Construction and Director of the Pennsylvania Housing Research Center. Dr. Memari is currently a Professor of Architectural Engineering and Director of the Building Envelopes Research Laboratory at Penn State. His tenure as Hankin Chair and Director will begin July 1, 2012.
The Bernard Hankin Professorship in Residential Building Construction was established at the Pennsylvania State University in 1979. In 1988, this position became the Bernard and Henrietta Hankin Chair in Residential Building Construction. The chair was initially funded by a $1,000,000 endowment: testimony to the farsightedness of Mr. Bernard ("Bernie") Hankin and the generosity of the Hankin family. The goal of the Residential Building Construction Program is to prepare young engineers for the career in the residential construction industry. Dr. Jack Willenbrock of the Civil and Environmental Engineering Department at Penn State was the first incumbent of both positions. Dr. Willenbrock held the latter position until his retirement in August 1995. Dr. Eric Burnett was appointed to the Chair in 1995 and started at Penn State in January 1996. Dr. Burnett retired in August 2005 and Bo Kasal was appointed to the Chair in August 2005 until October 2010. Dr. Andrew Scanlon then held the position from October 2010 until Dr. Ali Memari begins July, 1, 2012.
Dr. Willenbrock initiated the Pennsylvania Housing Research Center (PHRC) at Penn State in 1988. Dr. Harvey Manbeck of the Agricultural and Biological Engineering Department acted as interim Director during the period August through December 1995. Eric Burnett acted as Director of the PHRC from January 1996 to August 2005. Dr. Bohumil Kasal took over as Director of Research of the PHRC from August 2005 until October 2010. Dr. Andrew Scanlon has held the position from October 2010 until June 30, 2012. Dr. Ali Memari is the current Director.
Former Hankin Chairs - Where are they now?
The residential building construction program entails undergraduate and graduate courses and research program in the area of residential building construction. The courses can lead to the Housing Certificate that represents a formal recognition of the student's qualifications. The housing certificate program is being expanded and additional courses relevant to residential construction are being added.
The fundamental research is performed via traditional ways; the vehicle for applied research and technology transfer is the Pennsylvania Housing Research/Resource Center (PHRC) that has the broad mission of serving the housing industry and society to improve housing through education, training and research.