.:
The Millennium Science Complex Proposal
Posted Below is BIMception's proposal for the redesign of The Millenium Science Complex. The proposal highlights the three main focuses, on which BIMception has decided to concentrate its efforts. These include an evaluation of the building enclosure and a redesign of the facade panels, an investigation on the usage of vertical space within the ceiling plenum, and a redesign of the cantilever section of the building. The report outlines proposed redesign solutions through specific tasks and procedures for accomplishing these tasks. All deliverables and expected outcomes have been documented. Additional MAE/BAE requirement,s for participating members, offer highly technical indepth investigations that have been geared to better accomplish the team's goals. These requirements are also ourlined below.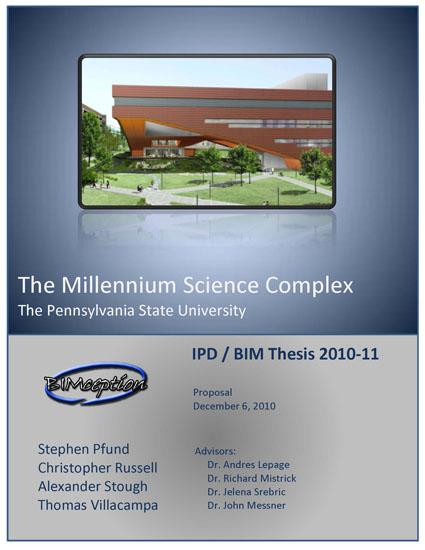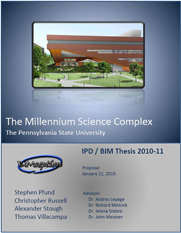 BIMception Proposal - Revision #1
Revision #1 - January 21, 2011
This revision includes the following changes
1. Reduction in structural scope has added time and value to the most critical concentrations. Connection designs and evaluation of exterior structure has been removed.
2. Electrical requirements have been added
3. Additional daylight/lighting control of the existing perimeter office lighting design based on each façade has been added
4. Reduction in scope of lighting design. The lobby space lighting redesign has been elliminated.
5. Crane analysis has been added to construction management task and tools within the plenum coordination section.
6. Scope of construction management work has been adjusted based on all above changes.
Mechanical MAE Requirements- Alexander Stough
In order to fulfill the requirements established for the MAE program, I will investigate the exterior façade with material taught in AE542 – Building Enclosure Design and Science. This class analyzes the effects the enclosure can have on the control of thermal transfer and structural loading. In addition, AE558 – Centralized Heating Production and Distribution Systems will be used for economic modeling and system lifecycle costing.
Structural MAE Requirements- Stephen Pfund
The structural MAE requirements will be fulfilled through the incorporation of knowledge gained from the three MAE electives completed so far. Advanced 3d computer modeling, based on lessons in AE 597A-Advanced Computer Modeling of Building Structures, will be used to model the gravity and lateral systems to achieve proper simulation of building performance. The model will use proper assumptions and modeling techniques including connection rigidities, boundary conditions, shear wall meshing, and rigid and semi-rigid diaphragm assignments. In combination with methods of analysis and design for seismic and wind loads obtained from both AE 597A and AE538-Earthquake Resistant Design of Buildings, the Lateral System can be modeled analyzed and redesigned considering seismic design criteria of the existing and modified systems. Although not a true focus of this thesis, the use of the knowledge gained from AE534-Steel Connections Design will assist in any additional efforts involving the evaluation of the connections of the façade to the exterior columns, however this will not include a full redesign of the connections.