User Note:
"While great efforts have been taken to provide accurate and complete information on the pages of CPEP, please be aware that the information contained herewith is considered a work-in-progress for this thesis project. Modifications and changes related to the original building designs and construction methodologies for this senior thesis project are solely the interpretation of Erik Carlson. Changes and discrepancies in no way imply that the original design contained errors or was flawed. Differing assumptions, code references, requirements, and methodologies have been incorporated into this thesis project: therefore, investigation results may vary form the original design."
BIOGRAPHICAL SKETCH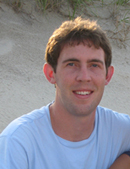 Erik Carlson is currently enrolled in his 5th year in the Architectural Engineering Program at Penn State University. In May 2008 he will graduate with a Bachelors degree in Architectural Engineering, with a focus on construction management. In the near future Erik plans to earn a Masters in Business to supplement his Architectural Engineering degree in the construction industry. This past spring Erik passed the FE Exam and will gain EIT status upon graduation.

Over the past three summers Erik has participated in Internships, both in the field and in the office, which have enabled him to develop a skill set in the construction field as well as build on to the knowledge attained in the classroom. Erik's first internship was with the Whiting-Turner Contracting Company where he helped start up a warehouse project from the office and then moved on site where he was in charge of the on-site blasting. The past two summers Erik has spent with Grunley Construction. The first summer he spent in the Estimating Department where he was in charge of estimating smaller jobs and a few CSI Divisions from the larger jobs. The next summer Erik worked on the Herbert Hoover Renovation Project, for the Department of Commerce, where he worked in a Joint-Venture to start up phase 1 of 8. He looks forward to next year where he will be able to apply this knowledge and experience as a Project Engineer.

Outside of the classroom Erik is a member of the Student Partnership for Achieving Construction Excellence (S:PACE) and the Penn State Snowboard Club. He enjoys downhill skiing and giving ski lessons at Tussey Mountain to the public and the Penn State Kinesiology classes.