Architectural Overview: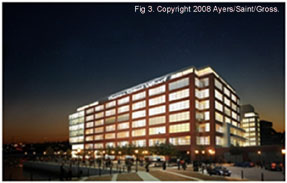 The Thames St. Wharf Office Building sits on the western edge of the historic Fells Point neighborhood in downtown Baltimore and is the first stage in the Harbor Point Development Project.  It is bordered by S. Caroline St. to the East, empty lots to the North and West that are also part of the Harbor Point Development Plan and will be developed at a later date, and the Harbor Channel to the south.  The building is built partially over land and partially out over the water into the Harbor Channel.  Surrounding three sides of the building will be a promenade that will connect Harbor East to Fells Point.  The promenade will allow boats to dock directly in front of and next to the building allowing the neighborhood to keep the feel of its fishing wharf roots while it transitions into a more modern commercial area. 

                The building itself is a seven story building with an 8th floor mechanical penthouse.  The first floor of the building will be for retail and restaurant spaces along the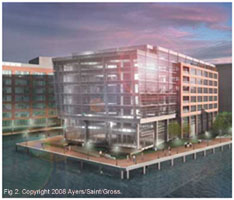 promenade.  The second level will be the main lobby for the offices above and levels three-seven will be office space.  There are two main elevator and stair banks in the building, one in the northern half and the second in the southern half both sitting in the center of each area.  

                The exterior is partially glass and partially brick with large windows.  The all glass portion sits out over the water and along the promenade (Fig. 3) while the brick and glass combination sections are on the northern end of the building away from the water and facing the yet to be developed surrounding sites (Fig. 2). 
Applicable Codes:
Baltimore City Building, Fire and Related Codes 2003 Edition. The Baltimore City Code adopts and amends the 2000 editions of the Internation Building Code, the International Fire Code and the International Mechanical Code and also the NFPA 70 National Electric Code 1999 edition.
Zoning:
B-2-2: Community Business District
Historical Requirements:
N/A