User Note:
Note: While great efforts have been taken to provide accurate and complete information on the pages of CPEP, please be aware that the information contained herewith is considered a work-in-progress for this thesis project. Modifications and changes related to the original building designs and construction methodologies for this senior thesis project are solely the interpretation of Mr. Bell. Changes and discrepancies in no way imply that the original design contained errors or was flawed. Differing assumptions, code references, requirements, and methodologies have been incorportated into this thesis project; therefore, investigation results may vary from the original design.
This page was last updated on February 24, 2010 , By Chris Bell and is hosted by the AE Department ©2009




Tech I illustrates the existing conditions of the Thames St. Wharf Office Building site, the construction management techniques of the Armada Hoffler construction team and some insights into the reasons behind Harbor Point Development pursuing this project.   Contractual obligations between the owner, design firms, CM firm and the subcontractors are also presented.  Additionally a historical data estimate as well as a square foot estimate are included in this report and are compared to the actual construction cost.  To view Tech I please click on the image to the right.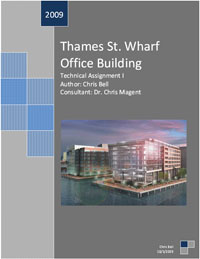 Tech II analyzes the key construction management aspects of The Thames St. Wharf
Office Building.  Included in this report is a detailed project schedule, a site plan for each phase of
construction, a detailed structural estimate and a general conditions estimate.   The detailed structural
estimate is compared to the actual construction costs of the project.  A review of some critical industries
that were discussed at the 2009 Pace Roundtable is also included in this report. To view Tech II please
click on the image to the right.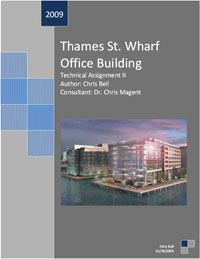 Tech III looks at aspects of the Thames St. Wharf Office Building that were uniquely
challenging, how certain issues were overcome and possible problem areas, schedule acceleration, value
engineering and areas for further research.  This report will be the basis for the final thesis proposal. To
view Tech III please click on the image to the right.