Building Statistics

Figure 1

©www.arte-factory.com
---
General Building Data
| | |
| --- | --- |
| Building Name: | 100 Eleventh Avenue |
| Site: | Manhattan's West Chelsea District |
| Function: | Residential |
| Size: | 148,000 sf |
| Height: | 249'-2" |
| Number of Stories: | 23 stories (1 below grade) |
| Date of Construction: | Sept 2007 through early 2010 |
| Project Cost: | Unreleased |
| Project Delivery Method: | Design-Bid-Build |
---
Project Team
---
Architecture

Design & Function
Dubbed a "vision machine" by its Pritzker Prize-winning architect Jean Nouvel, 100 Eleventh Avenue's defining feature is its façade, a panelized curtainwall system consisting of 1650 windows, each a different size and uniquely oriented in space. The building's curve is meant to contour the corner of 19th street and the Westside Highway, giving the 55 condominium units found within views of both the south and the west. In addition to the living units, 100 Eleventh Avenue contains 6000 sf of street-level retail space as well as elevated garden space and a 76 foot long indoor/outdoor lap pool. Sitting atop the building and encompassing the entire 21st floor is the penthouse, which boasts an extensive private roof terrace, as can be seen in Figure 2 below. 


Figure 2

©www.archpartners.com

Figure 3

©www.archpartners.com
Major National Code(s)

1968 Building Code of the City of New York

Zoning

Commercial District C6-3 (part of the Special West Chelsea District)
Historical Requirements

None
---
Building Enclosure
Building Facade

As mentioned above, 100 Eleventh Avenue's street-facing façade is clad with a panelized curtainwall system consisting of 1650 windows, each a different size and uniquely oriented in space. Light reflecting off the randomly-oriented windows limits views into the building while still allowing occupants spectacular floor-to-ceiling views of both New York City and the Hudson River. I am still researching the type of glazing and framing materials used in these large "mega-panels."
In addition, the bottom six floors are enclosed by a second façade offset 16 feet towards the street, as seen in Figure 3 below. The space between the two facades is filled with intricate steel framing and cantilevered concrete walls, columns, and balconies. Trees are suspended in air at varying heights, creating a "hanging garden" and a unique atrium space.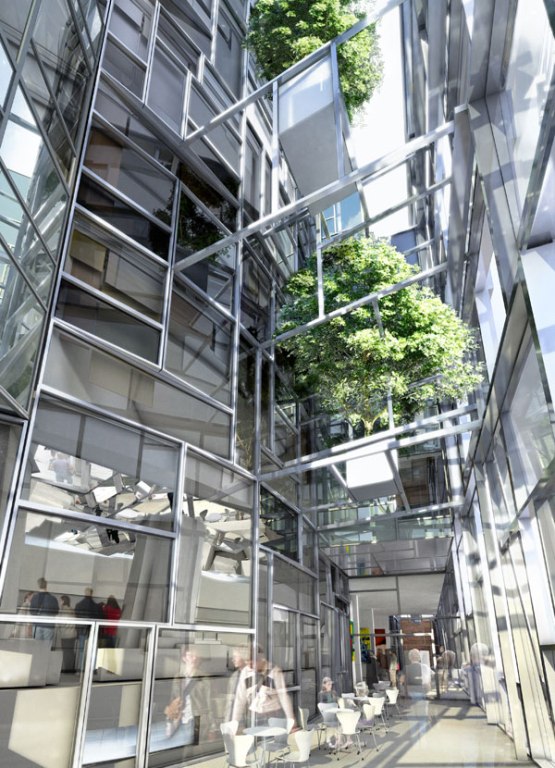 Figure 3
©www.arte-factory.com
The remaining portion of the building is enclosed by a masonry façade made up of 4x8 nominal-sized brick, backed by 8" concrete masonry units, 3" of insulation, and GWB. Aluminum-framed windows are set at varying angles, continuing the theme established by the street façade.

Roofing

The majority of 100 Eleventh Avenue's main roof serves as a private terrace for the penthouse. It is composed of modular pavers set on a filter fabric, polystyrene insulation, a drainage mat, and a sloping substrate per waterproofing manufacturers requirements.

---
Sustainability Features

Lutron solar shades and blackout shades are used in spaces adjacent to the panelized curtain wall, allowing occupants to vary the amount of penetrating sunlight with the touch of a button.

---
Primary Engineering Systems
Structural

100 Eleventh Avenue was designed as cast-in-place concrete with a two-way flat plate floor system, allowing floor-to-floor height to be maximized as well as providing acoustic barriers for the high-end units. The typical slab thickness (6 ksi) ranges from 9" on the north to 18.5" on the curved front edge, where 35-foot clear spans and the unique façade design require significantly more strength from the slab.  
  
The building sits on a 3-foot thick pressure slab that spans between piles and drilled caissons. In order to avoid the cost of underpinning the adjacent structures, a concrete secant wall system was used in place of foundation walls. The 12" thick ground floor braces the secant wall at street level and incorporates 4-foot by 4-foot torsional beams at the many slab steps, resisting the twist caused by the inward soil
pressure.


Superstructure

Photo Courtesy of DeSimone Consulting Engineers

3rd Floor Transfer Beams

Photo Courtesy of DeSimone Consulting Engineers


Lateral loads are resisted by a combination of core shear walls and seven long columns. Two of these columns are connected to the core shear walls by in-slab outrigger beams. These seven "long" columns (8 ksi), the longest of which stretches 28 feet, also support the lower floors' complex balcony system by cantilevering out over the column-free space between the double façade system. A number of these cantilevered balconies were post-tensioned using high strength steel Dywidag bars to control deflection caused by the heavy façade and tree loads.

In addition to the transfers provided by the cantilevered columns, 20-story columns transfer at the 3rd floor via large transfer beams, the largest of which is 7-feet wide x 5-feet deep. On the 19th floor, an 18" thick transfer slab reinforced with #10 @ 6" E.W. allows for the architectural shifting of columns.

Bottom 6th Floors
Photo Courtesy of DeSimone Consulting Engineers
Construction
100 Eleventh Avenue is located next to the Hudson River, a part of the island that was man-made and lacks the shallow bedrock typical of much of Manhattan's soil. This poor soil condition led to the use of piles and drilled caissons to transfer the loads to the ground. Soil reports revealed that two 100' -diameter brick gas storage tanks left over from the late 1800's lie 25' below grade.  This led to some difficulty in pile installation as a number of them deflected off the underlying structure.

In order to minimize fabrication and installation costs, the reinforcement for the curved slab edge was detailed with straight rebar and a single bend, instead of curved bars.
Electrical/Lighting
The common switchboard panel is a 120/208V, 3f, 4-wire system with a 4000A bus. Each apartment is fed by a 120/208V, 1f panel. Electrical feeders are run vertically through electric closets and then distributed horizontally.

The lighting system consists almost entirely of the linear, compact fluorescent type. Energy efficient electronic ballasts are used. A combination of photocells and electronic time clocks are used for outdoor lighting.
Mechanical
100 Eleventh Avenue employs a conventional heat pump loop system with an 800 GPM cooling tower located on the roof and a 2000 MBtu/hr boiler located in the cellar. Additionally, radiant floor panels line the street façade perimeter, helping address the heat loss due to the large expanses of floor-to-ceiling glass.

---
Engineering Support Systems

Fire Protection

A 100hp fire pump located at the cellar level provides 500 GPM of water at 170 psi to the building. All units are outfitted with sprinklers according to a light-hazard occupancy classification. All storage and commercial spaces are outfitted according to a ordinary-hazard occupancy classification. Each apartment has combustion smoke and carbon monoxide detectors located in each bedroom and the adjacent corridor.
Transportation
Vertical circulation is provided by a set of scissor stairs and two passenger elevators located within the buildings core. An additional private stairway leads from the penthouse to the roof.