STRUCTURAL OVERVIEW
THE NEW YORK POLICE ACADEMY'S EAST CAMPUS IS 536 FEET LONG AND 95 FEET WIDE. THE FLOOR TO FLOOR HEIGHT RANGES FROM 14 FEET TO 16 FEET. A GREEN ROOF SYSTEM IS UTILIZED ON THE TOP OF THE BUILDING. THE STRUCTURE OF THE NEW YORK POLICE ACADEMY CONSISTS PREDOMINANTLY OF STEEL FRAMING WITH A 14" CONCRETE SLAB ON GRADE ON THE FIRST FLOOR. ALL OTHER FLOORS HAVE A LIGHTWEIGHT CONCRETE ON METAL DECK FLOOR SYSTEM. ALL STRUCTURAL CONCRETE IS CAST-IN-PLACE.
FOUNDATION SYSTEM
THE GEOTECHNICAL ENGINEERING STUDY WAS CONDUCTED BY THE URS CORPORATION. THE STUDY SHOWED A VARIETY OF SOIL COMPOSITION, BUT WAS PREDOMINANTLY GRAY SILTY CLAY WITH SAND. THE BUILDING FOUNDATIONS FOR THE NEW YORK POLICE ACADEMY BEAR ON PILES WITH A MINIMUM BEARING CAPACITY OF 100 TONS AS SPECIFIED BY THE URS CORPORATION. ALL PILES ARE DRIVEN TO BEDROCK. ALL EXTERIOR PILE CAPS ARE PLACED A MINIMUM OF 4'-0" BELOW FINAL GRADE. PLEASE SEE FIGURE 1 FOR SAMPLE PILE CAP. CONCRETE PIERS, WALLS, STRUCTURAL SLABS ON GRADE, PILE CAPS AND GRADE BEAMS ARE PLACED MONOLITHICALLY. PILE CAPS ARE 16" IN DIAMETER.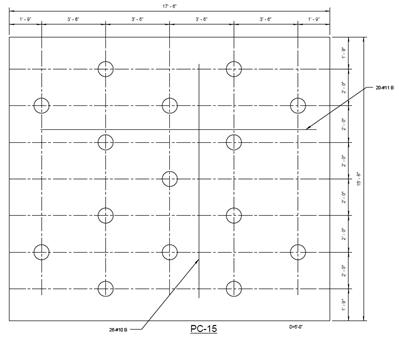 FIGURE 1: THIS IS THE PLAN OF A SAMPLE PILE CAP. DETAIL COURTESY OF TURNER CONSTRUCTION.
FLOOR SYSTEM
THE FLOOR SYSTEM IS MADE UP OF 3.25" LIGHTWEIGHT CONCRETE SLAB ON 3" - 18 GAGE METAL DECKING. THIS WILL FORM A ONE-WAY COMPOSITE FLOOR SLAB SYSTEM. UNITS ARE CONTINUOUS OVER THREE OR MORE SPANS EXCEPT WHERE FRAMING DOES NOT PERMIT. SHEAR STUD CONNECTORS ARE WELDED TO STEEL BEAMS OR GIRDERS IN ACCORDANCE TO REQUIRED SPECIFICATIONS. SEE FIGURE 2 FOR MORE DETAILS.

FIGURE 2:TYPICAL SLAB ON DECK FLOOR SECTIONS. DETAIL COURTESY OF TURNER CONSTRUCTION.
FRAMING SYSTEM
THE SUPERSTRUCTURE IS PRIMARILY COMPOSED TO W18 BEAMS, W24 GIRDERS AND W24 COLUMNS. BEAMS ARE SPACED AT 10' INCREMENTS WHILE GIRDERS ARE SPACED AT 30' INCREMENTS. COLUMNS ARE ON A 30' X 30' GRID. THE COLUMNS ARE SPLICED AT 4' ABOVE EVERY OTHER FLOOR LEVEL AND TYPICALLY SPAN FROM 30' TO 34'. A TYPICAL BAY IS SHOWN IN FIGURE 3 BELOW.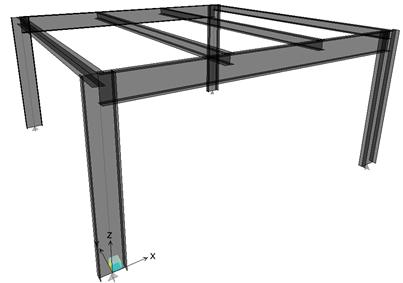 FIGURE 3:THIS IS AN ETABS MODEL OF THE TYPICAL BAY FRAMING.
LATERAL SYSTEM
THE LATERAL RESISTING SYSTEM CONSISTS OF STEEL MOMENT CONNECTIONS IN ADDITION TO LATERAL HSS AND WIDE FLANGE BRACING (SEE FIGURE 4). LATERAL HSS BRACING IS FOUND PREDOMINANTLY IN THE NORTH/SOUTH DIRECTION TO OPPOSE WIND AND SEISMIC FORCES. THE HSS BRACING RANGES IN SIZE FROM HSS 6.625X0.375 TO 16X0.625. THE HSS BRACING IN THE EAST/WEST DIRECTION IS SOLELY USED IN THE BRIDGE TO CONNECT TWO PARTS OF THE CAMPUS.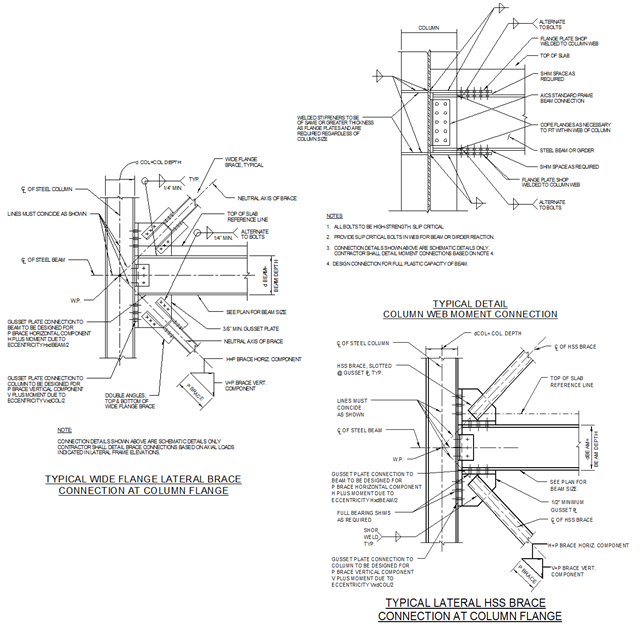 FIGURE 4:TYPICAL COLUMN WEB MOMENT CONNECTION (TOP RIGHT). TYPICAL LATERAL HSS BRACE CONNECTION (BOTTOM RIGHT). TYPICAL WIDE FLANGE LATERAL BRACE CONNECTION (LEFT). ALL DETAILS COURTESY OF TURNER CONSTRUCTION.
MECHANICAL SYSTEM
THE NEW YORK POLICE ACADEMY IS POWERED BY A CENTRAL UTILITY PLANT LOCATED IN THE WEST CAMPUS, WHICH HOUSES HYDRONIC NEEDS FOR BOTH EAST AND WEST CAMPUSES AND THE AIR-CONDITIONING FOR JUST THE WEST CAMPUS. WATER IS PUMPED FROM THE CENTRAL UTILITY PLANT TO THE EAST CAMPUS CREATING AN INCREASE IN ENERGY EXPELLED TO PERFORM THIS TASK. HOWEVER CONSOLIDATING ALL MECHANICAL EQUIPMENT INTO ONE FACILITY IS MORE EFFICIENT BECAUSE THE ACADEMY CAN BE POWERED BY ONE BIG MECHANCIAL FACILITY RATHER THAN TWO SEPARATE ONES IN EACH CAMPUS. THIS IS ALSO BETTER FOR REGULAR MAINTENANCE AND ACCESSIBILITY. INCLUDED IN THIS CENTRAL UTILITY PLANT ARE CHILLERS, BOILERS, GENERATORS, EXPANSION TANKS, HEAT EXCHANGERS AND PUMPS.
THE NEW YORK POLICE ACADEMY HOUSES 63 AIR HANDLING UNITS WITH CAPACITIES RANGING FROM 3,000 CFM TO 30,000 CFM. 18 AIR HANDLING UNITS ARE HOUSED IN THE CENTRAL UTILITY PLANT, 26 IN THE WEST CAMPUS AND 19 IN THE EAST CAMPUS. THERE ARE INDOOR CARBON DIOXIDE SENSORS, A STRICT NO SMOKING POLICY AND AIR INTAKES TO LIMIT THE ENTRY OF ANY CONTAMINANTS INTO THE BUILDING.
FIRE PROTECTION
THE FIRE SUPPRESSION SYSTEM CONSISTS OF ELECTRIC DRIVEN CENTRIFUGAL PUMPS WHICH SUPPLY WATER TO A COMBINATION OF WET-PIPE, DRY-PIPE AND PRE-ACTION SPRINKLER SYSTEMS. SMOKE DAMPERS ARE PLACED IN THE VENTILATION SYSTEM TO PREVENT ADDITIONAL OXYGEN FROM FUELING POTENTIAL FIRES. IN THE EVENT OF AN EMERGENCY, ELECTRIC DRIVEN PUMPS WILL AUTOMATICALLY BE TRANSFERED TO A RESERVE POWER SOURCE. ALL STEEL FRAMING IS COATED WITH SPRAY-ON FIRE PROOFING.
ELECTRICAL SYSTEMS
POWER IS SUPPLED TO THE NEW YORK POLICE ACADEMY BY THE CENTRAL UTILITY PLANT IN THE WEST CAMPUS. THE PRIMARY SWITCHBOARD IS A 3,000 AMP - 460 VOLT - 3 PHASE SWITCHBOARD. THE SECONDARY SWTICHBOARD IS 2,500 AMP - 460 VOLT - 3 PHASE. THIS PLANT RECEIVES ITS POWER FROM THE EXTERIOR UTILITIES AND EMPLOYS TWO SWITCHBOARDS RATED AT 4,000 AMP - 460 VOLT - 3 PHASE. THE LOAD ANTICIPATED FOR THE NEW YORK POLICE ACADEMY IS APPROXIMATELY 9,000 KILOWATTS. POWER IS PROVIDED THROUGHOUT THE FACILITY TO AIR HANDLING UNITS WITHIN THE ADMINISTRATION AREA, CENTRAL UTILITY PLANT, MECHANICAL AND FIRE SUPPRESSION PUMPS, (21) 460 VOLT - 3 PHASE MOTORS AND (20) 208 VOLT - 3 PHASE MOTORS IN ADDITION TO OTHER MISCELLANEOUS ITEMS THROUGHOUT THE BUILDING. TWO 2.5 MEGAWATT DIESEL GENERATORS ARE INSTALLED TO PROVIDE POWER TO THE ENTIRE COMPLEX IN THE RESULT OF AN EMERGENCY.
LIGHTING SYSTEMS
THE ALUMINUM LOUVERS ON THE FACADE OF THE BUILDING HELP BOTH TO SHADE AND CHANNEL NATURAL LIGHT INTO THE BUILDING. LIGHTING FOR THE BUILDING FACADES AND LANDSCAPE FEATURES REQUIRE A MINIMUM 50% REDUCTION. IN ADDITION TO NATURAL LIGHTING THE BUILDING HAS FLUORESCENT LIGHTING THROUGHOUT THE INTERIOR.
CONSTRUCTION MEANS AND METHODS
THE NEW YORK CITY DEPARTMENT OF DESIGN AND CONSTRUCTION CHOSE TO IMPLEMENT A DESIGN-BID-BUILD PACKAGE, IN WHICH ALL CONTRACTS WERE PURCHASED WITH 100% CONSTRUCTION DOCUMENTS. BECAUSE OF BOTH THE TERMS OF THE CURRENT POLITICAL ADMINISTRATION AND THE LENGTHY DURATION OF CONSTRUCTION, THE CITY OF NEW YORK CONTRACTED TURNER CONSTRUCTION TO MODIFY THE BUILD METHOD TO A FAST-TRACK DELIVERY STSTEM. TURNER CONSTRUCTION DISTRIBUTED EARLY BID PACKAGES FOR PILES, THE FOUNDATION, STRUCTURAL STEEL, THE CURTAIN WALL, MECHANICAL, ELECTRICAL AND PLUMBING SYSTEMS, TO VARIOUS BIDDERS. SCOPE DOCUMENTATION WERE THEN CREATED TO DELINEATE WORK AND COMPLETE MISSING INFORMATION ON ALL DRAWINGS AS NECESSARY.
CONSTRUCTION SPECIFICS
THE CONTRACTOR SHALL PROVIDE TEMPORARY SHORING, BRACING, SHEETING DESIGNED BY A STATE OF NEW YORK LICENSED PROFESSIONAL ENGINEER. CONCRETE PIERS, WALLS, CONCRETE STRUCTURAL SLAB ON GRADE, PILE CAPS AND GRADE BEAMS ARE TO BE PLACED MONOLITHICALLY. ALL PIER DEPRESSIONS AND COLUMN BOX OUTS SHALL BE FILLED WITH CONCRETE TO THE TOP ELEVATION OF ADJACENT WALL SLABS AFTER COLUMNS ARE IN PLACE. KEYS ARE TO BE PROVIDED FOR ALL DEPRESSIONS EXCEEDING 12" IN DEPTH.
BUILDING NAME:
NEW YORK POLICE ACADEMY
LOCATION:
COLLEGE POINT, QUEENS, NY
FUNCTION:
ACADEMY
SIZE:
1 MILLION SQUARE FEET
NUMBER OF STORIES:
8
CONSTRUCTION:
OCTOBER 2010 - DECEMBER 2013
COST
$656 MILLION
PROJECT DELIVERY
DESIGN-BID-BUILD
PROJECT TEAM MEMBERS

OWNER:

NEW YORK DEPARTMENT OF DESIGN AND CONSTRUCTION

GENERAL CONTRACTOR:

ACOUSTICS:

ARCHITECT:

AUDIO VISUAL:

BLAST :

COST CONTROL:

COST ESTIMATING:

CIVIL ENGINEER:

CONST. MANAGER:

FOOD SERVICE:

GEOTECHNICAL:

IT CONSULTANT:

LANDSCAPE ARCHITECT:

LIGTHING :

MEPF ENGINEER:

PARKING:

SIGNAGE:

STRUCTURAL ENGINEER:

TRAFFIC :

URBAN DESIGNER:

VERTICAL TRANSPORTATION:
√

√

√

04-07-11

√

PRESENTATION OUTLINE POSTED

√

02-04-11

DISCUSSION QUESTION

√

√

√

11-29-10

√

√

√

√

√

√

√

09-10-10

√


WHILE GREAT EFFORTS HAVE BEEN TAKEN TO PROVIDE ACCURATE AND COMPLETE INFORMATION ON THE PAGES OF CPEP, PLEASE BE AWARE THAT THE INFORMATION CONTAINED HEREWITH IS CONSIDERED A WORK-IN-PROGRESS FOR THIS THESIS PROJECT. MODIFICATIONS AND CHANGES RELATED TO THE ORIGINAL BUILDING DESIGNS AND CONSTRUCTION METHODOLOGIES FOR THIS SENIOR THESIS PROJECT ARE SOLELY THE INTERPRETATION OF JAKE POLLACK. CHANGES AND DISCREPANCIES IN NO WAY IMPLY THAT THE ORIGINAL DESIGN CONTAINED ERRORS OR WAS FLAWED. DIFFEREING ASSUMPTIONS, CODE REFERENCES, REQUIREMENTS, AND METHODOLOGIES HAVE BEEN INCORPORATED INTO THIS THESIS PROJECT; THEREFORE, INVESTIGATION, RESULTS MAY VARY FROM THE ORIGINAL DESIGN.