STRUCTURAL DEPTH STUDY
THERE ARE TWO LATERAL SYSTEMS IN THE EXISTING NEW YORK POLICE ACADEMY STRUCTURE. IN THE X-DIRECTION THERE ARE MOMENT CONNECTIONS; IN THE Y-DIRECTION THERE ARE CONCENTRICALLY BRACED HSS CONNECTIONS. THE NEW YORK POLICE ACADEMY REDESIGN CHANGED THE X-DIRECTION LATERAL SYSTEM TO CONCENTRICALLY BRACED FRAMES AND CHANGED THE Y-DIRECTION LATERAL SYSTEM TO CHEVRON BRACED FRAMES. THIS WAS DONE TO IMPROVE CONSTRUCTABILITY AND EFFICIENCY, WHILE SAVING MONEY.
BREADTH TOPIC I - ARCHITECTURE
THE STRUCTURAL CHANGES DIRECTLY IMPACT THE ARCHITECTURAL FACADE. THE LATERAL SYSTEM IN THE X-DIRECTION CREATE AESTHETIC ISSUES. THE IMPACTS ARE HIGHLIGHTED IN THIS REPORT AND A NEW ARCHITECTURAL FACADE WAS DESIGNED.
BREADTH TOPIC II - CONSTRUCTION
THERE IS A COST ASSOCIATED IN MAKING THE STRUCTURAL AND ARCHITECTURAL CHANGES ABOVE. A COST ANALYSIS WAS PERFORMED IN ORDER TO COMPARE THE EXISTING STRUCTURAL SYSTEM AND THE CHANGES THAT WERE MADE TO BOTH THE STRUCTURAL SYSTEM AND THE ARCHITECTURAL FACADE.
GRADUATE STUDY ACKNOWLEDGEMENT
A MAIN COMPONENT IN THE LATERAL SYSTEM IS THE CONNECTIONS. THE TYPE OF CONNECTIONS DICTATE HOW THE STRUCTURE BEHAVES WHEN IN CONTACT WITH LATERAL FORCES. FOR THIS REASON THE STEEL CONNECTIONS WERE DESIGNED ACCORDING TO THE GRADUATE COURSE, AE 534, STEEL CONNECTIONS. TO VIEW THE EFFECTS THAT THESE CONNECTIONS HAD ON THE STRUCTURE AN ETABS MODEL WAS CONSTRUCTED AND ANALYZED. THIS INFORMATION REFLECTS KNOWLEDGE LEARNED IN THE GRADUATE COURSE, AE 597A, COMPUTER MODELING FOR BUILDINGS.
THE REPORT
THIS REPORT FOCUSES ON SHOWING THE CHANGES THAT OCCUR WHEN ALTERING THE LATERAL RESISTING SYSTEMS IN THE NEW YORK POLICE ACADEMY. THIS ALTERATION EFFECTED BOTH THE ARCHITECTURAL FACADE AND THE CONSTRUCTABILITY OF THE BUILDING. THE INTEGRATION AND EFFECTS OF THE NEW LATERAL SYSTEM ARE DISPLAYED IN THIS REPORT. PLEASE CLICK ON THIS IMAGE TO VIEW THE ENTIRE FINAL THESIS REPORT.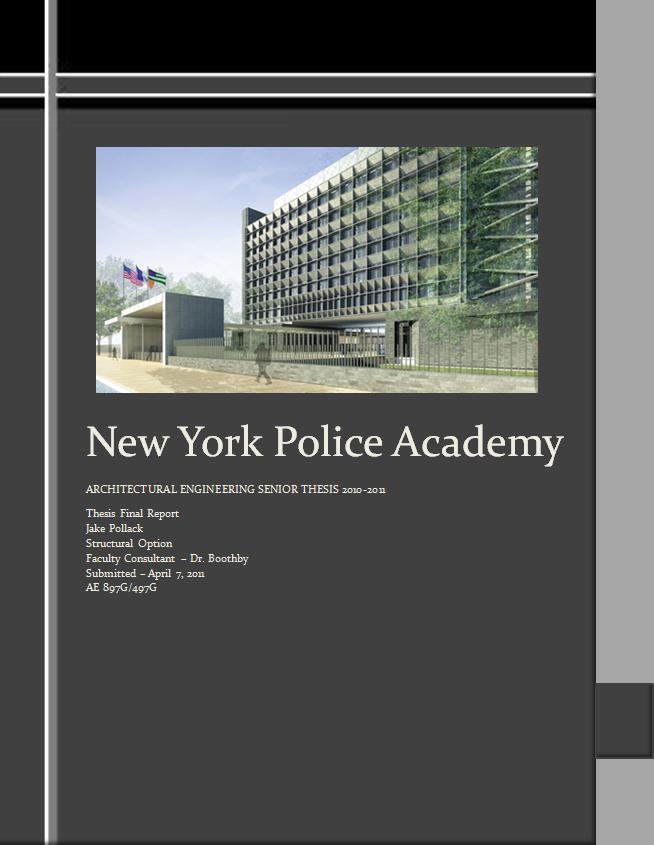 PLEASE CLICK ON THIS LINK TO VIEW THE FINAL THESIS REPORT WITHOUT APPENDICES.
PLEASE CLICK ON THIS LINK TO VIEW THE FINAL THESIS REPORT EXECUTIVE SUMMARY ONLY.
√

√

√

04-07-11

√

PRESENTATION OUTLINE POSTED

√

02-04-11

DISCUSSION QUESTION

√

√

√

11-29-10

√

√

√

√

√

√

√

09-10-10

√