NOTE: While great efforts have been taken to provide accurate and complete information on the pages of CPEP, please be aware that the information contained herewith is considered a work-in-progress for this thesis project. Modifications and changes related to the original building designs and construction methodologies for this senior thesis project are solely the interpretation of Jason Drake. Changes and discrepancies in no way imply that the original design contained errors or was flawed. Differing assumptions, code references, requirements, and methodologies have been incorporated into this thesis project; therefore, investigation results may vary from the original design.
Student Biography
........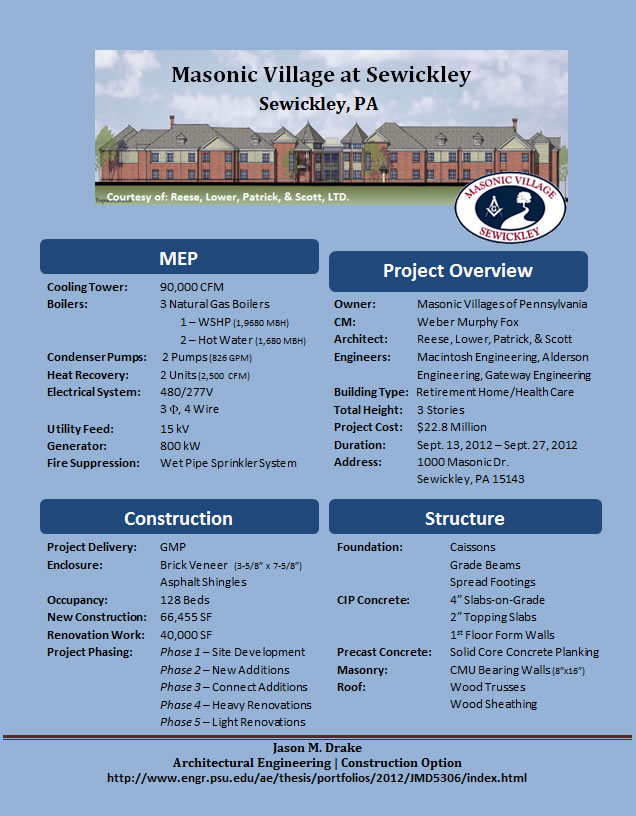 Jason Drake is currently completing his 5th year of study in Penn State's Architectural Engineering Program.  In May of 2012, he will graduate and officially obtain his Bachelor of Architectural Engineering degree from the university.  Throughout his college career, Jason's area of focus has been on Construction Management.  In October of 2010, Jason passed the Fundamentals of Engineering Exam and will achieve EIT (Engineer in Training) status upon graduation.  He looks forward to gaining professional work experience over the next few years and someday obtaining his license to practice as a PE (Professional Engineer).  Other notable achievements include a Residential Housing Certificate, which will also be received upon his graduation.  Knowing the value of his education, Jason is also considering graduate school where he would obtain a Master of Engineering degree to further service his plans of a successful professional career.

During the last two summers, Jason's work experience involved managing interior renovations of multiple apartment buildings.  His duties involved keeping the project on schedule, cash flow management, obtaining permits, overseeing construction, as well as countless other hands-on experiences in the field.  His extracurricular activities include clubs like SSAE (Student Society of Architectural Engineers) and S:PACE (Student Partnership of Achieving Construction Excellence).  Jason has also been involved in THON, a student run organization that raises charitable donations for pediatric cancer.  Anyone that knows Jason on a personal level will attest that he never fails to keep himself busy and is always striving for improvement.
To view Jason's resume click HERE.