Tech Report 1
Technical Report 1 explored the existing conditions and structural design of the Bedtower Addition. This report gives details of the components within the building and how they work together to support the loads which could occur on it. Items discussed include design calculations to verify dead, live, snow, wind and seismic loads along with spot checks on gravity members to verify they were correctly used.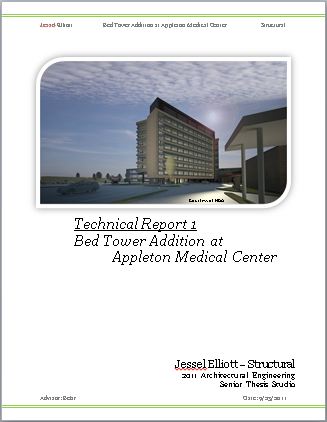 Tech Report 2
Technical Report 2 was an analysis of three alternative floor systems and comparing them with each other and the existing one. The three alternate systems were:

- One Way Pre-stressed Hollow Core Slabs on Steel Framing
- One Way Slab and Beam
-Two Way Post Tension Flat Plate

The comparisons were based on criteria such as slab depths, deflections, architectural impact, structural impact, fire rating, feasability, and cost to name a few.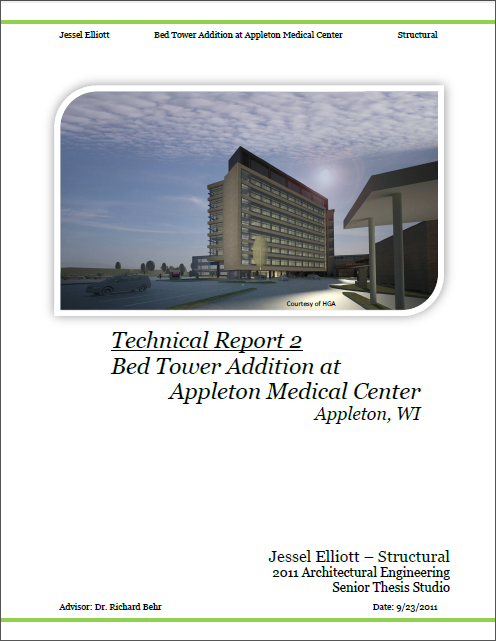 Tech Report 3
Technical Report 3 was an in depth analysis of the lateral structural system of the existing structure. Through research, it was determined if the lateral system was capable of handling lateral loads. Research included:

- Looking at various load cases such as wind and seismic
- Checking the controlling load combinations
- Overturning moment at the foundation
- Calculating wind and seismic pressures
- Distribution of lateral load
- Member spot checks