General Building Data
Building Name: Houston Museum of American Art
Location and Site: New York, NY (can not use actual location)
Building Occupant Name: Houston Museum of American Art
Occupancy or function types: A-3 (Assembly). The proposed building will contain dedicated gallery space, education and studio spaces, art-handling spaces, a restaurant, a café, a theatre, special-events spaces, museum shop, and a conservation lab.
Size: 222,952 SF
Number of Stories Above Grade: 9
Primary Project Team:
Owner: Houston Museum of American Art
Design Architect: Renzo Piano Building Workshop www.rpbw.com
Executive Architect: Cooper, Robertson & Partners www.cooperrobertson.com
MEP Engineer: Jaros, Baum & Bolles www.jbb.com
Lighting/Daylighting Engineer: Ove Arup & Partners www.arup.com
LEED Consultant: Viridian Energy and Environmental, LLC www.viridianee.com
Structural Engineer: Robert Silman Associates www.rsapc.com
Construction Manager: Turner Construction, LLC www.turnerconstruction.com
Dates of Construction:
Start date: August 14, 2012
Scheduled end date: November 28, 2014
Actual Cost: Building is under construction; estimated cost is 266million (100% CD)
Project Delivery Method: Design-Bid-Build
Architecture
The Renzo Museum of American Art's design takes a strong and strikingly asymmetrical form, which responds to the industrial character of the neighboring loft buildings and adjacent overhead railway. The upper stories of the building will stretch toward a nearby river on the west side and step back gracefully from the elevated railway on the east side. The building's massing is shaped in a faceted manner to provide view corridors between the adjacent elevated railway and the adjacent river. Additionally, the bulk of the building's mass is concentrated on the west side of the site. The building steps down toward the east in order to defer to the scale of the elevated railway and the existing neighborhood. Outdoor terraces will be located on each of these steps. One of the terraces will be used as "Testing Platform" for outdoor sculpture. A dramatically cantilevered entrance will shelter an 8,500SF outdoor plaza. The building will include more than 50,000SF of indoor galleries and 13,000SF of outdoor exhibition space on a series of rooftops, including an 18,000SF column-free museum gallery. The building also will include an Education Center offering dedicated space for state-of-the-art classrooms; a multi-use black box theater for film, video, and performance with an adjacent outdoor gallery; a 170-seat theater, a Works on Paper Study Center, large art Conservation Lab, Library Reading Room, a retail shop and restaurant on the ground-floor level and a top-floor café.
Major National Model Codes: IBC 2007
Zoning: Dstrict(s): M1-5 light manufacturing district (high performance)
Historical Requirements: Not applicable
Building Enclosure
Windows: TBD (window schedule drawing was not provided)
Building Facades: Please see attached drawing for additional facade types.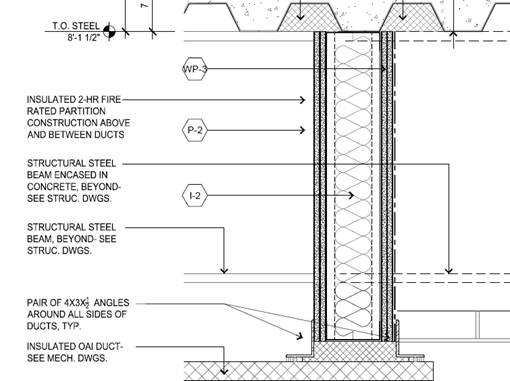 Roofing: Below is the material used for the green roof. Please see attached drawing for additional roof types.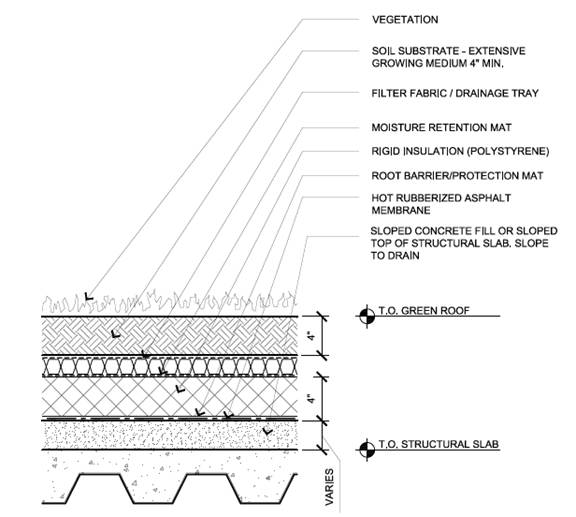 Sustainability Features
This project is registered with the U.S. Green Building Council under the Leadership in Energy and Environmental Design (LEEDTM) rating system:
Version: LEED 2009 for New Construction
Rating: Minimum Silver Certification
Owner's environmental requirements for construction including
Ensure good indoor air quality (IAQ) during construction.
Support reduced future maintenance and operation costs.
Ensure reduced energy use and cost during construction.
Reduce primary and secondary usage of fossil fuels and other Greenhouse gasses during construction.
Ensure reduced water usage during construction and facilitate minimizing planned overall annual facility water usage.
Give added decision-tree weight to minimizing life-cycle costs and overall embodied energy of systems, products and materials incorporated into the project.
Manage demolition, sitework and construction to minimize waste, promote salvaged reuse, recycling or energy conversion, and specifically minimize amounts sent to landfills.
Take preventative measures to reduce or eliminate environmental pollution and damage during construction.
Construction
Turner Construction Company is the primary construction management firm for this project. The delivery method is design-bid-build with a project estimation cost of 266 million dollars. BIM is used for MEPS Trade Coordination for the project. The building systems such as ventilation, lighting, power, systems, fire systems and security systems are operated with BMS via BACnet.
Electrical
The building utilization voltage is 208Y/120V, 3 phase with 750KW diesel fuel for emergency power system. The electrical system also includes a 75KVA UPS back-up system for electronics. The utility company for the project is the Consolidated Edison Company of New York. Four indoor free-standing, dead-front single ended 4000A service switchboards are used to feed the power to the building. The panelboards are MCB, bolt-in with NEMA 1 for indoor enclosure, NEMA 3R for wet locations. Copper conductors with soft-drawn annealed copper are used.
Lighting
Track lighting systems are used for the majority of the space inside the building including gallery areas, lobby, theater, etc. The system utilizes digital network lighting control as well as dual-technology occupancy/vacancy sensors. A solar clock is used to track the position of the sun to control the shades to limit penetration of direct sunlight. A lighting management hub utilizes Ethernet to integrate control station devices, power panels, shades, preset lighting controls, and external inputs.
Mechanical
Gallery-type areas and auditorium are served by all-air VAV system located on the cellar level(3) and level 9(1). Lobby and restaurant are served by all-air constant volume system located on level 1. The lobby façade is heated and cooled by fan coil units located along the glass façade wall. The main refrigeration plant consists of three electrically driven centrifugal refrigeration machines sized at 300 tons-refrigeration each on the Cellar level and a five 200 tone cells cooling tower. The building is heated by hot water heating boiler plant consists of five condensing 3 million Btuh input hot water boilers.
Structural
The structural system for the Houston Museum of American Art is primarily composed of concrete slab on composite metal deck on steel framing. The framing system is composed of long span beam with deck framing and special steel concentric braced lateral framing system with special steel seismic detailing. The foundation is caisson pile (encased in steel with diameters of either 9.875" or 13.375") supported and perimeter of the site is surrounded by concrete secant walls.