Thesis Proposal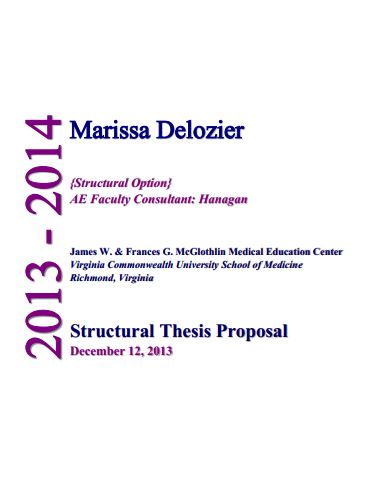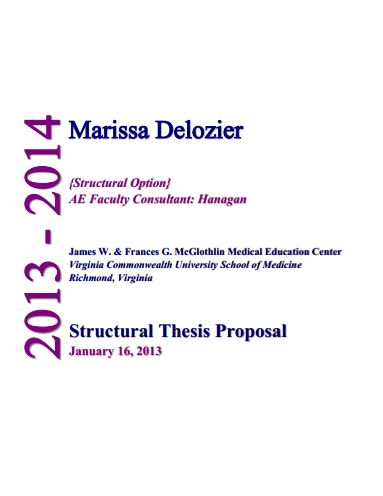 Depth: Non-Composite System with K-series Joists & Combination of Moment and Braced Frames

The proposed thesis is an investigation of how the James W. & Frances G. McGlothlin Medical Education Center building will function when redesigned as a non-composite system with bar joists and steel girders with a combination of moment and braced frames. The redesign will focus on both the gravity and lateral systems, including decking, horizontal framing members, vertical members, frames, and connections. Members will be designed using both hand calculations and computer modeling. The redesigned systems will then be properly vetted to determine if they are economical alternatives.

Breadth 1: Schedule and Cost

The first breadth will focus on impacts to both the cost and the schedule for the VCU School of Medicine project. Detailed cost and schedule analyses (both for the structural system and the project as a whole) will be completed and compared to the original design. Even though both systems, the original and the redesign, are composed of steel, the possibility exists that the redesign could greatly affect the cost of the project. Results from the comparisions between costs and schedules will be evaluated to determine which steel system is more economical.

Breadth 2: Architectural Considerations

The redesigned structural system will have major impacts on architectural features throughout the project. The change in steel horizontal framing members could result in larger vibrations and changes in the floor-to-floor height. The editing or removal of braced frames, due to the addition of moment frames, will allow for a more open concept. However, the moment frames will have an impact on the exterior skin on two faces of the building - these issues will need to be fully examined to ensure they do not affect the integrity of the building.