The Capstone Project Electronic Portfolio (CPEP) is a web‐based project and information center. It contains material produced for a year‐long Senior Thesis class. Its purpose, in addition to providing central storage of individual assignments, is to foster communication and collaboration between student, faculty consultant, course instructors, and industry consultants. This website is dedicated to the research and analysis conducted via guidelines provided by the Department of Architectural Engineering. For an explanation of this capstone design course and its requirements click here.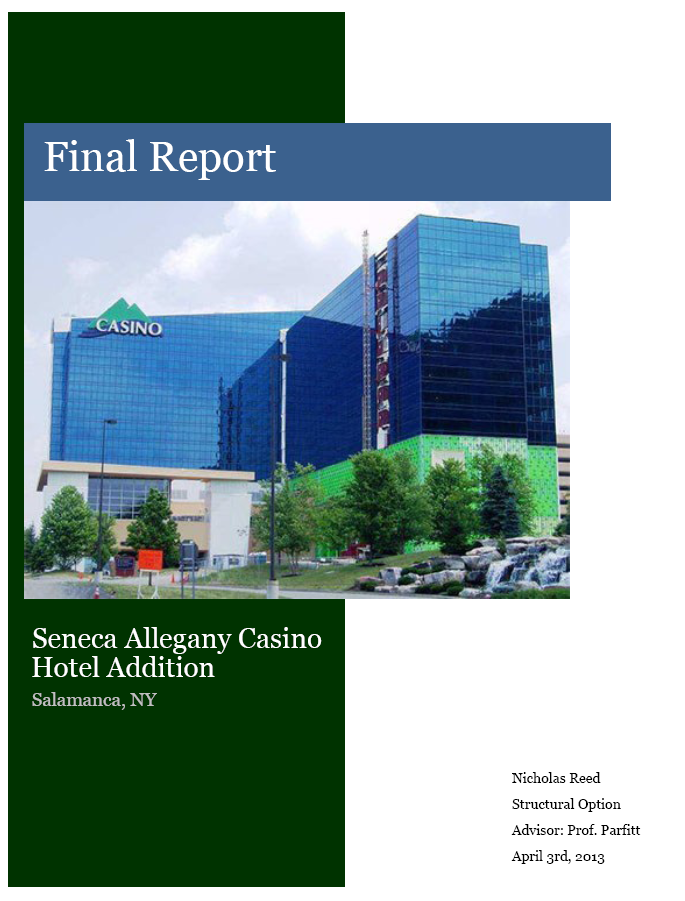 A staggered truss system was successfully designed and implemented into the
SAC Hotel Addition. The trusses were able to work as both the gravity system and lateral system in the N-S direction, replacing the existing braced frames and hollow-core precast concrete planks replaced the existing composite deck on steel beams.
The new framing system impacted the interior spaces, which required a look into the layout of the existing hotel rooms, and possible redesigns by changing the geometry of the addition. A site logistics plan was researched in order to better understand the construction process, and erection of the prefabricated members.
Though the redesign was successful, this specific site and project would not have benefitted from a staggered truss system, and is explained within the report.
To view the Executive Summary, click here
To view a PDF version, click the thumbnail to the left.
References:
International Building Code 2009. [Country Club Hills, Ill.]: International Code Council, 2009. Publicecodes. Web.
ASCE 7-05
Steel Construction Manual. 14th ed. [Chicago, Ill.]: American Institute of Steel Construction, 2011. Print.
Wexler, Neil, and Feng-Bao Lin. Steel Design Guide 14: Staggered Truss Framing Systems. [Chicago, Ill.]: American Institute of Steel Construction, 2001. Print.
Heston, Tim. "Building Success With the Staggered Truss." The Fabricator June 2008: n. pag. Web.