Building Name: Central High School
Location and Site: Mid Atlantic Region
Building Occupant Name: Confidential
Building Function: Higher Education
Size: 320,000 square feet
Height: 34 feet max but varies
Number of stories: 2 stories, 7 foot crawlspace below grade
Dates of construction: July 2010 –February 2015
Project Cost: $84 million
Project delivery method: Multiple Primes
Project Team
Owner: Confidential
Construction Manager: Jacobs http://jacobs.com/
Architect: SHW Group, LLP http://www.shwgroup.com/
Structural Engineer: Adtek Engineers, INC. http://www.adtekengineers.com/
Mechanical and Electrical Engineers: SHW Group, LLP http://www.shwgroup.com/
Civil Engineers: Bowman Consulting http://www.bowmanconsulting.com/
Kitchen Consultant: Nyikos Associates http://nyikosassociates.com/
Acoustical and Technology: Polysonics Corporation
http://www.polysonics-corp.com/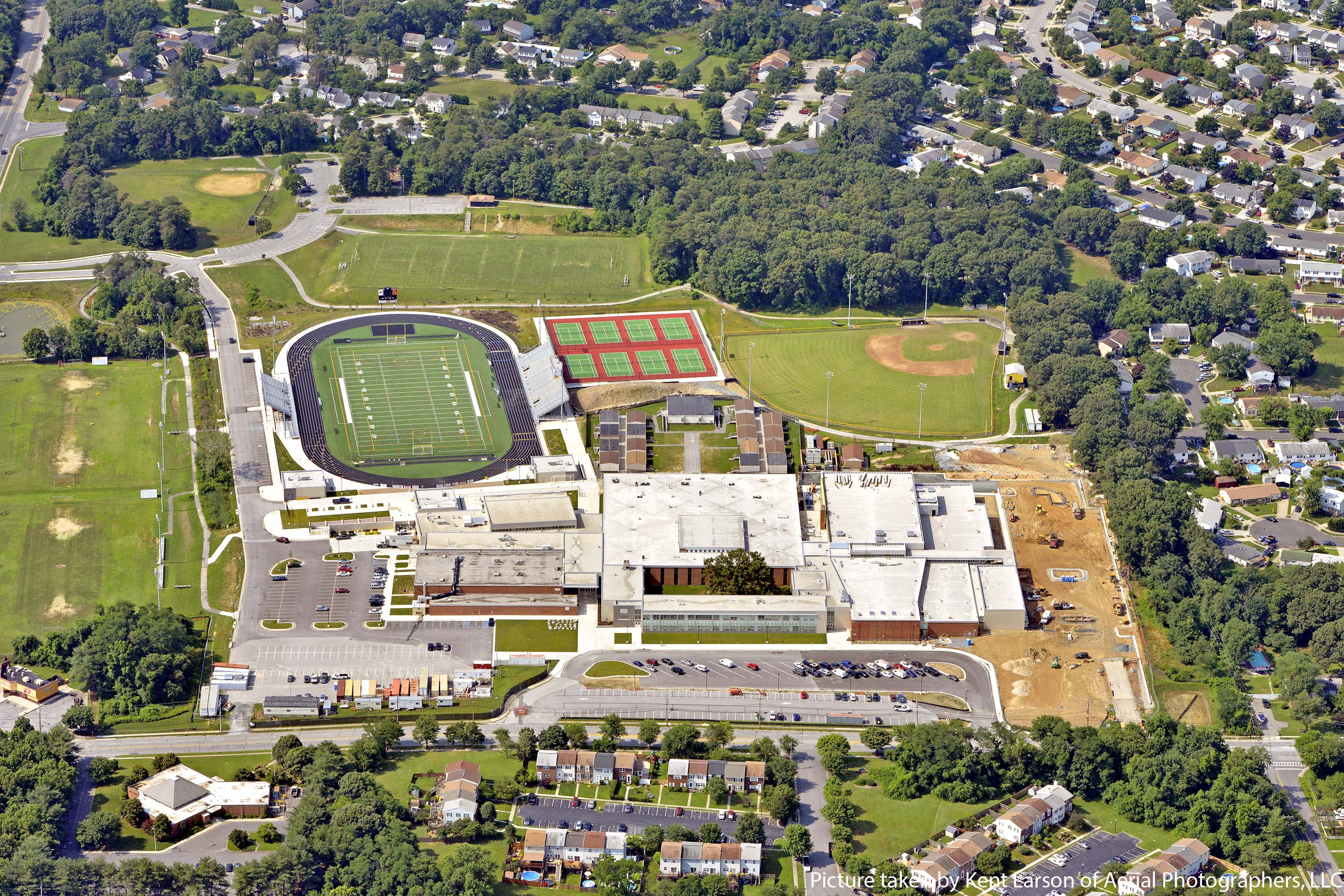 Architecture:
Design and Functional Components: Through the use of a long and widespread footprint the building reaches out into the surrounding space instead of reaching higher. At the front of the building a large courtyard allows daylight to pour through into the classroom and lab spaces. This green space gives that added feel of the outdoors coming into the building allowing spaces to be broken up even more. Many of the classrooms are spread throughout the building even some being centralized. Red brick and glass give the classical feel of a high school but still using modern finishes like lettering. It is a school of transformation from a late 60's to a state of the art high school.
Applicable Codes: NFPA– 2006
IBC -2006
NEC – 2002
IPC - 2006
Zoning: Not Applicable
Historical Requirements: Not Applicable
Building Envelope:
Building Façade: Most of the building envelope is exterior modular red brick with air cavity, backed by insulation and CMUs. Gray, ground face CMUs make up the main entry way wall area. Curtain wall systems are set up at the main entrance and at the back of the building at such locations at one of the gymnasiums. Insulated tempered glazing is used on the front part of the building while other areas used tempered glazing.
Roofing: Multiple-ply asphalt roofing is used as the primary roofing system.
Sustainability Features: Low flow toilets and urinals were used throughout the school but LEED certification was not pursued for the project.