PROPOSAL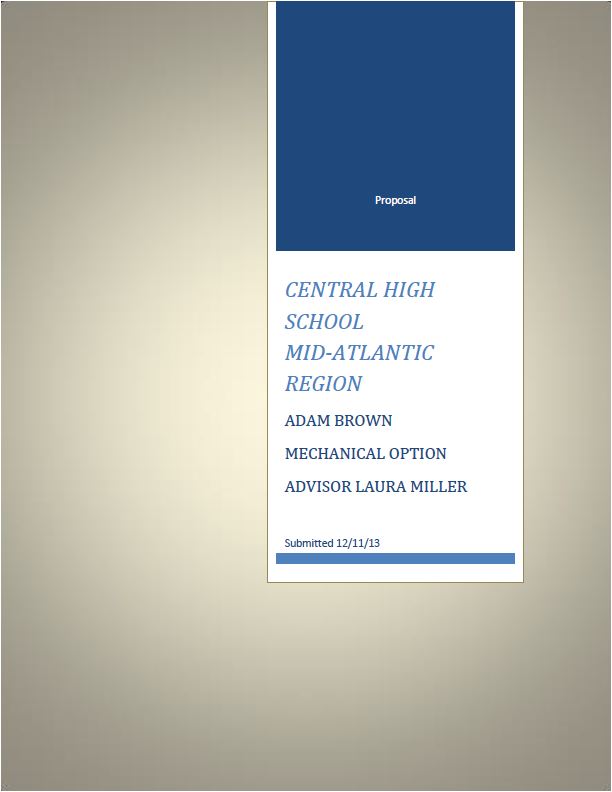 DEPTH STUDY - GROUND COUPLED HEAT PUMP SYSTEM
The depth study that has been selected is a ground couple heat pump system. It will take advantage of the large area surrounding the high school to drill for the well system. Through this study it will be shown that this a more maintainable and cost effective system than what is currently in place.

BREADTH STUDY - ACOUSTICAL HEAT PUMP CLOSETS
This breadth study will foucs on the heat pump closets that will house vertical heat pumps in rooms. They will cause background noise level that will hinder the learning process. This study's goal is to design these closets according to ANSI standards to prevent any acoustical issues. An adequate STC value must be obtained in order for the wall to be constructed and perform to ANSI standards. The affect of these cloests on the architecuture must be further investigated.

BREADTH STUDY - CONSTRUCTION
The last breadth study will focues on the cost, schedule and coordination issues that arise from implementing heat pump closets. A matrix of these three areas will be used to determine the feasibility of the closests versus installing them in the plenum. RS Means will be used to figure out the cost of construction for the heat pump closets. Any pertinant information for schedule and coordination issues will be utilized to come up with data.

PROPOSAL REVISED