Project Name: Bucks County Justice Center
Location: Doylestown, PA
Owner: Bucks County
Occupancy: Assembly, Business, Institutional, Storage
Size: 272,856 SF Gross Square Footage IBC 2006
Levels: 7 stories above grade (including the penthouse)
2 stories below grade
Owner/tenant: County of Bucks
General Contractor: Ernest Bock & Sons, Inc.
Architect: HOK
Civil: Carroll Engineering Corporation
MEP: H. F. Lenz
Structural: The Harman Group
Security and Code Consulting: Brinjac Engineers
Telecommunications, Data, Audio Visual, and Acoustic: Acentech Incorporated
Elevators: John Van Deusen
Lighting: Tigue Lighting
Fall Protection: Lerch Bates Incorporated
Construction Start: Ground Breaking July 2011
Construction Finish: Grand Opening February 2015
Cost: $84 million total project cost
Project Delivery: Design-Bid-Build
This project is the location for the county courthouse including courtrooms, offices, holding cells, and other supporting spaces. Part of an existing historic building on the site will be incorporated into the new structure; please see the historical requirements section below. The building is in the shape of a 'V' with the main entrance located at the apex. The building is across the street from the existing courthouse with the main entrance facing the existing building. Two sides of the building border streets with the remaining sides being adjacent to parking. See Figure 1 and Figure 2 below.
Figure 1 - Site Plan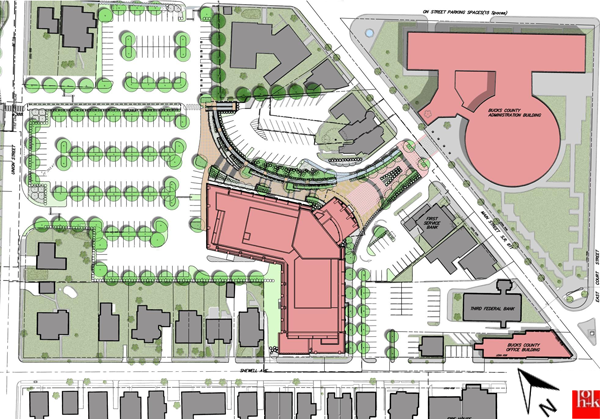 Figure 2 - Exterior Render of the Main Entrance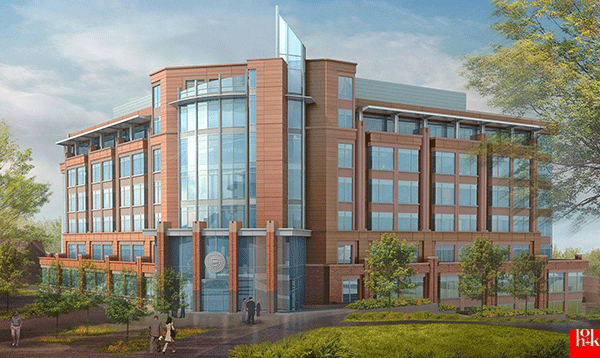 International Building Code 2006
ICC Electrical Code 2006
International Energy Conservation Code 2006
International Fire Code 2006
International Fuel Gas Code 2006
International Mechanical Code 2006
International Plumbing Code 2006
ADA Accessibility Guidelines for Buildings and Facilities
ANSI/ASME A17.1 Safety Code for elevators and Escalators, as adopted by the Commonwealth of Pennsylvania's, Department of Labor and industry, Division of Elevators
Doylestown Borough O District zoning
O District is designated for Office use
A portion of an armory that was built on the site in 1909 was to be incorporated into the building. The portion is located along Shewell Avenue and consists of 2 exterior walls and an interior fireplace. Figure 2 below details the portion of the existing building that will be incorporated into the new building.
Figure 2 - Existing Structure to Remain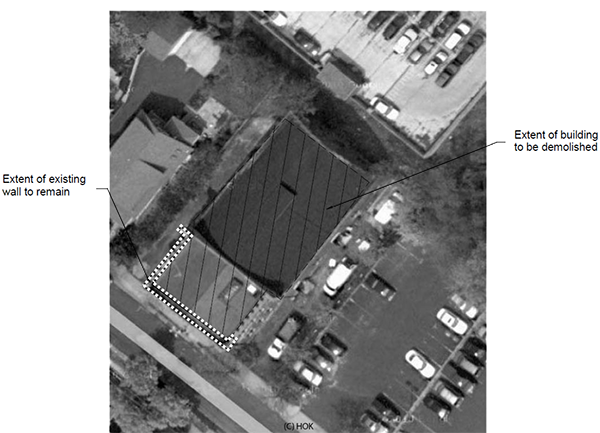 For the first two above grade exterior walls, the primary finish material is brick (with a running bond) clad precast concrete panels with decorative profiled precast concrete below the windows and acid etched precast concrete panels for the window sills. See Figure 3 below.
The rest of the above grade exterior walls use terracotta clad precast panels as the primary finish material and continue the typical use of decorative profiled precast concrete below the windows. On some of the walls with smaller windows a single course of soldier bricks on precast concrete is added at each floor.
Figure 3 - Exterior Render
The windows are a curtainwall system with several types of exterior glazing in order to achieve a uniform exterior façade while not impeding on the interior uses of the building. The glazing types include vision glass, translucent glass, spandrel glass, and fritted glass. All of the glazing types have a low-E coating on one of the surfaces.
The main roofing type for this project is an inverted roof membrane assembly (IRMA) with a stone ballast and four inches of rigid insulation as shown in Figure 4 below.
Figure 4 - Roof Detail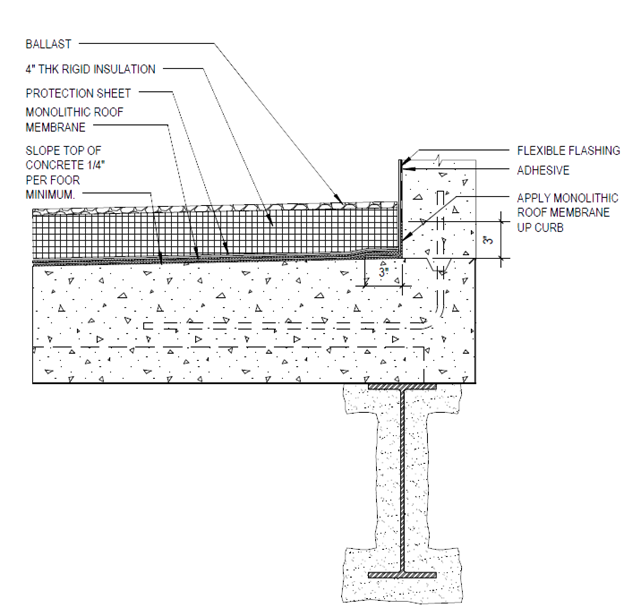 (C) HOK
The project is not pursuing LEED certification. However, the design still incorporates various features to increase efficiency. The design includes networked automated control of the mechanical systems and selected lighting systems in order to maximize efficiency. In order to minimize solar gains while still allowing for daylighting glazing with a low E coating, low SHGC and a fairly high VLT were used. Additionally, high efficiency plumbing fixtures were used throughout the building. Including dual flush water closets, ultra-low flow (1 pint per flush) urinals, 0.5 GPM sinks with aerators, and 2.0 GPM showerheads.
Primary Engineering Systems
Construction Management
The delivery method for the project is design-bid-build. The primary designer and general contractor are HOK and Ernest Bock & Sons, Inc respectively. The project has a cost of approximately $84 million and a construction duration of about 3.5 years.
Access to the site is somewhat constrained by surrounding buildings, but there is substantial frontage for access to the site. The main site entrance was from Union Street with alternate entrances from North Main Street and North Broad Street. After the existing parking garage was demolished in the early stages of construction there was a large amount of future parking lot that provided space for construction staging. The integration of the wall from the existing building was a significant logistical challenge.
Electrical/Lighting
The main electrical system utilizes a 3200 A unit substation that is fed by a 2000 KVA building transformer with a 34.5 KV primary and a 277/480 secondary. Four 800 A 277/480 V vertical busses distribute normal power throughout the building. In general, each floor has two electrical rooms with a 277/480 V and a 120/208 V panel. The 277/480 V panel feeds the 120/208 V panel through a transformer.
A 1000 KW generator provides the emergency and backup power. There are four sets of loads on the generator; fire pump, life safety, emergency, and critical. The fire pump, life safety, and emergency are all code required loads. The critical loads are optional backup loads. The generator directly feeds the ATS for the fire pump and the remaining ATS's are fed from a 1600 A 480/277 V distribution switchboard. All of the optional backup loads except for heat pumps are fed from a 160 KVA/144 KW UPS.
Interior lighting is predominantly linear fluorescent fixtures with LED accent lighting. Recessed indirect linear florescent fixtures are used for the private offices, conference rooms, and corridors. Direct/indirect linear florescent pendants are used in the open office areas. Various fixtures including CFL downlights and linear florescent wall washers and strip lights are utilized in the courtrooms. For lighting control, there are various types of low voltage push button stations, occupancy sensors, and daylight sensors that are networked with control units. For the courtrooms there are central dimming panels located on every other floor. For the conference rooms, offices, and other spaces control packs with four zones are utilized. All of the lighting controls are tied into the central lighting management system.
There are nine water based AHU's for the building. Seven are located in the penthouse and two are located on level B2. Two of the AHU's are fixed volume dedicated outdoor air units and the rest are variable volume. The AHU's range in size from 5,500 CFM to 40,000 CFM. Five of the AHU's include energy recovery wheels. Chilled water is supplied by two 330 ton air cooled chillers that interface with two 615 GPM cooling towers. Hot water is supplied by five gas boilers each with a 2000 MBH input.
18 water source heat pumps intended for 24/7 cooling are provided for the telecom/data closets, server rooms, and some mechanical rooms. These units are served by a dedicated water/glycol loop.
A CO monitoring system with exhaust fan control is provided for the parking area on level B2. Makeup air is provided by a 16,000 CFM makeup air unit with hot water heating.
Pressurization fans are provided for each stair tower and the elevators. The fans are all around 19,000 CFM.
Variable volume boxes are utilized for the various heating and cooling zones
Structural
The building is a steel framed structure supported by spread footings and strip footings. The spread footings range in size from 4'-0" x 4'-0" x 2'-0" to 9'-0" x 9'-0" x 3'-6" with the most common size for interior supports being 7'-6" x 7'-6" x 3'-1" and the most common size for exterior supports being 4'-0" x 4'-0" x 2'-0". The strip footings are typically 3'-0" deep.
The vast majority of the columns are wide flange, but there are also some hollow structural section columns and standard steel pipe columns. The wide flange steel columns range in size from W14x43 to W14x455. The hollow structural section columns range in size from HSS8.625x0.375 to HSS14x0.625. The standard steel pipe columns are PIPE8"STD.
The floor framing is wide flange beams and wide flange girders. A typical floor bay utilizes 40'-0" W18x40 beams with 24 shear studs and a 1 ½" camber and 30'-0" W21x62 girders with 38 shear studs. However, there are numerous non typical bays that utilize a wide range of beam sizes.
The floor system is 3" composite deck with composite beam framing. The typical floor thickness is 6 ¼" and utilizes welded wire reinforcing. A 7 ½" slab is used to support the equipment in the penthouse. A 5" thick slab on grade is used for B2.
Lateral loads are resisted by braced frames and moment frames. There are eight braced frames distributed throughout the building. Wide flange beams are used in both diagonal and chevron bracing. The bases of the braced frames are anchored by either 74" or 78" deep mat foundations.
Additional Engineering and Engineering Support Services
Fire Protection
The fire protection system includes a fire command center, full building sprinklering, motor operated dampers, pressurized stair towers, and a fire pump. Stand pipes are provided in every stairwell. An automatic wet sprinkler system is used everywhere accept the parking garage and sally port which use a dry system.
Transportation
Vertical circulation is handled by four stair cases and nine elevators. The elevators are dedicated for the following uses: four for general purpose circulation are located in the main elevator lobby, three for prisoner transport are distributed throughout the building, one is dedicated for the judges to use, and one is for service.
Telecommunications
There is sufficient telecommunications equipment to meet the VOIP and data needs of the various offices throughout the building. There are telecommunications rooms centrally located on each floor which are used as hubs for each floor. The backbone cabling is typically 25 strand CAT 3 cable, 12 strand single mode fiber cable and 6 strand multimode fiber cable.
Audio/Visual
All of the courtrooms have an A/V system that includes cameras, microphones, speakers, amplifiers, input stations, touch panel control stations, an assistive listening system, and a projector.
Security
Access control
Both exterior and interior doors utilize electronic locks and card swipes to limit access to secure areas. In general, each door has a 120 V circuit supplied to the control pack which feeds the equipment 24 V, but for doors in close proximity a central power pack is used.
Surveillance
A thorough surveillance system is utilized throughout the building. There are glass break sensors for the windows that are accessible from the outside, door contacts on doors for sensitive areas, and video cameras for the majority of the building. The surveillance devices are fed to security servers located in the telecom rooms. There are various displays and controls for the security system located in the control rooms on level B2. For the internal and external building mounted surveillance cameras CAT 6 UTP cable is used for video and CL3 cable is used to provide low voltage power. Fiber optic cable is used for exterior surveillance cameras that are mounted away from the building.