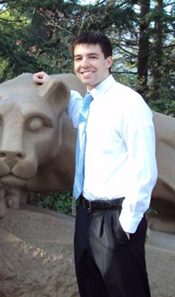 Kyle Wagner Biography
Kyle Wagner is currently in his sixth year at Penn State majoring in Architectural Engineering with an emphasis on structural systems. He intends to graduate in December 2010 with an integrated Bachelor / Master of Architectural Engineering degree. Upon graduation, Kyle will gain Engineer in Training Status (EIT).
During the summer of 2008, he had the opportunity to work as an intern for DAVIS Construction in Rockville, MD. This internship provided an opportunity to take part in the construction management aspect of the industry, as well as experience with working on LEED projects. Shortly after this internship, Kyle passed the LEED NC v2.2 exam to become a LEED Accredited Professional.
The following summer, Kyle worked as an intern for Cagley & Associates in Rockville, MD. He worked on a Department of Defense project consisting of a 15 story office tower and a 17 story office tower, as well as two parking garages and a public transportation center. Kyle played a significant role in developing a BIM model of the project using Revit Structure. He also reviewed shop drawings and calculations as well.
During the summer of 2010, Kyle interned with Cannon Design in Buffalo, NY. During his experience with Cannon Design, Kyle was exposed to a variety of design situations. He took part in the design of three large trusses for a structure spanning across a 200' wide ravine, performed a structural cost analysis for a stadium, and designed the framing and connections for an addition to an existing school. Additionally, he designed column reinforcement and investigated upgrades to the foundations for an added mechanical penthouse to an existing four-story structure. After graduation, Kyle intends to pursue his Professional Engineering License (PE) and continue his career in structural engineering.