Building Statistics Part 1
General Building Data
Building Name: Park Potomac Office Building "E"
Building Location: 12505 Park Potomac Ave. Potomac, MD
Building Occupants: Mixed Occupancy, 'B' Business, 'S2' Enclosed parking garage, 'A2' Assembly Restaurant (Future Tenant Work)
Building Function: Type 1B building, Type 1A enclosed parking garage
Size: 160,000 sq. ft. Class A office space, 14,000 sq. ft. ground floor retail, 213,000 sq. ft. parking garage
Number of Stories Above Grade: 7 stories above grade to 96'-0", 2 levels below grade parking
Primary Project Team:
Dates of Construction: October 2007 – June 2009
Project Cost: Information not available.
Project Delivery Method: Design-Bid-Build
Historical Requirements: None
Architectural Description:

Park Potomac Office Building "E" is located prominently off I-270 at Seven Locks and Montrose Roads. It is just one of several planned office buildings that are part of an "urban village" which mixes stunning town homes, Class A office space, a wide range of amenities, dining and shopping.
Park Potomac Office Building "E" consists of 6 floors of rentable office space over a ground floor retail level. Below grade, this office building boasts 2 levels of parking consisting of over 500 below grade s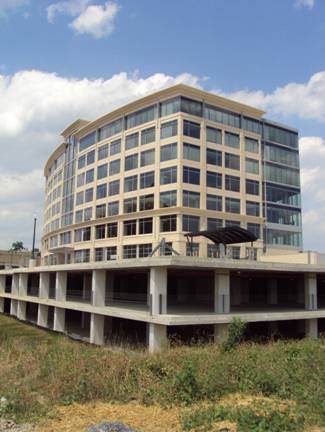 paces in total.
Office Building "E" has a building footprint that is essentially a large rectangle, with both long sides arched outward. This gives the building a very unique feel. A typical floor plan of approximately 25,500 sq. ft. is utilized for the office floors, consisting of rentable space and a central core that houses elevators, lavatories, and egress stairs. In an effort to maximize uninterrupted floor space, the building has columns at the outside walls, and at the interior core only. This allows for large, uninterrupted areas on each floor. Additionally, the outside columns are brought inward about 15' at the short sides of the building, and the slab is cantilevered out to allow for the seamless flow of glass around the corners of the building, thus maximizing views.

Building Code Data:

International Building Code (IBC) 2003
International Mechanical Code
International Plumbing Code
CABO Model Energy Code
NFPA National Electrical Code
NFPA 101 Life Safety Code 2006 Edition
ADAAG (Americans with Disabilites Act Accessibility Guidelines)

Zoning:

Mountgomery County Zoning Ordinance
Building Envelope:
The exterior walls of Office Building "E" have similar finishes on all four elevations. Large aluminum framed windows with 1" insulated spandrel glass and 1" insulated Low "E" glass make up a large portion of the building enclosure. These windows are separated by precast panels that run horizontally along the floors and vertically down the column lines. Heavy precast concrete is also used horizontally around the building to separate the ground floor retail from the office space above.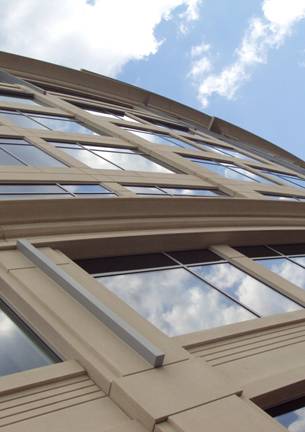 The Northeast and Southeast corners of the building, as well as the area above the East and West entrances, consist of aluminum curtain walls with 2 way butt glazed 1" insulated Low "E" glass and insulated spandrel glass. These curtain walls are separated and enhanced with metal paneling. This curtain wall also runs horizontally around the top of the building as well.
The roofing system is stone ballast over filter fabric on rigid insulation with an R value of at least 17.5. This is all over a waterproofing membrane on top of the structural slab.
Sustainability:
LEED Silver Rating
Further information not available.

Building Statistics Part 2
Construction:

Construction began on Office Building "E" in October of 2007. Excavation was required for the underground parking levels. These levels each had a square footage of over 100,000 sq. ft, whereas the above ground levels had a footprint of nearly 26,000 sq. ft. The site was very open and allowed ample space for material storage and preparation. The project was delivered through a design-bid-build method and construction completed in June of 2009.

Electrical/Lighting:

Power is supplied to the building through two utility transformers on the West side of the building. All floors are served by two 1600A bus duct risers. Each floor is then served by 250A panelboards. Fluorescent lamps are utilized to light the finished spaces in the core of the office spaces, while metal halide fixtures are utilized to service the parking levels.

Mechanical:

Two rooftop air handling units supply 80,000 cubic feet of air per minute into the interior of the office floors and the necessary spaces of the parking levels. Air is cooled using a 484 GPM rooftop cooling tower. Carbon monoxide detectors and exhaust fans protect the parking levels.

Structural: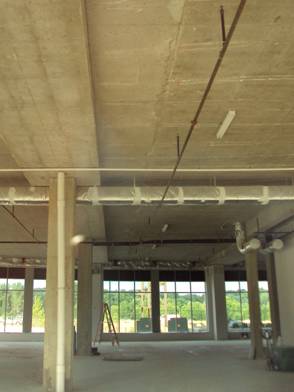 Park Potomac Office Building "E" is a concrete structure that utilizes post tensioning to reinforce each of the office levels. Thirty-two 24" x 24" main columns on each floor support the building weight above. This load is transferred down onto large mat foundations directly underneath the office levels. Spread footings are used in the areas where only loads from the parking levels are carried.

The lateral system for Office Building "E" is largely made up of concrete moment frames in both directions. In the N-S direction, the frame is created by the columns and the shallow post tensioned beams. In the E-W direction, a moment frame is created by the columns and the 7" slab that is post tensioned in the E-W direction. Both of these frames allow for the resistance of lateral loads on the building. This post tensioned system also allows for minimum deflections over beam spans that approach 45 feet on each floor and is also used to carry the 12' slab cantilevers that exist on both the North and South sides of the structure.


Transportation:

Upon entering the building through either the East or West main entrances, a central lobby is encountered which contains four elevators. These four elevators, as well as two egress stairs, serve the two parking levels and all office levels as well.

Telecommunication:

Both main entrances are equipped with magnetic locks, automatic sensors, and card readers. Most interior doors are equipped with card readers as well.

Fire Protection: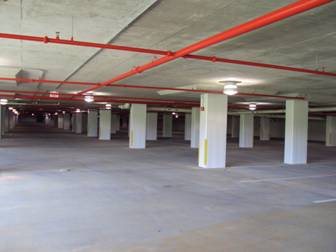 The first part of the fire protection system is the office building portion. This design consisted of the use of two standpipes located in each of the building's main egress stairs. Each of these standpipes is a combined Fire/Sprinkler riser that serves the sprinkler zone, as well as contains Fire Department Connection Valves. An active wet pipe fire main that runs through the parking garage feeds these standpipes. The main portion of the office building is classified as Light Hazard Occupancy, which requires a sprinkler density of 0.10 GPM/1500 sq. ft.
The parking garage is protected by a hydraulically designed dry pipe sprinkler system. The garage is classified as Group 1 Hazard with a sprinkler density of 0.15 GPM/1500 sq. ft. Dry pipe sprinkler valves serve different portions of the garage not exceeding 52,000 sq. ft.
Photos by Kyle Wagner