Welcome to Tom Weaver's AE Senior Thesis e-Portfolio
Building Statistics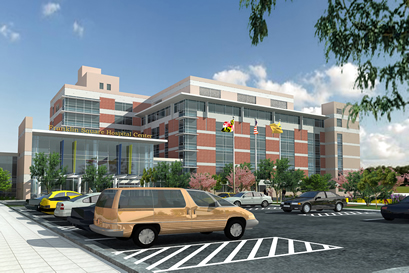 Fig 1. Exterior Rendering (South Side Looking Towards Main Entrance)
General Building Data:
| | |
| --- | --- |
| Building Name: | Franklin Square Hospital Center Patient Tower and Emergency Department Addition |
| Location and Site: | 9000 Franklin Square Drive, Baltimore, MD 21237 |
| Building Occupant Name: | MedStar Health Facilities |
| Function: | Medical |
| Size: | 356,000 SF |
| Number of Stories: | 7 |
| Owner: | Franklin Square Hospital Center, Baltimore MD |
| Project Manager: | Lillibridge Healthcare Services, Inc., Baltimore MD |
| Construction Manager: | Bovis Lend Lease, Bethesda MD |
| Architect: | Wilmont/Sanz Inc., Gaithersburg MD |
| Structural: | Rathgeber/Gross Associates, Rockville MD |
| Civil: | Dewberry and Davis, Fairfax VA |
| MEP: | Leach Wallace Associates, Elkridge MD |
| Construction Dates: | November 2007 to October 2010 |
| Overall Project Cost: | $176 million |
| Project Delivery Method: | Design - Bid - Build |
Architecture:
The seven story Franklin Square Hospital Patient Tower adds 291 private inpatient rooms, an expanded emergency department, a dedicated pediatric emergency department and inpatient suite, four new medical and surgical units, and an expanded 50 bed critical care unit to the franklin square hospital campus. The facade of the Franklin Square Hospital Patient Tower features predominantly brick veneer precast concrete panels with aluminum curtain wall windows visually offset by exposed concrete bands between floor levels. Sun shades extend out from the buildings face to provide shelter for the larger curtain wall sections (Fig 1). The main entrance leads through a large three story atrium featuring the lobby (Fig 2, 3).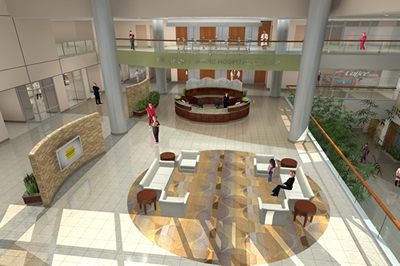 Fig 2. Atrium (Looking Towards Reception Desk)
Codes:
International Building Code 2006 with Baltimore County amendments, NFPA 10,1Life Safety Code 2006, International Fire Code 2006 with Baltimore County amendments, AIA Guidelines for Hospital and Health Care Facilities 2006, ADAAG Americans with Disabilities Act - Public Law 101-336, National Electrical Code 2005, International Mechanical Code 2006, National Standard Plumbing code 2003 with 2004 supplement, International Emergency Code 2006.

Zoning:
Baltimore Country Zoning Regulations. Franklin Square Hospital is located in zoning ordinance D.R. 5.5 of Baltimore County.

Historical Requirements:
None:

Building Enclosure:
The building is predominantly covered in a series of pre-cast wall panels with exterior surfaces ranging from exposed concrete to brick veneer to stucco. The precast panels are supported on 6" metal studs with a 3" cavity, 6" thermal insulation, vapor barrier, and 5/8" gypsum wall board. The remaining facade is a 2.5"x6" aluminum curtain wall system.
The roofing is of two main types. EP single-ply membrane roofing that includes a non-traffic-bearing sheet membrane system intended for weather exposure is used as the primary roofing on the patient tower and canopies. The second roofing type is a modified bitumen roofing system.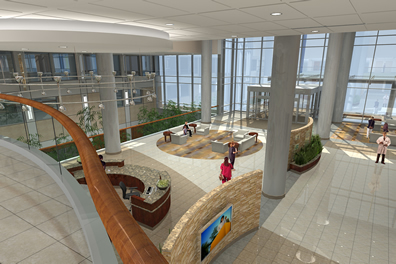 Atrium (Looking Towards Main Entrance)
Sustainability Features:
Aluminum sun shades extend from the building overhead many of the large aluminum curtain wall sections. The sixth floor of the south elevation incorporates a wall to wall aluminum curtain wall system. To help alleviate solar gain and glare in these spaces the roof is extended an additional five feet with an aluminum composite panel soffit acting like a large sun shade. The atrium also includes shrubbery, small trees, and a water wall making the space more enjoyable and promoting better indoor air quality (Fig 2, 3).

Structural:
The foundation system of the building consists of drilled concrete piers 4 feet in diameter centered under columns or slightly offset under perimeter grade beams. The piers typically extend 42 feet below the top of the ground floor 5" slab on grade. The typical grade beam is 24"x24" with some that are 36"x24".
The typical floor system consists of a 10" concrete slab with typical bay sizes of 30'x30'. There are edge beams along the slab perimeter and around openings including the elevators, stairs, and atrium. Slabs and beams have camber according to span length ranging from 3/8" to 1". Typical column size is 21x21and 22x22. Many columns on the ground floor with no story above have been sized similarly for future expansion. The main roof system consists of cambered steel beams ranging from W12x14 to W21x73 and 1.5" deep, wide rib, 20 gage galvanized metal deck.
There are no shear walls in the building, instead, the columns, beams, and slab act as a moment frame to resist the later forces.

Construction:
The construction of a new seven story tower with walkout Emergency Department ground floor, six floors of new patient rooms including one floor of ICU rooms, a penthouse floor, a roof designed for a future heliport, a new three story entry lobby, a new gift shop, a new meditation room, and a new admitting suite. There will be renovations to materials management and existing ICU to construct new corridor tie-ins. The central energy plant will receive new boilers, chillers, generators, electrical switchgear, and cooling towers.

Electrical:
Normal power to the hospital is supplied by the Baltimore Electric Utility Company. Two 13.2KV underground feeders enter the building at the northwest corner and terminate in a 15KV class switchgear rated at 1200A. Wiring size is #12AWG minimum for a typical 20A, 120V or 277V lighting or receptacle branch circuit. The uninterrupted power system is a 3 phase on-line solid state system rated at 180KVA/162KW. The output voltage is 208Y/120VAC 3 phase 5w.
Emergency power of 480Y/277V 3 phase 4w to the hospital is supplied by three 480Y/277V diesel engine generator sets of 2000KW capacity. The generator sets are mounted on a heavy duty steel base to maintain proper alignment between components and provide power within 10 seconds.

Lighting:
Track lighting, linear/perimeter lighting, cold cathode lighting and custom fixtures are found throughout the building. All incandescent lamps have a long life of 2500 hours. Fluorescent T8 lamps contain a low amount of mercury, have a minimum life of 15,000 hours and have a CCT of 4100K. Compact fluorescent twin-tube lamps are rated at an average life of 10,000 hours. All fluorescent ballasts are electronic. High intensity discharge lamps have a minimum of 20,000 hours of lamp life. Ultrasonic and infrared occupancy sensors are supplied in the lobby and throughout the building.

Mechanical:
The floor plans are broken up into heating zones ranging from four to nine zones per floor. The onsite central plant has two three-ton cooling towers, two chillers, and two fuel oil tank boilers. Eleven air handling unit serve the patient tower using variable percentages of outdoor air, ranging from 10% to 50%. The tower is serviced through four mechanical shafts, two larger central shafts, and two smaller wing shafts. The building is served by variable air volume terminal units with hot water reheat and the return system are a variable volume system with return air terminal units.

Fire Protection
The patient tower is fully sprinkled with a dry-pipe sprinkler system, low air, water flow and valve tamper, pre-action system. Portable fire extinguishers, manual pull stations, magnetic door closers along with an annunciation system, using horns and strobes, are located throughout the building. Selected doors on staircases are equipped with hardware to prevent re-entry.
Sprayed on fireproofing is applied to all structural steel and metal decking where indicated for UL assembly. In renovated areas, the fireproofing is patched where it was removed. Partitions range from one to two hour fire rating.

Transportation
There are three service elevators and three public elevators. The three public elevators extend to the sixth floor along with two service elevators. One service elevator extends to the seventh floor penthouse and up to the rooftop for use with the future heliport. There are also three stair towers distributed around the building.

Telecommunications
Each patient room is fitted with a nurse call system and cable television. Magnetic card reader door locks are used for security. All conference rooms include audiovisual signal for presentations and communication. Category 6 cables are used for the hospital standard voice/data system.
All pictures and renderings courtesy of
Franklin Square Hospital