Building Statistics:
Part #1
General Building Information:
Building Name:  Indiana Regional Medical Center
Location: Indiana, PA
Occupant:  Indiana Regional Medical Center
Function:  Hospital
Size:  140, 000 SF
Height:  97 ft – without 8th floor addition
Number of Stories: 7
Construction Dates:  Original Construction in summer of 1976. Renovation and addition not yet begun.
Total Building Cost:  Information Not Yet Released
Delivery Method:  Information Requested
Project Team:
Owner:  Not Released
Architect:  Rea, Hayes, Large, & Suckling
General Contractor:  Information Requested
Structural Engineer:  Rea, Hayes, Large, & Suckling
MEP:  Information Requested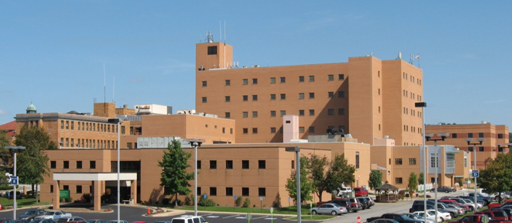 Architecture & History:
Indiana Regional Medical Center was first founded in November of 1914. Since then it has had several renovations and additions. The largest addition was added in July of 1976. This addition is a seven story building with a brick façade and steel structure.  The Hospital is made up of a total of six buildings all constructed separately from 1914 up until 1976.  Each building has a modern rectangular shape with brick façade.  The most recent addition is the expected building to be renovated and have an eighth floor addition. 
Sustainability:
The medical center is lacking in sustainability efforts because of it being an older structure.  Many sustainability efforts are being considered with the renovation and addition of the eighth floor. This information has been requested.
Zoning:
Indiana Regional Medical Center was built with the set codes and ordinances established by the borough of Indiana.  The more modern version of the codes must be taken into account when the addition is being considered since the building is older.
Building Enclosure:
Information for the building façade and roof has been requested.
Building Statistics:
Part #2
Structural:
The hospital consists of one large seven story building with five smaller buildings branching off from all sides.  Each building is rectangular in shape with a brick façade and has a flat roof.  The largest building stands 98 feet in the air and has a rigid frame skeleton of steel. Along its North-South length, the hospital consists of 5 typical bays made up of W10, W14, and W16 steel.  Moment frames allow more flexibility with the floor plan and awareness of braced frames and moment connections throughout the structure.
The existing floor system for the Indiana Regional Medical Center consists Composite Steel Deck with 3 ½'' of lightweight 3000 psi concrete fill netting and a total thickness of 5 ½''. 
Wind pressures and lateral soil pressures on existing walls do affect the overall loading on the building and should be taken into account.  The fact that the building has had several renovations over the past 70 years should not be ignored and should always be involved when doing an analysis. 
IRMC rests on a shallow layer of bedrock so the foundation of the overall building is very shallow.  The current level of grade is actually higher than initially since the foundation could not be placed deep into the ground.  Concrete footings and columns make up the entire base of the building and our attached to the upper steel skeleton by anchor bolts.  Since the building rests on a shallow foundation it is very important to check load impact and load transfer.  This foundation makes the building very vulnerable and could be easily affected by wind and seismic loadings.  It may also be relevant to check the current foundation for any damages since this building has been renovated several times in the past.
Mechancial:
The mechanical system for the IRMC utilizes five primary air handling units located on the roof with an output of 350,000 CFM.  All units are variable air volume systems taking in 100% outside air due to the critical spaces requirements of the building.  There are two primary chilled water pumps which are located below grade on the ground level with a capacity of 3300 GPM each. 
Lighting/Electrical:
The power enters the Indiana Regional Medical Center at 35.4 kV which is then stepped down by a switchgear. From here it enters the building by way of 2 main feeders each at 15 kV. Once inside the building, the feeders connect to substations where the power is stepped down to a 480/277V, 3 phase, 4 wire system which is distributed throughout the remainder of the building. The lighting systems however are fed by 208/120, 3 phase, 4 wire panel boards.
These panel boards will handle either fluorescent lamps at 277V or incandescent lamps at 120V. To control such equipment there will be automatic controls in place for much of the building. This excludes the open office areas which will have programmable lighting fixtures in place. As for smaller offices around the Operations Center, some will have occupant controls and dimming capabilities.
Emergency power is supplied by two 1500 kW diesel-powered generators located on the roofl. This emergency power is connected to the substations on the second story. This connection is made by a large conduit riser which runs down the seven stories and cuts east-west to the room housing the substation.
Fire Protection:
The IRMCl is equipped with an automatic sprinkler system installed on all levels in accordance with NFPA 13.  Smoke alarms and visual and audible alarms will be installed in all rooms and corridors.  The main sprinkler system is a dry system with a 100 square foot per head requirement for all hazard areas.  All piping, fittings, and valves shall be rated for a system pressure ranging from 175 psi to 350psi.  All structural elements including staircases and elevator shafts are design with a two hour fire rating.