While great efforts have been taken to provide accurate and complete information on the pages of CPEP, please be aware that the information contained herewith is considered a work-in-progress for this thesis project. Modifications and changes related to the original building designs and construction methodologies for this senior thesis project are solely the interpretation of Daniel Saxton. Changes and discrepancies in no way imply that the original design contained errors or was flawed. Differing assumptions, code references, requirements, and methodologies have been incorporated into this thesis project; therefore, investigation results may vary from the original design.
DAN SAXTON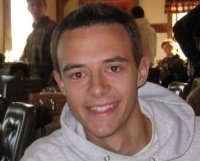 Dan Saxton is at present in his 5th year of studying Architectural Engineering at Penn State University. He will be graduating in December of 2011 with a Bachelor/Master of AE degree as a result of the Integrated BAE/MAE program. His studies have focused on mechanical systems in buildings and he hopes to continue his professional development upon graduation.
Dan's past relevant work experience has included summer internships with PSU's Office of the Physical Plant (Design Services) and Engineering Ministries International. The former was in the summer of 2009 working under Mechanical Engineers in a variety of roles pertaining to projects for existing buildings on the University Park campus. The latter was during this past summer, involving a month-long project trip to India, which included architectural work on a site in Hubli (Karnataka) as well as in the eMi2 office in Mussoorie (Uttarakhand). He has also spent multiple semesters as a Teaching Assistant for Professor Moses Ling in 2nd- and 3rd-year AE courses. Having passed the Fundamentals of Engineering Exam, Dan will achieve EIT status upon graduation, and plans to work towards obtaining his license as a Professional Engineer.
Beyond academia, Dan keeps busy through several clubs and organizations at Penn State. Relative to his major, he is an Architectural Engineering Envoy and a member of Phi Alpha Epsilon, an Honor Society for AE students. Additionally, Dan has served as the President of The Navigators, Public Relations Officer of the Paternoville Coordination Committee, and has been actively involved in a variety of intramural sports, satisfying his love for sports and recreation.
The Capstone Project Electronic Portfolio (CPEP) is a web‐based project and information center. It contains material produced for a year‐long Senior Thesis class. Its purpose, in addition to providing central storage of individual assignments, is to foster communication and collaboration between student, faculty consultant, course instructors, and industry consultants. This website is dedicated to the research and analysis conducted via guidelines provided by the Department of Architectural Engineering. For an explanation of this capstone design course and its requirements click here.

Senior Thesis Main Page | Penn State | PSU AE | AE Computer Labs | Contact Dan
This page was last updated on 4/19/11 by Daniel A. Saxton and is hosted by the AE Department ©2010