While great efforts have been taken to provide accurate and complete information on the pages of CPEP, please be aware that the information contained herewith is considered a work-in-progress for this thesis project. Modifications and changes related to the original building designs and construction methodologies for this senior thesis project are solely the interpretation of Daniel Saxton. Changes and discrepancies in no way imply that the original design contained errors or was flawed. Differing assumptions, code references, requirements, and methodologies have been incorporated into this thesis project; therefore, investigation results may vary from the original design.

STEM Center Building Statistics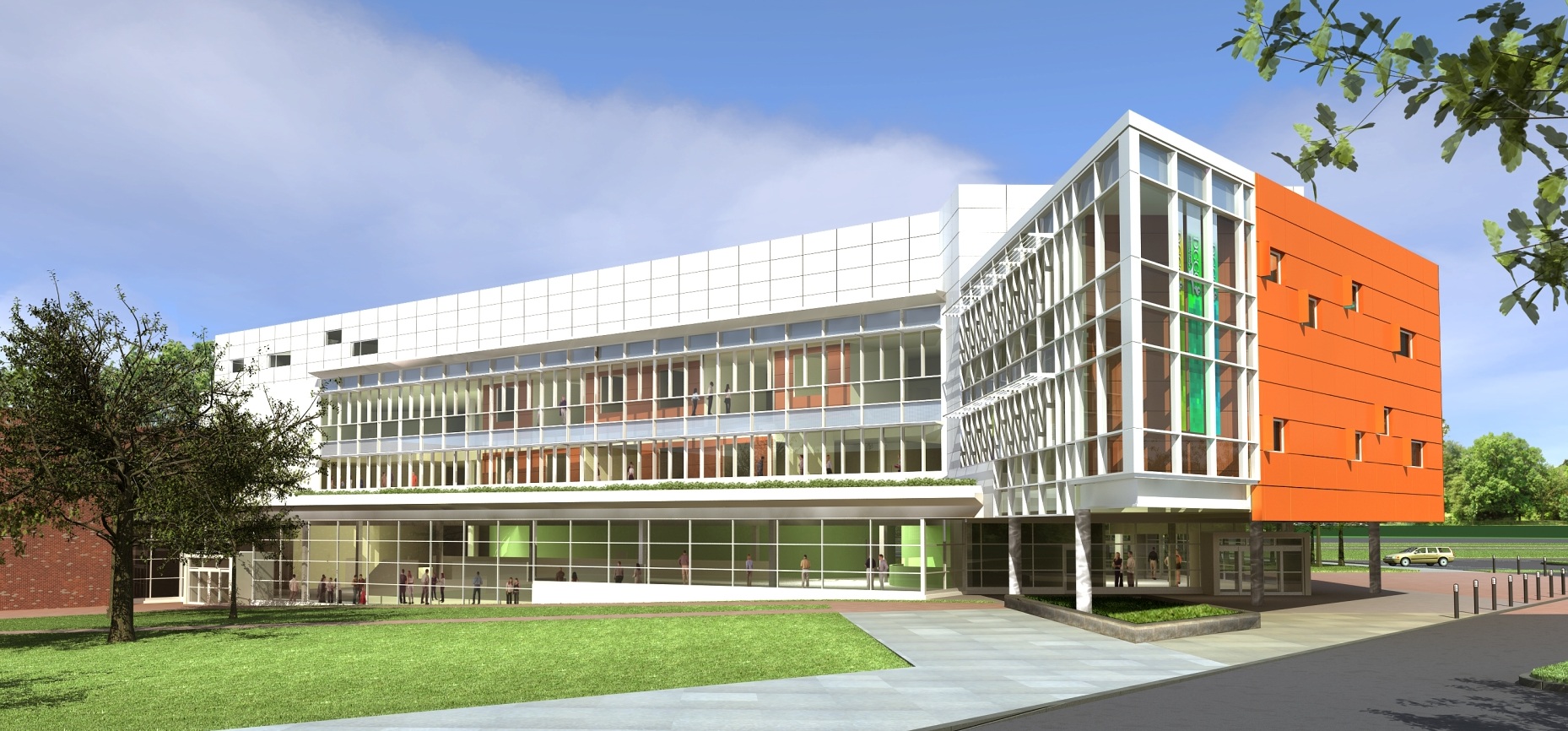 Photo Courtesy of Burt Hill


Building Name: Delaware County Community College STEM Center
Location: Delaware County Community College – Media, PA
A part of the new Science, Technology, Engineering, and Mathematics (STEM) Complex
Building Occupant Name: Delaware County Community College students, faculty and staff
Occupancy Type: Institutional
Size: 105,000 Sq. Ft.
Number of Stories: 4
Primary Project Team:
Dates of Construction: January 2008 – September 2009
Cost Information:
Project Delivery Method: Multiple Prime
ARCHITECTURE
The STEM Center was designed to stand out as the forefront of the college, and accomplishes this aesthetically using a significant amount of the glazing on the exterior façade. The main face of the building provides a glass curtain wall at all four levels, and the main architectural feature of the building is a glass "prism" at the far end of the building. This prism is the focal point of what is an interesting overall geometric shape taken on by the building. The building form has three connected parts that combined make a sort of "S" shape. On the interior, bright colors and unique furniture styles highlight open spaces and atriums.



Photo courtesty of Burt Hill
Applicable Building Codes:
2006 International Building Code
2006 International Mechanical Code
2006 International Electrical Code
2006 International Plumbing Code
2006 Energy Conservation Code
Authority Having Jurisdiction: Marple Township, Pennsylvania Board of License & Inspections
Construction Classification: IIB (*With area & height modifications)
Building Occupancy Use Group: B – Business & A – Assembly (Mixed Occupancy)
No historical requirements applicable for this project.


BUILDING ENCLOSURE
As mentioned above, glass plays a dominant role in the building enclosure as a whole. On the south side of the building, which is the main entrance and focal point facing the rest of campus, a curtain wall spans the top three stories. The type of glazing specified is Solarban 60 Clean by Efco PPG Industries or a comparable product. The "prism" is comprised of insulated vision panels and metal panels at the corner. Surrounding the prism and much of the exterior façade is a red brick cladding. This face brick is the main material finish seen on the building enclosure.


Photo courtesy of Burt Hill
On the roof, Ethylene-Propylene-Diene-Monomer (EPDM) Roofing was specified to aid in such things as weather protection and uplift pressure decrease. This Type II EPDM is an internally reinforced flexible sheet typically black in color.
Also specified in the area of building enclosure were roller window shades manufactured by Mechoshade Systems, Inc. (EuroTwill 6000 Series). The only other shading device used is Levelor aluminum blinds.


SUSTAINABILITY FEATURES
The design for this STEM Center is awaiting LEED Silver status based on several sustainable characteristics, including a green roof in the middle portion of the building's multi-level roof. The main sustainable items are the following:
Partial vegetated roof to reduce stormwater run-off
Remaining roof is a white membrane that reduces heat gain into the building.
All wood products meet Forest Stewardship Certification Chain of Command (environmentally and socialy responsible forest management).
Building is 15% more energy efficient than a standard baseline science facility.
Low emitting carpets, paints and adhesives.
75% of the occupied spaces receive natural daylight thereby reducing the artifical lighting load.
10% of the building products contain recycled content thereby reducing the landfill impact.
Enhanced commissioning optimizes equipment efficiency.
Construction waste management reduces the amount of construction waste going to the landfill by 50%.
Design eliminates the use of CFC's, HCFC's and halons.
Systems Descriptions
CONSTRUCTION
The STEM Center is a part of the two-building STEM Complex that also includes the Advanced Technology Center. The STEM Center consists of mainly classrooms, laboratories, and offices. Special spaces include a 50-seat auditorium, a student lounge, a fitness center, and an aerobics room. As mentioned in Part 1, Reynolds Construction Management Inc. was the CM for the job and altogether this Design-Bid-Build project consisted of 6 prime contracts: General Trades, Structural Steel, Plumbing, HVAC, Electrical, and Aluminum, Glass, and Glazing. The construction classification was IIB with a mixed building occupancy of categories B (Business) and A (Assembly), and the construction duration was from January 2008 to September 2009 with a grand opening in the spring of 2010.
ELECTRICAL
The electrical system is designed to work with the existing DCCC campus electrical installation, including use of existing high voltage switchgear in Building H. Concrete encased duct banks make up the tunnel system through which high voltage feeders pass. For step down, (2) 1000kVA transformers in a double-ended, main-tie-main, substation arrangement are used. Located in electrical closets are 208Y/120V transformers provide power for receptacles and equipment.

Also, a new 250kW generator meets the Normal/Emergency power requirements, including egress lighting, life-safety, and standby mechanical equipment loads.


LIGHTING
A significant amount of natural lighting is achieved through the south-side glass curtain wall facade on all levels. This use of natural light is aided by the architecture of the atrium that spans 3 stories. Additionally, the STEM center uses mainly 1'x4' recessed acrylic-lensed fluorescent luminaires in a variety of spaces throughout the building, including classrooms, laboratories, and offices. Indoor occupancy sensors are used to detect occupants in the spaces and therefore increase efficiency.
MECHANICAL
For the STEM Center's mechanical system, the existing (3) 400 ton gas-fired absorption chillers were taken into consideration, and a new primary/secondary system 650 ton electrical centrifugal chiller has been installed. Also included in the new design for the chilled water system are (2) 40 hp primary chilled water pumps, (2) 125 hp secondary chilled water pumps with variable frequency drives, 200 linear feet of 14-inch chilled water piping, and 1500 linear feet of 8-inch piping.

Though keeping the existing cooling tower enclosure, (4) 600 ton induced draft crossflow cooling towers are new on site with 1000 feet of new 16-inch HDPE piping and (2) 60 hp in-line condenser water pumps.

In regards to water heating, there is a new boiler plant consisting of (2) 250 BHP dual fuel heating hot water boilers. Along with the boilers, there are (2) 25 hp primary heating hot water pumps and (2) 40 hp secondary hot water pumps with variable frequency drives.

Air conditioning is provided by (2) 80,000 cfm roof top air handling units, each with a heat recovery coil, a pre-heat coil, and a chilled water coil. Associated fans are variable frequency drives as well and have full economizer control with air flow measuring stations for control of outdoor air intake. Terminal units are variable air volume (VAV) boxes with heating coils.

Necessary exhaust of air is achieved through fume hoods in laboratories and preparation rooms, each moving air to (2) roof top exhaust units with heat recovery capabilities. Correct pressurization is maintained with a space pressurization monitoring system and each exhaust fan has a variable frequency drive as well.
STRUCTURAL
The structural system for the Delaware County Community College STEM Center consists of steel columns, beams, and girders. Typical floor construction is 2-1/2" lightweight concrete on 3" galvanized metal floor deck with a UL-rated 2-hour assembly. The typical sizes are W16x26 for beams, W21x50 for spandrel and interior girders, W12x109 for interior columns, and W12x87 for exterior columns. The typical structural bay is 30' x 30'.

Roof construction is 1-1/2" 22 gage metal roof deck spanning between open web steel bar joists, which are spaced at 6' on center. Joists (typical size of 26K7) are supported on wide flange beams (typical size of W16x31) at the column lines. Girders are W18x40. Mechanical equipment on the roof is supported on equipment curbs.


For the facade, the STEM Center has a metal panel veneer with a metal stud back-up, and glass curtain wall on all levels on the south side. The metal panel veneer is supported from the structure and glass is supported off of beams and columns. Spanning floor to floor are 6-inch metal studs and storefront type glass support.
FIRE PROTECTION
The STEM Center is a fully sprinklered building with wet sprinklers throughout the building, spaced according to NFPA-13 and flow density and area coverage requirements. Additionally, window type sprinklers are used to protect glazing in the Atrium. It is a combined system as defined by NFPA-14, with each floor having a floor control valve. Each stairwell is fitted with a 2-1/2" fire hose valve with a 1-1/2" reducer.


TRANSPORTATION
Vertical circulation for the STEM Center is achieved through (2) side-by-side elevators, fire-rated stairwells at each end of the building, and an open set of staircases that ascend up through and look down on the atrium. Vestibules for ground floor entrances are located at four difference places spaced around the perimeter of the building. On the upper floors of the building, a central corridor connects the three geometric sections of the S-shaped building.
The Capstone Project Electronic Portfolio (CPEP) is a web‐based project and information center. It contains material produced for a year‐long Senior Thesis class. Its purpose, in addition to providing central storage of individual assignments, is to foster communication and collaboration between student, faculty consultant, course instructors, and industry consultants. This website is dedicated to the research and analysis conducted via guidelines provided by the Department of Architectural Engineering. For an explanation of this capstone design course and its requirements click here.
Senior Thesis Main Page | Penn State | PSU AE | AE Computer Labs | Contact Dan
This page was last updated on 4/19/11 by Daniel A. Saxton and is hosted by the AE Department ©2010