Student Biography
Caitlin Behm is a 5th year Architectural Engineering student at Penn State pursuing the integrated BAE/MAE program in the structural option. She plans to graduate May 2012 with EIT status and gain employment as an architectural engineer specializing in design and/or forensics.
During the summer of 2009, Caitlin worked for BR+A Consulting Engineers. She reviewed and revised HVAC designs and evaluated total air flow through a major New York hospital. The past year and a half, Caitlin has worked for The Office of Physical Plant at Penn State. She supervised several renovation projects at Beaver Stadium and managed budgets for multi-million dollar projects. Caitlin also managed the plan preparation of the Forestry Building slab remediation as well as conducted onsite inspection of the structural integrity of the building.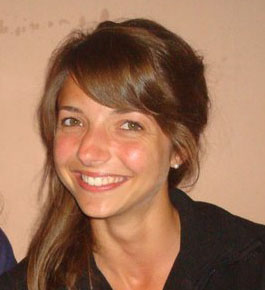 Along with studying Architectural Engineering at Penn State, Caitlin is involved with various clubs within the College of Engineering. She is a mentor to seven freshmen engineers for the Women in Engineering Program, WEP. This program is dedicated to helping freshmen engineers academically and socially transition from high school to college. In addition to WEP, Caitlin is a member of the Student Society of Architectural Engineers, SSAE. She headed a committee which helped plan a parents' weekend for families of students in Architectural Engineering this past April. The parents enjoyed seeing studio and touring Beaver Stadium, Penn State's football stadium.
Over the summer and during extended breaks Caitlin loves to travel. She has visited almost all fifty states, seeing various national parks and landmarks along the way. Last year she had her first experience traveling abroad. Caitlin visited Stockholm, Sweden, specifically Gamla Stan, and she found she really enjoyed immersing herself in another country's culture. This past summer, she studied architecture abroad in Rome for seven weeks. Caitlin took courses studying ancient Roman architecture, daylighting, and cartography to name a few.