QUICK FACTS
building name: River Vue Apartments
location and site: 300 Liberty Avenue, Pittsburgh, PA 15222
building occupant name: River Vue Associates, LP (a group associated with Millcraft Industries)
occupancy type: IBC Occupancy Class R-2 (Residential Apartment houses)
size: 295,000 square feet
number of stories above grade: 16
primary project team
owner: River Vue Associates, LP
general contractor:  Turner
construction management: Turner
architects: Design 4 Studio, Inc. / IDG LLP
structural engineer: Whitney Bailey Cox & Magnani, Inc.
mep engineer: Claitman Engineering Associates Inc.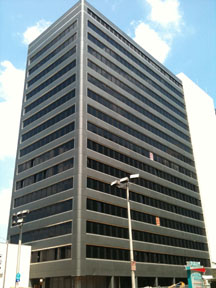 dates of construction: June 2011-April 2012
actual cost information: Gauranteed Maximum Price of $19,225,808
project delivery method: Design-Bid-Build
| | | |
| --- | --- | --- |
| | | Modern, high-profile apartment living is the goal for the renovation of Pittsburgh's old state office building. Two new levels of valet parking will welcome residents to enjoy multiple bedrooms, a kitchen, bathroom, and living space within their unit. upper levels of the building feature two-story apartments with exceptional views of the city. Cafe and retail spaces are featured on the ground floor to attract business and provide convenient food service for tenants. the building currently has two curtain wall systems that create its dark, modern appearance along the shoreline, similar to the style of buildings popularized by Mies van der Rohe. the outer dark glass and aluminum panels were installed at the time of initial construction in 1955, and the inner curtain wall system, was added during a renovation project in the 1980s. there is a steel frame supporting the building's sixteen floors, two stairwells and six existing elevator shafts. |
Since the building was originally constructed in the 1950s, there are many aspects of construction that do not meet today's current building codes. Most of the construction work occurring throughout the summer of 2011 is asbestos abatement and testing of interior building surfaces for lead paint levels. Although most interior surfaces are being completely demolished, the interior stairwells, which are lined with tile, are under review to determine if the existing materials conform to IBC section 800 requirements for interior finishes.

The few pieces of existing mechanical equipment will be replaced to meet ASHRAE 62.1 and 90.1 code standards for ventilation and indoor air quality while additional boilers, pumps, and cooling towers will also be added during new construction. The building's original electrical equipment and panel boards are still in use for temporary power to the site; however, new equipment listed in the renovation plans will be installed to meet the current National Electric Code. As of August 2011, the only existing functioning equipment in the building are elevator gears and several electrical panels.All of the services for the building, including gas, sanitary, storm, and fire protection piping are to be replaced in the renovation process to meet the national Plumbing Code, International building Code Chapters 9 and 29, the City of Pittsburgh Code of Ordinances, and the National Fire Protection Code. Each floor of the building will be fully sprinkled in the new design.
Pittsburgh zoning requires an occupancy permit for all structures other than single family dwellings. This building is located in section C5, the Golden Triangle District, of the Pittsburgh Urban Zoning code and since the project is a renovation of the existing structure with no major architectural or height changes, there is no conflict with its current zoning status.

River Vue Apartments is located across Commonwealth Place from the historical Point State Park, where Fort Pitt and Fort Duquesne were constructed in the mid 1700's. Although it is not directly located on this historical site, it must respect the landscape and will be noticed in all views from the park as seen here.
The existing structure consists of a steel frame with existing bays of about 20 ft x 25 ft using mostly W14x34 beams for spans within bays. The two curtain wall systems are hung parallel to each other, 1 1/2 feet apart. The outer curtain wall consists of 6 ft x 4 ft gray aluminum panels and dark gray glass with interior bearing walls comprised of concrete masonry units. The outer gray glass is to be replaced with new bronze-colored window panes. The interior aluminum panel curtain wall acts as an insulator by maintaining an air gap between it and the outer layer.

Current roofing materials are being replaced in the proposed renovation plans to include a sealant, flashing, 1/2 inch cementitous back board and a laytex plaster finish along the vertical edges. The horizontal plane of the roof is comprised of several layers, including a Dex-o-Tex traffic surface, single ply sheet membrane, slip sheet, 6 1/2 inch light weight concrete layer (3500 psi) with fiber reinforcement and a 1 1/2 inch extruded insulation board. The roof deck is galvanized 20 gauge, 1 1/2 inch thick steel with wide rib configurations.
LEED Certification of the new building is the goal of this renovation project. This certification will be achieved through using regional materials, recycled content, low emitting materials, and weather proofing materials. Each apartment unit within the building will have individual temperature controls, electric panels, and a heat pump to promote energy conscious living. The glazing on the exterior facade will also be replaced to change the current building loads that are influenced by sunlight.

Site/Civil Work

Existing site boundaries cannot be altered due to the proximity of River Vue Apartments to its surrounding buildings, streets, and Point State Park. However, renovation work includes the removal of existing underground electric feeders, addition of concrete loading dock, ramp, curbs, and asphalt pavement at building entrances. All sidewalks are to have a broom finish with 2 coats of boiled linseed oil finish. Renovation of the site's manhole will proceed with precast manhole sections and class "AAA" concrete. Grading of the site will remain except for the excavation of a new ramp to underground parking at the rear (south east side) of the building. Additionally, there will be a 450 gallon, precast concrete storm water detention tank added outside the foundation of the building near the new parking garage entrance. New landscaping materials include a six inch topsoil layer, ryegrass and Kentucky bluegrass, limestone, and mulch.

Construction Methods

Project management will be conducted directly from the first floor of the building by Turner staff members while all engineering and architectural work will be conducted by outside firms. There are two on-site Turner project engineers and a project manager to handle daily reports and track job progress. The site provides little space to store materials or equipment outside the structure; therefore most staging will require seamless planning to coordinate deliveries to and from the site. Substantial completion is scheduled for April 2012, where the first five floors are expected to be complete for turnover to the owner. After this time, two additional floors will be required to be finished each month until the entire building is completed.

Electrical

The existing 300 kW generator located on the ground floor is to remain as well as the existing emergency power feeders, which will serve as a source for temporary power throughout the demolition and renovation phases. All starters, disconnects and general use feeders shall be removed and replaced with new electric wiring in the form of copper bus bars to meet the current National Electric Code. The building operates on a three phase, 120/208 V system, stemming from a main electrical room located on the ground floor. Electric power is supplied to this room's 2000A switchboard by Duquesne Light Company through four main transformers on the North West side of the site and serves panel boards of 400, 225 and 100 amps. Each apartment within the building has typical load requirements for appliances such as refrigerators, hot water heaters, washer-dryer combinations, electric ranges, dishwashers, heat pumps along with lighting and has access to its own panel board. There is a separate electric service for emergency power and fire alarms for safety.

Lighting

Existing gray stationary window glazing and associated gaskets are to be removed during the renovation and replaced with new, operable bronze colored panels to allow for additional day lighting. Apartments on upper levels 15 and 16 will incorporate new balcony areas to allow additional natural light and outdoor living space for the tenants. Wall sconces and pendant fixtures hung from acoustic tile ceilings will be installed in interior corridors for guided lighting to each unit. The facade will be lit with white LED flood and spot lights as well as several metal halides. LED bollards and up-lights will be used for pathway lighting and to accent the landscape.

Mechanical System

All existing chilled & hot water supply and return piping, hangers and associated insulation will be removed during the demolition phase as well as unit ventilators, ductwork, grilles, registers, diffusers, unit heaters, pumps and the existing air handling unit, chiller, and pumps. Two new 200 GPM boilers will be used to heat water for the building and associated pumps will distribute it to individual apartment units while a 1024 GPM heat exchanger will be used to collect residual heat and re-use it to conserve energy. A 350 ton cooling tower will be disguised by three new, 66 foot diameter curved, perforated stainless steel curved panels on the roof. Plumbing and sanitary piping will serve typical water closets, lavatories, showers, and kitchen appliances throughout the building.

A single 17,000 CFM air handling unit with energy recovery wheel located on the roof will be used to condition air for the building through two supply risers and two exhaust risers located in the north-east corner of the building. Tenants will also have the option to use their operable windows for additional ventilation to individual units. The building can easily be divided into several simple zones for conditioning: tenant apartment units, corridors, lobby retail space, and parking garage space, which will allow for simple energy modeling at a later date.

Structural

Two types of concrete are used throughout the building, lightweight concrete (107-116 pcf) for topping on metal decks and normal weight (145pcf) for exterior applications, footings, piers and foundation walls, and interior slab on grade applications. The building is designed per IBC 2006 with the following load conditons:

Temporary bracing of the existing structure will be provided by Turner and will remain in place until the structure is completely enclosed and all floor and roof systems are completely installed. Permanent steel beam bracing will be inserted between nine different column lines in the ground floor parking area with ½" steel filler plates, as required for extra bracing.

The existing foundation is reinforced concrete, 3'-6" below finished grade. Metal composite floor deck is 20 gauge galvanized steel with varying rib dimensions, as per plans, and roof deck is 1-1/2" 20 gauge steel deck with wide rib configurations. Wide flange steel beams are used for internal bays of about 20'x25' along with hollow structural sections, channels and steel plates, conforming to ASTM standards A36 and A500.

There are two existing curtain walls creating the exterior building envelope, which are hung 1-1/2' apart on the building's steel frame. The exterior layer consists of 6' by 4' dark gray aluminum panels and dark glass panels to protect the interior structure from the environment, whereas the interior curtain wall of aluminum panels acts as an insulator, trapping a layer of air between the two sets of panels.

Fire Protection

Each floor will be fully sprinkled in the renovation design to provide fire protection to all occupants. New sanitary and storm piping lines are being added to each floor of the building to allow for proper drainage. Dry pipe standpipes will be installed in each stairwell with fire alarms connected to the emergency power system.

Transportation

River Vue Apartments' location near Point State Park and notable golden triangle buildings leaves little room on its site for transportation access. To accommodate for this, the renovation plans incorporate two floors of double-level valet parking using loading lifts for resident's automobiles. Structural plans for the building show a modified drainage trench on the ground floor as well as 4" of added concrete under the lift legs where loads are transferred to the structure, as seen in the structural detail to the right obtained from the contract drawing set.

The Gateway Center Parking garage is also a convenient parking structure, located directly east of the site underground. In addition, city bus routes travel alongside the building site routinely throughout the week.

Special Systems

Since River Vue Apartments is a renovation project, most work occurring in the early stages of the job is stripping of the interior surfaces and removal of existing conditions. A large portion of the original surfaces contain harmful materials like asbestos and lead, and therefore require special attention when they are removed and disposed of. Ceramic tile lining the interior stairwells is to be tested for lead levels and if the product does not meet current code, it will be removed. All laborers working with these materials are asked to use extra caution and wear proper personal protective equipment (PPE).

Existing marble panels on the east exterior facade are to remain throughout the renovation, however, like all other marble surfaces on the building, will be cleaned and restored to their original state.
Please visit my "thesis research" page for more information on sources used when writing this report.