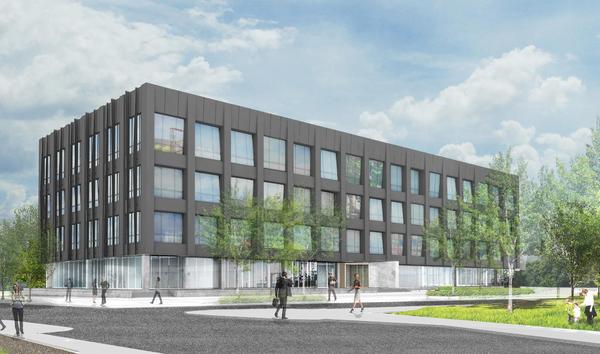 Overview
201 Rouse Boulevard is a high-end high performance building being erected at the Navy Yard in Philadelphia, PA. With a glass walled ground floor pedestal and copious windows wrappings, the building will glow with natural light and be a radiating beacon at night. The top three floors, primarily office space, will have an exotic zinc clad facade punctuated with floor to ceiling windows, giving stunning views of the navy yard the Philadelphia skyline to the occupants. The lobby, which houses a health cafe and fitness center, is enriched with wood flooring, Jerusalem limestone and Venetian plaster. The ground floor pedestal also plays as the main architectural feature of the predominantly rectangular office building. Those features being a 8 ft cantilever of the office spaces over the main entrances and a curved glass facade on the south-west side of the building.
National Codes
International Code Council (ICC) Pennsylvania Uniform Construction Code (PA UCC) International Building Code 2012 (IBC 2012)
Zoning
Commercial/Office (Philadelphia, PA) CMX-3
See Article 14-701
Max Occupied Site Area: 80% of Site
Max Floor Area: 500% of Site
Facades
201 Rouse Boulevard has two primary facade types, the top three office floors and the ground floor pedestal. The ground floor pedestal's facade is composed of three components: floor to ceiling glass "store-front" panels with aluminium mountings and mullions, full length brushed aluminum panels, and to "weigh" down this light and airy facade, the building uses light textured terrazzo paneling. The top three office space floors are a different story, though they do keep the vertical lines created by the base window panels, and have large arrays of windows. These large floor to ceiling windows come in four types to match the four patterns of the primary facade system. The primary system is consisted of four repeating patterns of exotic zinc cladding punctuated by vertically rising aluminum fins, which serve a small additional part in sun shading. The building's design used these zinc facade elements to hide almost all structural elements.
Roofing
201 Rouse Boulevard has a standard asphalt covered insulation (Min R value of 38) on steel deck roof. The roof slopes (¼"/1') to the center of the building where the drains and mechanical equipment are. To help obfuscate the rooftop mechanical systems there is a 13 ft. high mechanical screen setback 15-25 ft from the parapet.
The project at 201 Rouse Boulevard is to be LEED Certified under Core and Shell (v2009). To achieve this LEED rating, the project is relying upon modern lighting systems with ample daylighting, an efficient economized-cooling Variable-Air Volume HVAC system, and its location and support of local amenities and transportation. Additional sustainability measures to be added development of LEED and Landscaping plans.