ABET Assessment: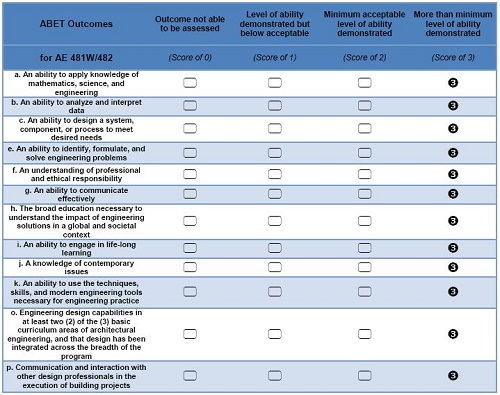 Senior Thesis Reflection:
Over the course of the past two semesters AE 481 and AE 482 known as Senior Thesis, has been a great experience overall.  Throughout the past year I have learned a great deal through the multiple technical reports and the final report itself.  All the hours and planning spent to complete the assignments required help in time management skills, organization, and analytical thinking.  These skills are crucial for success in the construction industry.  Overall, the experience gained from completing my Senior Thesis has provided me with a solid foundation as I move towards a profession in Construction Management.
CPEP Reflection:
The Capstone E-Portfolio (CPEP) was a rewarding experience.  Over the past year I gained the ability to convey information in a concise and esthetically pleasing fashion.  The requirements to maintain CPEP as we finished each report during the course of the past two semesters, created challenges that helped produce a great reference and visual aid for individuals interested in viewing our Senior Thesis work.  Overall, the CPEPs are a lasting archive of information that show the hard work completed over the past year and will continue to benefit future Senior Thesis students.