BUILDING STATISTICS PART I & II
Part I
General Building Data
| | |
| --- | --- |
| Building Name | The Tower |
| Location | Major City, USA |
| Building Occupant Name | Future Retailors |
| Occupancy or Function Type | Commercial High Rise |
| Size | 473,672 GSF |
| Number of Stories above grade/total levels | 28/29 |
| Dates of Construction | 12/24/12 - 3/3/15 |
| Total Cost of Construction | $208,000,000 |
| Project Delivery Method | Design-Bid-Build |
Primary Project Team
| | |
| --- | --- |
| Owner | |
| Architect | |
| Construction Manager | |
| MEP Engineer | |
| Structural Engineer | |
Architecture
Overview
The Tower is a new construction building and when completed will have twenty eight floors of occupancy. Floors 2- 9 are roughly 21,500 RSF and floors 10-28 are roughly 15,000 RSF. The building will not include any fitouts and will be determined by the floor tenants. Floors 10 and 17 will have outdoor terraces overviewing the existing park. The 10th floor terrace will range from 1500 SF to 2,070 SF and can occupy up to 139 people whereas the 17th floor terrace will be a bit smaller at a SF of 555 allowing occupancy of 37 people.

Building Features
The building is oriented where all floors have a view of the park, along with the grand circular entrance at the corner. The massive entry canopy has a diameter of 46'. What is really interesting is that there will be a new subway entrance closer to the building allowing the flow of pedestrians to pass by The Tower.

Applicable Building Codes
2008 City Building Code
2008 City Mechanical Code
2008 City Fire Code
2008 City Plumbing Code
2007 Electrical Code of the City
2010 ADA Standards for Accessible Design
2003 ICC/ANSI A117.1
Zoning
Zoning District: C5-3 / MID
Zoning Lot Area: 34,561 SF
Lot Coverage: 92%
Use group: 6, 6B
No Front Yard: As Per ZR 35-31
No Side Yard Required: As Per ZR 33-25, 35.52
No Rear Yard – No Rear Lot Line: As Per ZR 33-26
Historical Requirements of Building
Not Applicable
Building Enclosure

Building Façade
The building façade is a combination of different size glass panels, aluminum, and steel. The insulating glass ranges from 1-1/4th" – 1-3/4th" The interior portion includes insulation, vapor barrier, firesafing, smoke seal, and a silicone weatherproofing sheet.
Building Roofing
The majority of the roofing consists of a precast concrete paver with a 4" rigid insulation, waterproofing membrane, base flashing, 1"fiberglass insulation a sealant and cap flashing. There is a partial green roof which includes sedum planting, 4" growing medium, drainage and retention mats.
Sustainability

The goal for the Tower is to achieve a LEED gold rating and it is designed to earn Energy Star. To achieve this, the building consists of a high performance façade, air side heat recovery system, co-generation system, 30,000 gallon storm water reclamation, recycling center and bicycle storage.
Part II
Structural System
The structural steel supports the concrete core for the building and beams range in a variety of sizes.
 Beams throughout the floors range from W12x14 to W40x593
 6" and 9" NWC slabs
 WWF (6x6 –W2.9xW2.9) and #4 Rebar used depending on floor
 Cast in place concrete core
 Core contains nine elevators, mechanical, telecom, and electrical rooms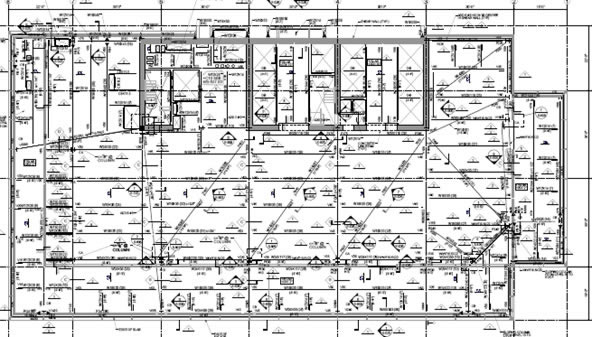 Mechanical System
The mechanical system utilizes seven condenser boilers to provide heating and cooling to the building. Three chillers can be found on top of the roof with a space for an additional chiller in the future. Along with this a combined heat and power system is used a secondary circuit which uses three 65 kW micro turbines. These turbines can be found in the mechanical penthouse and are sized to handle the base load of the building. A still water detention tank is installed on the roof which collects rain water and stores it in case a loss of power. It is also used to prevent water directly discharging into the sewer during heavy storms.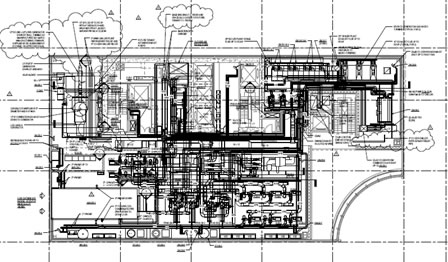 Electrical System
A complex electrical system is used for the building using three transformers provided by Con Edison which are located in Lower Level 1. There is also space for an additional transformer in the future. These transformers are responsible for stepping down the power to a 265/460V. A diesel generator at 750 kW 3 phase 4 wires is also found in the mechanical penthouse. This is a backup system if there is a loss of power.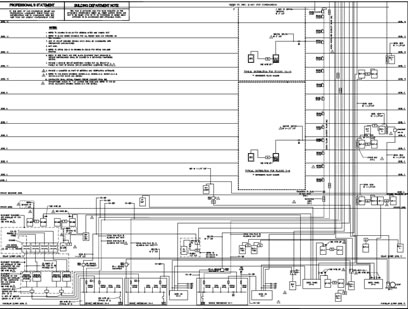 Fire Protection Systems
An automatic sprinkler system will be used with standpipe outlets at each floor level within every exit stairway. Hose connections will be located at the rise on each floor level landing and on the entrance floor above the standpipe riser control valve. Because the building is a high rise, a voice alarm communication system will be used.