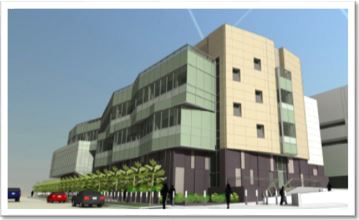 Figure 1 | Northeast Corner of the Crime Lab (via SmithGroupJJR)
architecture
The Crime Lab utilizes a contemporary approach to architecture, with pieces of the building boldly extruding from the façade and an elevation that undulates.  The northeast corner (Figure 1.) displays the DNA-inspired North elevation. The materials that make up the exterior are a combination of metal and glass curtain walls, as well as concrete panels.
The interior of the building is broken up into a variety of laboratories, meeting spaces, and offices. One room doubles as an emergency command center if the occasion arises. The ceilings are composed of metal, wood, and acoustic ceiling tiles while the flooring is either terrazzo or rubber tiles.
ZONING District D-GT (Downtown Golden Triangle) Neighborhoods within this district are housing, office, commercial, retail and mixed use. There is a maximum height of 175 feet above the elevation of Broadway St.
Major National Codes IBC 2006 | IMC 2006 | IPC 2006 | NEC 2005 | IFC 2006 | IECC 2006
Historical Requirements N/A
BUILDING ENCLOSURE
FAÇADE
A mixture of cladding systems makes up the building envelope of the crime lab.  There are aluminum curtain walls, and precast concrete and composite metal panels. The structure itself is steel frame with composite and concrete decking.
GLAZING
The glazing on the structure consists of four different glasses: spandrel, vision, frosted, and gradieted frit.
ROOFING
Single Ply Membrane Roofing System from Everguard TPO.  This light grey colored membrane is smooth type, polyester scrim reinforced thermoplastic polyolefin.  This thermoplastic roofing does not allow water penetration and has a UL Class A fire rating. 
Sustainability Features
Falling under LEED Gold for New Construction, the Denver Police Department Crime Lab has multiple sustainable facets. Water usage in the building was reduced by using low-flow fixtures. In addition to this, 20% of the materials in the building are recycled. Listed below are some other features that were placed into the building to achieve the LEED Gold rating:
- Heat Island Effect
- Light Pollution Reduction
- Water Efficient Landscaping
- Construction Waste Management
- Daylight and Views