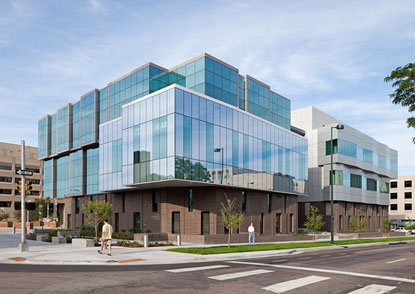 Welcome!
You've reached my CPEP site! Try not to stumble, it's a work-in-progress.
The Capstone Project Electronic Portfolio (CPEP) is a web-based project and information center. It contains material produced for a year-long Senior Thesis class. Its purpose, in addition to providing central storage of individual assignments, is to foster communication and collaboration between student, faculty consultant, course instructors, and industry consultants. This website is dedicated to the research and analysis conducted via guidelines provided by the Department of Architectural Engineering. For an explanation of this capstone design course and its requirements click here.
The Denver Police Department Crime Laboratory houses all nine of Denver's forensic units. With a façade modeled after the structure of a DNA molecule, the labs are built to adapt to constantly evolving technologies. Through my thesis, I will be delving into the lighting and electrical systems already in-place within the building. My design will provide the city's investigative team with light that will lend to the best forensic services.