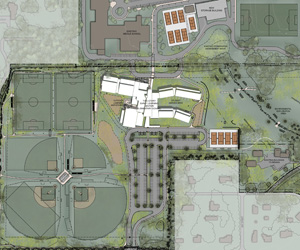 Building Statistics
Building Name:

Phoenixville Early Learning Center and Elementary School

Building Address:

Phoenixville Area School District
101 West Pothouse Road
Phoenixville, PA 19460

Occupancy Types:

Educational: including classrooms, offices, cafeteria, gymnasium,
commercial kitchen, and a media center.

Total Size:

152,000 square feet

Stories Above Grade:

Two Stories - 41' 10"

Dates of Construction:

Starting Construction - Fall 2015
Finish Construction - Spring 2017

Project Cost:

$80 Million for the overall project cost

Project Delivery:

Design-Bid-Build

Project Team:
Architecture
Phoenixville Early Learning Center is a 152,000 square foot educational building designed to hold 1,526 occupants. The building is comprised of two stories above grade and will accommodate grades K-5. There are three wings to the building as well as one large common area and an outdoor learning amphitheater. Wings of the building, as shown in figure 1 below, are filled with learning spaces comprised of group learning areas as well as learning studios. Within the large common area there are administration spaces, the learning resource center, support spaces,a media center as well as a full size gymnasium as displayed in figure 1 below.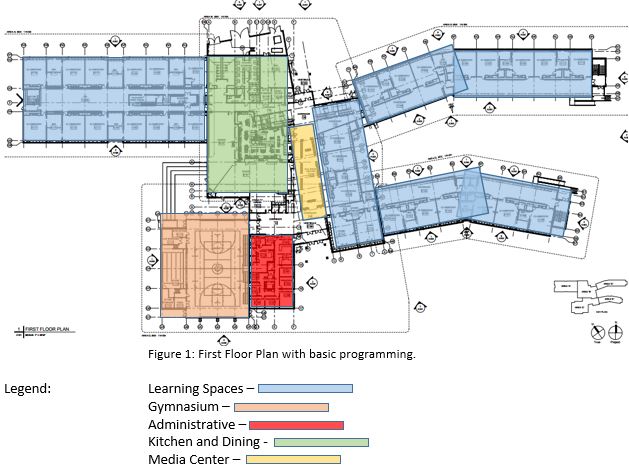 ________________________________________________________________________
| | |
| --- | --- |
| Figure 2: First Floor Media Center | There are two main architectural areas that attract attention in the building. One of the areas is the Media Center which is on the first and second floor and displayed in figure 2. The first floor is open to the second floor and the ceiling above, making the feeling of the space light and airy. Decorated throughout the space are bookshelves, with large reading chairs for comfort. In the second story there is a large "Learning Tree" that overhangs the Media Center. This tree is made from structural steel covered in fabric wrapped wood veneer panels on metal studs. |
| Figure 3: Learning Stairs Atrium | The second main architectural feature area consists of two sets of "Learning Stairs" which forms a large atrium, as shown in figure 3. These stairs are for students to sit on and read or do work. They have a view out through the exterior façade and is a main artery of the building. |
Historical Requirements:
There were no historical requirements in the design of this building.
Zoning:
Under Schuylkill township Zoning. Zoning codes mainly referenced national codes listed below.
Code Compliance:

Major codes used in the design are listed below;

International Building Code (IBC) 2009
International Plumbing Code (IPC) 2009
International Mechanical Code (IMC) 2009
International Electrical Code (IEC) 2009
International Energy Conservation Code (IECC) 
National Fire Protection Association (NFPA)
National Electric Code (NEC)
2012 ADA Standards for accessible Design ANSI 117.1
________________________________________________________________________

Building Enclosure
Façade Materials:

There are three main Exterior Wall construction Types. The first is a cavity wall construction with 4" Stone Veneer. The second wall with cavity construction has a sand blasted CMU veneer. The third exterior is a prefinished cementitious siding product system. Assemblies for the cementitious siding product system is designed in two assemblies, the first being stacked, as displayed in figure 4, and the second being a lapped siding wall system, shown in figure 5. There is a glazed storefront wall over the main entry way that uses a high performance organic coating finish on aluminum. The windows are installed with a tempered insulated glazing and tinted with low "E" Coating on the interior face of exterior lite. Spandrel glazing is also used on windows throughout the building.

(Click picture to see larger view)

Roofing Materials:

The roofing will be constructed with PVC rooving with aged R-30 Rigid polyisocyanurate insulation. Structural steel will be sloped where possible to provide drainage. The roof will drain through aluminum gutters, thru wall scuppers and prefinished aluminum rain water conductors will distribute the water to an underground drainage system. Figure 6 below, demonstrates the connection with the curtainwall frame while also showing the sloping roof and Rigid Polyiso Insulation.There will also be a green roof which will be highlighted in the sustainability features.

(Click picture to see larger view)
Sustainability Features
A Green Roof will be constructed over the dining area; this feature will be minimizing the heat island effect.
The green roof will be extensive and feature green roof plants that are low maintenance. Sunshades and
lightshelves have been added to all windows with a southern exposure, reducing peak loads in the rooms
and allowing daylight to travel further into the building.  Energy Recovery Units were utilized in the mechanical
system to reclaim heat from existing air sources. High efficiency boilers were also used to minimize energy
usage. Furthermore, high efficiency electronic plumbing fixtures were specified to reduce water usage.
The project did not pursue LEED Certification, however earned a 90 point ENERGY STAR score.
Mechanical Systems
Overall System: The Phoenixville Early Learning Center and Elementary School is served mainly by ten Energy Recovery Ventilators (ERV) that condition the air and provide ventilation to the majority of the building. These ERV units are complimented with four single speed fans to exhaust the building. The building design temperature which the ERV units supply air is 70 degrees in the Winter and 75 degrees in the Summer.
Heating and Cooling: Three high efficiency 2000 MBH boilers are used within the building to provide hot water and service the mechanical equipment. Electric baseboard radiation and unit heaters were also utilized within the service areas of the building. Reheating or condensing of water within the building is performed by a 950 GPM Plate Frame Heat Exchanger. A 950 GPM Cooling Tower on the roof provides 85 degree water to the rest of the mechanical units and fixtures. Ductless split system air conditioners are used in service spaces to cool and dehumidify the air.
Zone Control: Water source heat pumps provide zone control throughout the building. In total, 88 water source heat pumps and seven rooftop water source heat pumps are going to be installed. These heat pumps are located within small mechanical closets in the zones. Heat pumps are all connected and controlled through a mainframe computer.
Lighting/Electrical Systems
Lighting: Occupancy sensors are located within rooms to automatically shut off after a certain amount of time when the space is no longer occupied. Dimming controls are also available in classroom pods for four lighting scenes within the space. Classrooms will have daylight sensors for daylight harvesting. LED's will be used mainly for downlights, exterior lights, and accent fixtures, whereas, long life fluorescent fixtures will be the primary lamp throughout the building. Accents are going to be used in the main lobbies and entrance areas for added architectural effect.
Electrical: The Early Learning Center is served with a 277/480V, 3-phase, 4-wire, 1600A underground service from a pad mounted utility transformer. This service connects to the main switchboard which is connected into the Owner's telecommunication network and distributed to panels. Stepdown Transformers will supply 120/208V panelboards that are installed throughout the building. HVAC and Lighting loads will be on 277/480V panels. There will be a 100KW/125KVA, 3-phase, 4-wire, natural gas fired emergency generator installed outdoors near the main electrical room. The emergency generator will provide power for lighting, receptacle loads and selected HVAC/IT equipment.
Construction
The Early Learning Center and Elementary School is managed by a General Contractor and four prime contractors awarded with a Guaranteed Maximum Price contract. Comprehensive weekly meetings with the Owners are determined to keep the schedule and budget on track. The building broke ground on September 28th, 2015 and is scheduled to be opened for Fall 2017
Structural Systems
The structural system of the building is comprised of many different systems. The lateral loads are resisted with diagonally braced steel frames. The braced frames are a various number of forms to allow for architectural details. In certain areas, rigid moment frames are used because the braced frames cannot be accommodated. Exterior CMU walls are designed as masonry shear walls providing lateral load resistance to the rest of the building. The building superstructure is all composted of structural steel members. Floors are composed of 3-1/2" Normal weight contracted topping on 2" 20 GA composite metal floor deck. Shear studs are to be welded to the wide flange beam and girder framing, providing composite action.
Fire Protection
Service to the building will be through a 6" pipe extended from the street. A full building wet pipe sprinkler system with standpipe system for the stage area is to be installed in accordance with NFPA 13. Upon installation a water flow test will be conducted by the Fire Protection Contractor testing for flow and pressures.
Building Automation System
A building automation system (BAS) is to be installed through a network on access with the internet. The BAS will be capable of controlling operation of all HVAC equipment, including the monitoring of temperatures and air flow rates compared to set conditions.