Final Report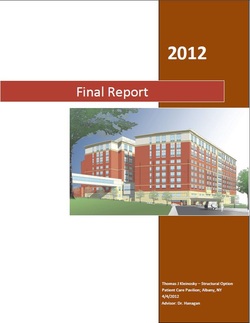 Click
image or
here
to view the Full Final Report
Click here to view the Executive Summary
The goal of this thesis is to perform a progressive collapse analysis per Unified Facilities Criteria 4-023-03 to consider the removal of load bearing elements. Efficient members were designed to resist the collapse of the Patient Pavilion for these column removals. Per occupancy category IV the UFC requires three design methods that must be performed to resist collapse of the Patient Pavilion, these are:
1. Tie-Forces Method
2. Alternate Path Method
3. Enhanced Local Resistance
A façade study was performed for the existing façade, based on those results, a new façade precast façade was proposed increasing the R-value of the wall and decreasing the shading coefficient of the glazing. Studies were performed to determine the amount of energy savings per year that would result from the new performance enhanced system
A site logistics study was performed for the precast façade to determine the construction feasibility of the façade. It was determined the constructability for the precast façade was very difficult therefore the idea was disregarded and a site logistics was created for the construction on the Patient Pavilion.
Two connections were designed to meet MAE requirements for the masters portion of this thesis. The two connections designed were an extended shear tab connection and a welded unreinforced flange moment connection.
---