Technical Report 1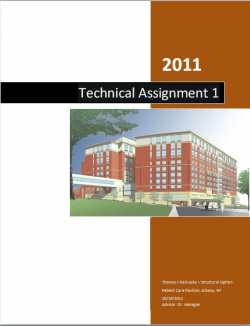 The purpose of the first technical report is to analyze, understand, and report the existing structural conditions for the Patient Care Pavilion in Albany, NY. The Patient Pavilion is an expansion of the Albany Medical Center Hospital (AMCH) campus, completion scheduled for June of 2013. The Patient Pavilion consists of two phases, Phase 1 is to construct a new six-story medical center, and Phase 2 is a four story vertical expansion of the Patient Pavilion. The structural analysis and design of the hospital was for a ten-story building, preventing the task of reinforcing lower existing members for the vertical expansion.


---
Technical Report 2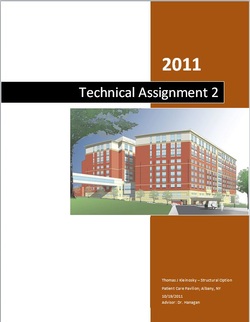 In this report, an analysis was performed of three alternate floor systems for the Patient Pavilion. Hand calculations supplemented with computer-aided calculations to determine schematic sizes for each system. Each system was then compared with each other, as well as the existing system, based on the weight, deflections, depth, cost, constructability, and architectural impacts. The existing floor system is composite steel framing with composite steel
deck, the alternate systems designed in this report include:

· Two-Way Flat Slab with Drop Panels
· One-Way Concrete Slab with Concrete Beams
· Hollow Core Precast Plank on Steel Framing


---
Technical Report 3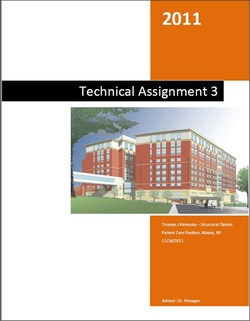 The purpose of this report is to analyze and gain a greater understanding of the lateral system for the Albany Medical Center Patient Care Pavilion. The structure of the Patient Pavilion is composite steel framing with 14 braced
frames as well as 4 moment frames, sitting on a mat foundation or subgrade concrete shear walls. This report includes code checks of drift, story drift, and torsion. Also strength checks were performed for the lateral resisting
members.


---