Revised Thesis Proposal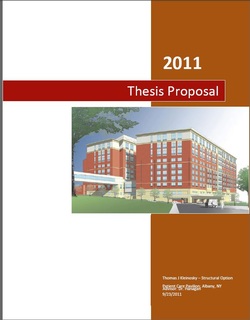 Structural Depth

For this proposal an analysis of the facade will be done to resist blast and upon completion of that an in depth analysis of progressive collapse will be done.Two design methods will be considered when analyzing the Patient Pavilion for progressive collapse, both of which will be done in steel. Prior to the design for progressive collapse, the façade will be reevaluated for blast utilizing precast panels that will replace the existing façade. Upon completion of the façade design, the spandrel beams and supporting columns will be redesigned to hold the new load from the curtain wall system. Once the building façade is redesigned as well as the perimeter gravity system, two methods of progressive collapse are going to be utilized to analyze the Patient Pavilion:
Tie-Forces (Indirect Analysis)
Alternate Path (Direct Analysis)
Mechanical Breadth - Façade Study

The existing façade for the Patient Care Pavilion is hand-stacked brick tied into each floor. A heat transfer analysis will be performed on the existing façade to determine its thermal efficiency. Based on the results of the analysis a new curtain wall façade will be chosen to decrease the heat loss. Computer modeling programs will be utilized to model an exterior room in the Patient Pavilion.
Construction Management Breadth - Cost and Schedule

The focus of the construction management breadth is to utilize concrete precast panels for the façade rather than the existing façade that is comprised of hand-stacked brick. Cost analysis will be performed for material and labor cost as well as reducing the project timeline that would produce savings associated with general conditions cost.


---
Thesis Proposal
12/12/2011