| | |
| --- | --- |
| Owner | Towson University |
| Construction Manager | Gilbane Building Company |
| Architect | Hord Coplan Macht, Inc. |
| Associated Architect | Sasaki Associates |
| Structural Engineer | Faisant Associates |
| M/E/P Engineer | James Posey Associates |
| Civil Engineer | Site Resources, Inc. |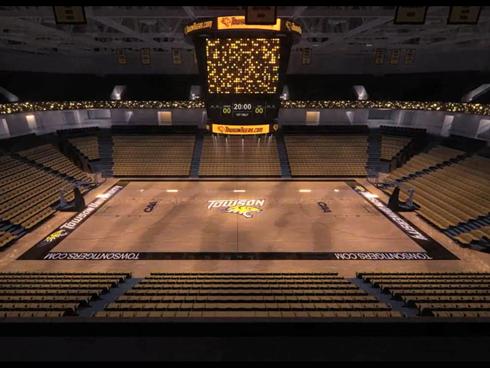 Architecture:
This arena, scheduled at 120,000 (GSF), will house approx. 5000 seats, several executive level suites and concession stands. The 5000 seats will consist of bolted sections to the precast and retractable floor seating. Press boxes and audio/video equipment rooms will allow for broadcasting sporting events. The exterior of the new arena consists of Terra cotta, metal panels, 12" & 6" C channel, storefront glazing, curtain wall, a clear story, and split face CMU's. The first floor consits of two elevators, press room, chiller room, main electrical & tel/data room, 3 mechanical rooms, offical lockers, and two connection stairwells to the existing center. On the second floor there are three concession stands, three mens bathrooms and 4 womens bathrooms, ticketing areas, hall of fame room, and a feature wall. The third level of the arena is home to a presidents suite, a hospitality suite, donors suite, multipurpose room, as well as communications and electronics rooms for broadcasting. The fourth floor of the arena holds more seats, a camera platform for coverage of games and events, and the catwalk. This will all be housed under a structural steel frame sitting on a continues spread footing foundation, with a steel truss system supporting a built-up roof and two custom, 47,000CFM, air handling units.
National Code Models:
IBC 2009
Structural System:
Starting from the ground up, Tiger Arena is built on foundation systems consisting of retaining walls, spread and continuous footings, and grade beams. The retaining walls are located along the entire north and east exterior. This is due to the large change in elevation from the NW corner to the SE. Grade beams are found interior, between the exterior footings and interior footings for the bowl. The grade beams will support interior concrete columns and the one way slab above. CIP concrete walls, columns and beams, will be resting on theses foundations systems and support the above slabs and structural steel. All CIP concrete will be 4000psi normal weight concrete with grade 60 r-bar. A Steel braced frame system will tie into the CIP concrete columns at the second floor. All building steel will be ASTM A992, grade 50, with bolted connections. Precast Concrete Seat riser sections will be support by steel risers and beams from below. To complete the structure is a Pratt truss system consisting of 11, three piece trusses.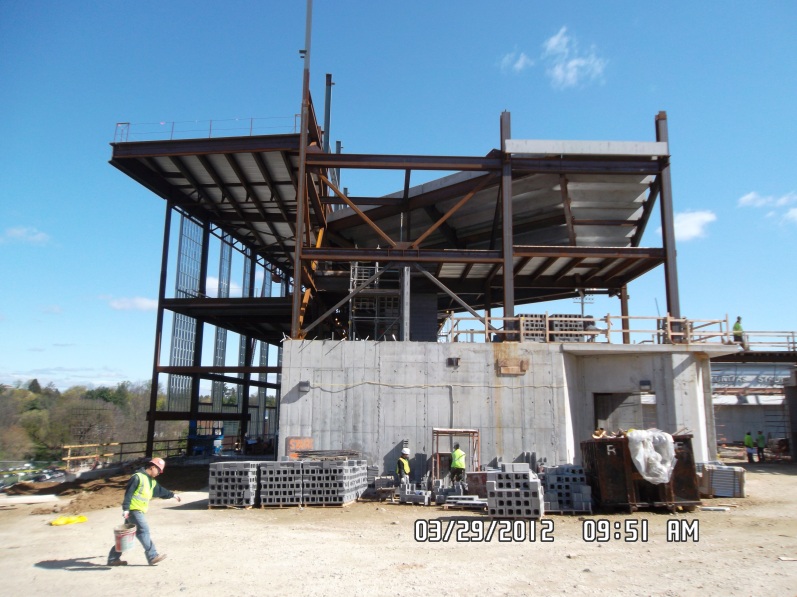 Mechanical Systems:
Heating for this building will be provided by two 400hp, four pass, fire tube boiler/burner set ups. These boilers will be set up to run parallel or independently from each other. Unlike the boilers they are replacing, these units are both natural gas and oil fired, because of this BGE will be required to run natural gas lines to the facility. Two centrifugal Chillers rated at 450 tons each will provide chilled water for the building and two cooling towers rated at 450 tons each will provide cooling water for the chillers, each cooling tower will be rated for 1125 GPM and 450 tons of cooling. Chilled and heating water will be circulated through the building to various air handlers for temperature and humidity control within the arena. Two custom air handling units made by Air Enterprises, rated at 47,000 CFM each will be used in the main portions of the arena for climate control and will be located on the roof. In addition to these custom units, eight smaller air handling units will supply conditioned air to offices and suites throughout the building. An ERU or energy recovery unit will be located on the roof of the arena to allow some of the air to be diverted through the building. This ERU will be rated for 11,000 CFM.
Electrical Systems:
Power to the existing center arena is supplied by 15kV underground feeders; these lines ran from the utility company to transformers located next to the arena, which have been moved for construction. The feeder is now run through a duct bank that supplies power to the construction trailers and also the building via a different underground run. Moving this utility was required due to the new stadium location. Switch gear for these 15kV lines will be provided with the new construction and transformers will be used to step down to 480/277V 3 Phase. From there, the building electric is fed to transformers located in mechanical and electrical rooms to step the power down to 208/120V. Equipment and motors throughout the facility will use 480v or 277v electric unless otherwise noted in specs and drawings. Three 150kW generators will be installed for emergency power and will be located near the boiler room outside the existing Towson Center. Air handling units, pumps, fans and other specialties will be furnished with variable frequency drives for motor control where specified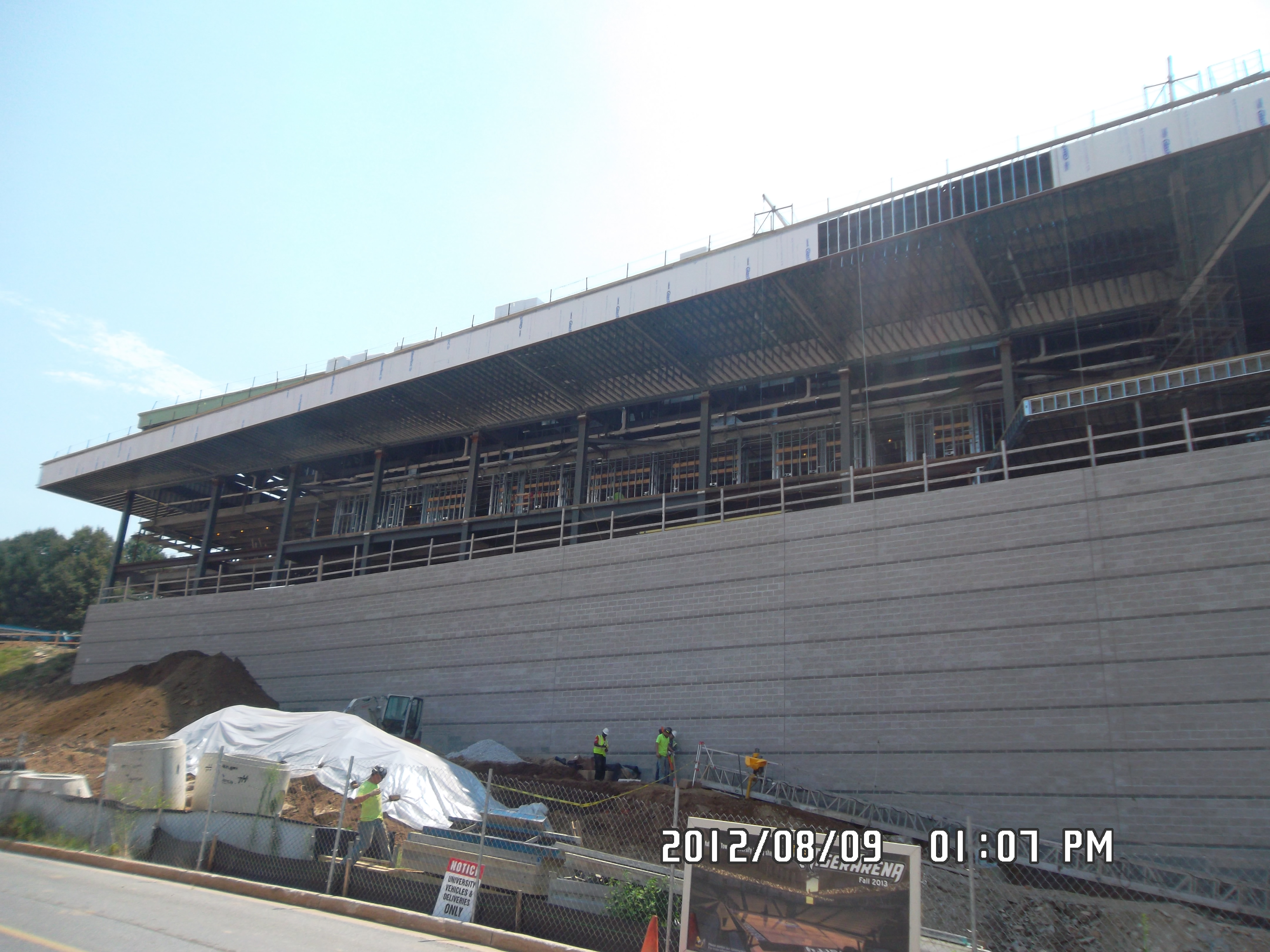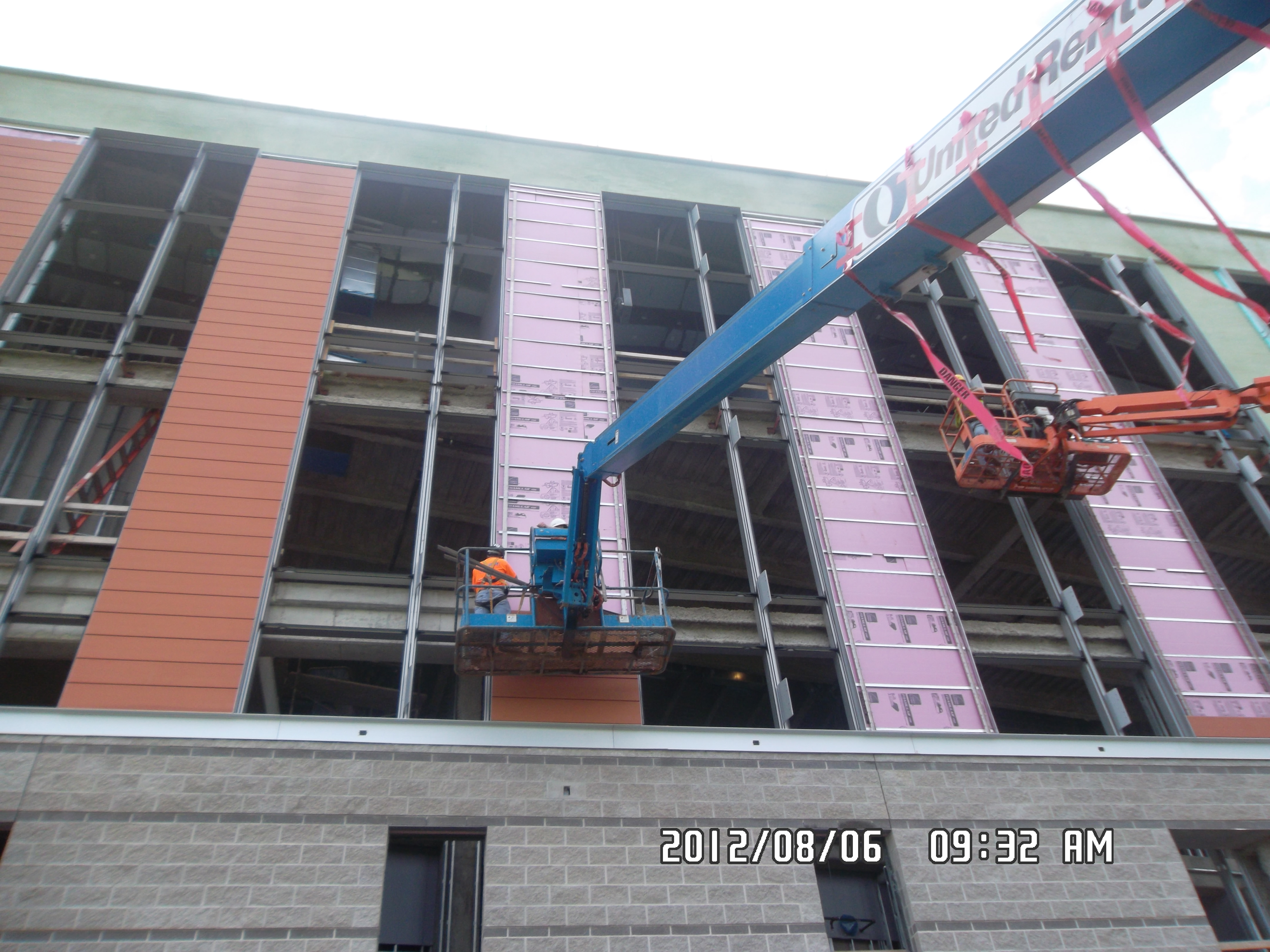 Building Facade:
Towson Arena is made of several unique façade systems that are used to visually link the adjacent Unitas stadium and the existing Tiger Center to it. These systems include Terracotta, Zinc panels (Standing Seam and Flat Lock), 12" and 6" C-Channel, Split Face CMU, Ground Face CMU, Curtain Wall, Glazing, and a Clear Story. The structure of the façade is made up of cast-in-place concrete and 6", 16 GA. structural stud framing. Wrapping the structural studs is a 5/8" layer of moisture and mold resistive Glasrock. A layer of liquid applied air barrier is sprayed over the glasrock and all exterior cast-in-place concrete. The North, Unitas facing, façade is a used to draw the spectators into the Arena with a long promenade walkway from Auburn drive and large span glazing to allow for a view into the beyond space. Covering the promenade is a canopy roof with zinc soffit that is returns from the façade above seamlessly. Also along this north façade is a large Splitface and Groundface wall, terracotta panels, and a clear story above the canopy that wraps the entire building.
Roofing:
The roofing system is a Two Ply Styrene-butadiene-styrene (SBS), touch applied, White granular membrane with an Aluminum roof edge set in multi-purpose MB flashing cement. Below the SBS cap sheet is a tapered, 4"min, ISO 95+ Insulation, covered with ¼" Densdeck and sealed with a base sheet to create a water, vapor and air barrier. At the perimeter of the roof there is wood blocking to support a perlite cant strip and several layers of flashing to allow for proper water from and drainage around the edges. To top the roof of, walk pads will be installed to allow for access to the Air handling units and ERU's.
Sustainability Features:
Towson Tiger Arena's LEED Gold design encompasses many sustainable features including low VOC content for all interior products, all wood material meets FSC and all waste will be recycled according. In addition to these features, Towson will utilized Energy Recovery units (ERU's) to capture energy from the exhausted air as well as a large clear story around the entire truss level to introduce day lighting into the "bowl" of the arena. To improve the indoor air quality within the arena, two centrifugal chillers will be installed to supply chilled water to several Air Handling Units (AHU) throughout the building.