Building Statistics
Building Statistics 1
Building Name

75 Ames St., Broad Institute Expansion

Location and Site

75 Ames St., Cambridge, Ma.

Building Occupant

Broad Institute

Occupancy

Mixed Assembly
Restaurant (A-2 and A-3)
Business; Office/ Shell for future office tenants (B)
Storage (S-1 and S-2)
High Hazard Storage and
Lab (H-2, H-3 and H-4),

Size

250,000 sq ft

Number of Stories

15-story high-rise above grade
12 occupied floors above grade
3 levels of mechanical pent house.
1 basement level below grade

Dates of Construction

January 2012 – Early 2014

Cost

$188,000,000 Building Cost

Project Delivery Method

Design-Assist
Owner
The Broad Institute
7 Cambridge Center
415 Main Street
Boston, Massachusetts 02142
617.714.7000
http://www.broadinstitute.org/

Architect
ELKUS | MANFREDI  ARCHITECTS
300 A Street
Boston, Massachusetts 02210
617.426.1300
http://www.elkus-manfredi.com/

Project Manager
Boston Properties
The Prudential Center
800 Boylston Street, Suite 1900
Boston, Massachusetts 02199
617.236.3300
http://www.bostonproperties.com/

Geotechnical Engineer
Haley & Aldrich, Inc.
465 Medford Street
Boston, Massachusetts 02129
617.886.7400
http://www.haleyaldrich.com

Civil Engineer
Vanasse Hangen Brustlin, Inc
99 High Street, 10th Floor
Boston, Massachusetts 02110
617.728.7777
http://www.vhb.com/

Structural Engineer
McNamara/Salvia Inc.
160 Federal Street
Boston, Massachusetts 02110
617.737.0040
http://www.mcsal.com/

MEP Engineer
Bard, Rao + Athanas
Consulting Engineers, LLC
311 Arsenal Street
Watertown, Massachusetts 0242
http://www.brplusa.com/

Code Consultant
Hughes Associates, Inc.
5 Mount Royal Avenue, 3rd Floor
Marlborough, Massachusetts 01752
508.624.7766
http://www.haifire.com/

Exterior Envelope Consultant
Gordon H. Smith Corporation
200 Madison Avenue, Suite 701
New York, NY 10016-3901
212.696.0600

Elevator Consultant
Lerch Bates
27 Wormwood Street, Suite 100
Boston, Massachusetts 02210
781.421.2025
http://www.lerchbates.com/

LEED Consultant
The Green Engineer
50 Beharrell Street
Concord, Massachusetts 01742
978.369.8978
http://www.greenengineer.com/

Lighting Consultant
HDLC
10 East 38th Street, 5th Floor
New York, New York 10016
212.529.7800
http://www.hdlclighting.com/

Vivarium Consultant
Jacobs Consultancy, Inc.
303 South Broadway , Suite G20
Tarrytown, New York 10591
914.333.1110
http://www.jacobsconsultancy.com/

Construction
Suffolk Construction
65 Allerton Street
Boston, MA 02119
617.445.3500
http://www.suffolkconstruction.com
Architecture
ELKUS | MANFREDI Architects goal was to consolidate the many existing research and development labs and offices of the Broad Institute, which are spread throughout Kendal Square, to one location, 75 Ames Street. The result was a 15 story high rise on Ames Street incorporating an existing garage and a connection to the Broad Institutes current main offices at 7 Cambridge Center.

Windows push through a masonry assembly projected from a curtain wall on the Ames Street façade (top image left) of the building standing out from the surrounding structures without taking away from them. A light weight curtain wall is used on the Ames & Broadway corner (bottom image left) running to the very top emphasizing high. The three other façades reference the design of 7 Cambridge Center, connecting the existing Broad Institute office to this new expansion.

75 Ames worked to complete the streets frontage and interact with street life. This was done with the use of 4,000 SF of retail/restaurant space on the first floor. The upper floors are used for research and development offices and labs, and the top three floors, making up a cake like structure, house the mechanical equipment for the whole building.
Zoning
75 Ames was zoned in accordance with Mixed Use Development District: Cambridge Center (Article 14 of the Cambridge Zoning Ordinance) that allows a maximum height of 250', max floor area ratio of 8, no required setback, will provide 125 off-street parking spaces.
Historical Requirements

This building has no historical requirement
CODES
1. Accessibility

a. Massachusetts Architectural Access Board Regulations, 521-CMR
b. Americans with Disabilities Act Accessibility Guidelines (ADA)

2. Building

a. Massachusetts State Building Code (780 CMR) 8th Edition, which is an amended version of the 2009 International Building Code

3. Electrical

a. Massachusetts Electrical Code, 527 CMR, 12.00. The Massachusetts Electrical Code is an amended version of the 2011 National Electrical Code (NFPA 70)
b. Massachusetts Fire Prevention Regulations, 527 CMR, 27.00. The 2005
Emergency and Standby Power Systems Code (NFPA 110) is adopted by 780 CMR and NFPA 70.

4. Elevators

a. Massachusetts Elevator Regulations, 524 CMR

5. Fire Protection

a. Massachusetts Fire Prevention Regulations, 527 CMR
b. International Fire Code (IFC), 2009, as adopted by 780 CMR

6. Mechanical

a. International Mechanical Code, 2009, as Adopted by 780 CMR

7. Plumbing

a. Massachusetts Fuel Gas and Plumbing Codes, 248 CMR

8. Other

a. Additional other National Fire Protection Standards (NFPA), as adopted by 780 CMR
Façade
The façade of 75 Ames is noted by the stone/terra cotta broken up by windows and curtain wall systems. Spandrel glass is used in the curtain wall system to hide structural elements, concrete slab, and the ceiling plenum.

The top three floors compose the mechanical space and roof mounted cooling towers which are all enclosed by aluminum panels that are used to create a cake like appearance on the roof of the building. The precedent set by the façade on the lower floors is followed on mechanical level M1 by the use of continuous louvers constructed in the same pattern.

The Ames street façade clearly stands out from the rest which match the exterior design of The Broad Institute next door at 7 Cambridge Center using precast of white cement and local stone.

Below shows the 4 exterior elevations with the materials used.
LEGEND:
| | |
| --- | --- |
| | Terra cotta with Viracon vision glass, spandrel with shadow box translucent glass |
| | Terra cotta with aluminum louvers |
| | Vision glass, translucent glass curtain wall |
| | Precast white cement with aluminum louvers |
| | Precast white cement with metal panel spandrel and vision glass |
| | Mechanical rooms metal panel |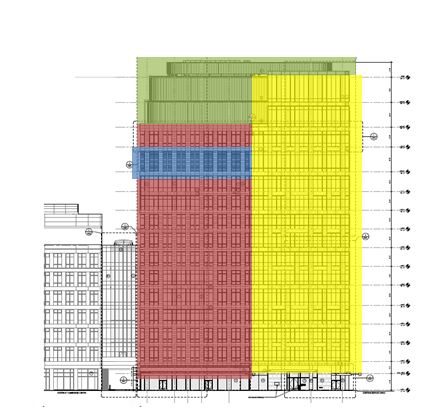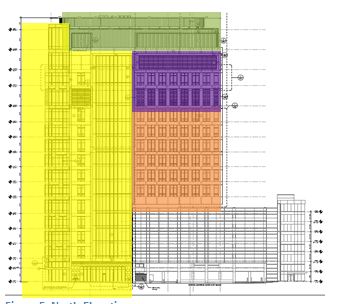 East North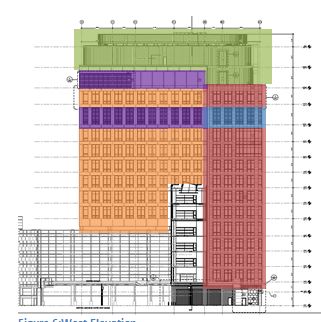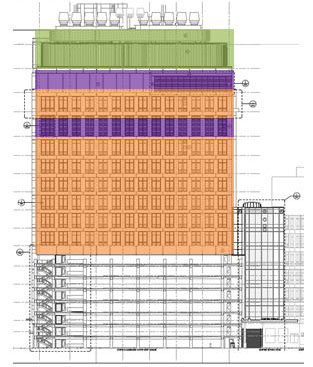 West South
Roofing
The roofing is made up of an EDPM roofing system. 4" min. ext. polyesterine insulation.
Sustainability Features
Architecturally 75 Ames was designed with well-insulated glass along with a high shading coefficient to reduce the thermal load inside the building.
Building Statistics II
Construction
Construction on 75 Ames is performed by Suffolk Construction Company general contractors for Cambridge, MA.
Mechanical
Hot Water/Steam
The air handling units and heating and ventilating units 2 & 3 are supplied hot water by two (2) 500 BHP preheat fire tube hot water boilers distributed by two (2) 850 GPM, 13.27 BHP end suction pumps each on variable frequency drives with third pump is placed in parallel with the primary pumps to act as stand-by. Building terminal reheat is fed by four (4) 120 BHP hot water condensing boilers with one as standby. The primary pump is a 975 GPM, 14.9 BHP, split case pump on a variable frequency drive. An identical pump is placed in parallel as standby. Lastly there are two (2) 215 BHP MPS boilers used for humidification's and process steam loads.
Chilled Water
There are three (3) 1000 ton centrifugal chillers utilizing R-134a refrigerant. Three (3) split case 1712.3 GPM, 61.9 BHP chilled water pumps are used to distribute the chilled water to air handling units 1 through 4. Condensing water is pumped to three 1000 ton cooling towers on variable frequency drives by three (3) 3000 GPM, 68.67 BHP, and split case condenser water pumps. Air handling unit 5 and processed chilled water loads are supplied by two (2) 450 ton chillers and two (2) 770 GPM, 24.9 BHP processed chilled water pumps. Condenser water is pumped by two 1350 GPM, 28.4 BHP, split case pumps to two 450 ton cooling towers on variable frequency drive.
Air Distribution
75 Ames uses four variable air volume 115,000 CFM 100% outside air AHU's to supplying the basement through to level 11. Level 12, the vivarium, is supplied by one variable air volume 60,000 CFM 100% outside air AHU. The exhaust air is handled with two 230,000 CFM dedicated exhaust air handling units. Each zone is supplied by separate variable/constant volume terminal box with reheat coils. Thermostats are placed in every zone to monitor temperatures and co2 sensors are used to detect occupancy in some zones.
Electrical
The electrical system of 75 Ames is supplied by 13.8KV switchgear connecting into an existing NSTAR wiring located on AMES Street. Two 2000KW/2500KVA, 277/480V, 3 phase, 4 wire, NO. 2 diesel engine drive generators are to be parallel to the switch gear with an automatic transfer/distribution switchboard. This power supply connects two five (5) 480 main switchboard line-ups. Three of the lineups are 4,000A for laboratory power and building mechanical equipment loads, one is rated 480V, 3-phase, 4-wire for the retail tenant services and the last is rated 480V, 3-phase, 3-wire for fire pump.
Lighting
A low voltage lighting control system is provided as a component of the Building Automation System (BAS). This BAS consists of lighting control panels with individual relays, momentary contact switches, system photocells, and system integral time clocks. In general recessed linear T5 fluorescent fixtures are used in labs, suspended linear T5 fluorescent fixtures are used in offices and a mixture or recessed light slot fluorescent and recessed light slot LED lights are used in conference rooms.
Structural
75 Ames is supported by 48" to 60" diameter caissons and high capacity mini piles with a minimum of 12 " diameter with a high capacity of 280 tons. The Frame is typically of W24x94 girders for floors 1-5 floors 6-M3 typically uses w18x35 steel and plug 72x30. The typical floor construction is 3"x18ga. Composite metal floor deck (galvanized) with 4 ½" normal weight concrete cover, total thickness 7.5" Reinforced with #4@18 EA. WAY TOP or 5 ¼" normal weight concrete on 3" x 16ga. Composite metal deck reinforced with 4x4-w4.0x40 WW. W14 steel columns are typical throughout the structures and HHS 10x10x5/8 and w14's are used in the braced frame system.