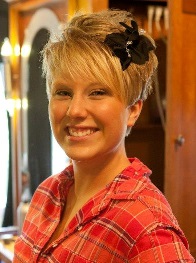 Alyssa Michelle Stangl - Student Biography
Alyssa Stangl is a 5th year student in the Architectural Engineering Program at Penn State University. She will graduate in May 2014 with an Integrated Bachelor/Master of Architectural Engineering degree, with a focus in structures. She is also currently working as a Teaching Intern for AE 403 - Advanced Design of Steel Structures for Buildings.
This past summer, Alyssa participated in a structural engineering internship with Atlantic Engineering Services, a structural engineering consultant located in Pittsburgh, PA. Throughout the summer, Alyssa worked on many different projects, including both steel and wood structures, and learned to use programs such as RAM, STAAD, ENERCALC, and TEDDS. During summer 2011 and summer 2012, Alyssa worked as an intern with Mid-State Construction, a general contractor located in Altoona, PA. Here, she assisted the project manager with multiple projects, helping with submittals, RFI's and O&M Manuals. She also assisted the estimator by performing takeoffs and soliciting quotes.
Alyssa passed the FE exam in October 2012 and will gain EIT status upon graduation in May 2014. Alyssa will begin working for Jacobs Engineering in Arlington, VA as an entry level structural engineer in June 2014. She looks forward to working towards and obtaining her Professional Engineering (PE) license.
Going beyond academics, Alyssa is involved in University activities. She has been a mentor member of the Student Society of Architectural Engineers for four years, where she has had the opportunity to mentor underclassmen in AE. Alyssa has also been a member of the Structural Engineers Association of Penn State for three years. Alyssa also enjoys activities such as tennis, Zumba, and hunting.
Click Here to View Alyssa's Resume
Click Here to View Alyssa's LinkedIn Profile