2B + G + M + 7 DEVELOPMENT AT MANSOURA
DOHA, QATAR
RAMY LABNA (CONSTRUCTION MANAGEMENT OPTION)
_________________________________________________________________________________________________________________________________________________________________
CPEP Complete & Ready for Review
The Senior Thesis Final Report demonstrates and includes the research, conclusions and recommendations of the three main analyses conducted on the 2B + G + M + 7 Mansoura Development in Doha, Qatar. The analyses were conducted in an effort to find possible scheduling concerns and acceleration scenarios through the implementation of using Precast Concrete Panels, different construction practices and lastly different scheduling techniques.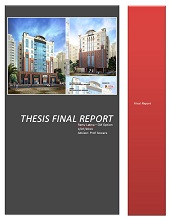 Click here for Executive Summary
Click here for Full Report
Note: While great efforts have been taken to provide accurate and complete information on the pages of CPEP, please be aware that the information contained herewith is considered a work-in-progress for this thesis project. Modifications and changes related to the original building designs and construction methodologies for this senior thesis project are soley the interpretation of Quaid Spearing. Changes and discrepancies in no way imply that the original design contained errors or was flawed. Differing assumptions, code references, requirements, and methodologies have been incorporated into this thesis project; therefore, investigation results may vary from the original design
Note: All images and renderings on this page are property of Petra Design.