Building Statistics
PART I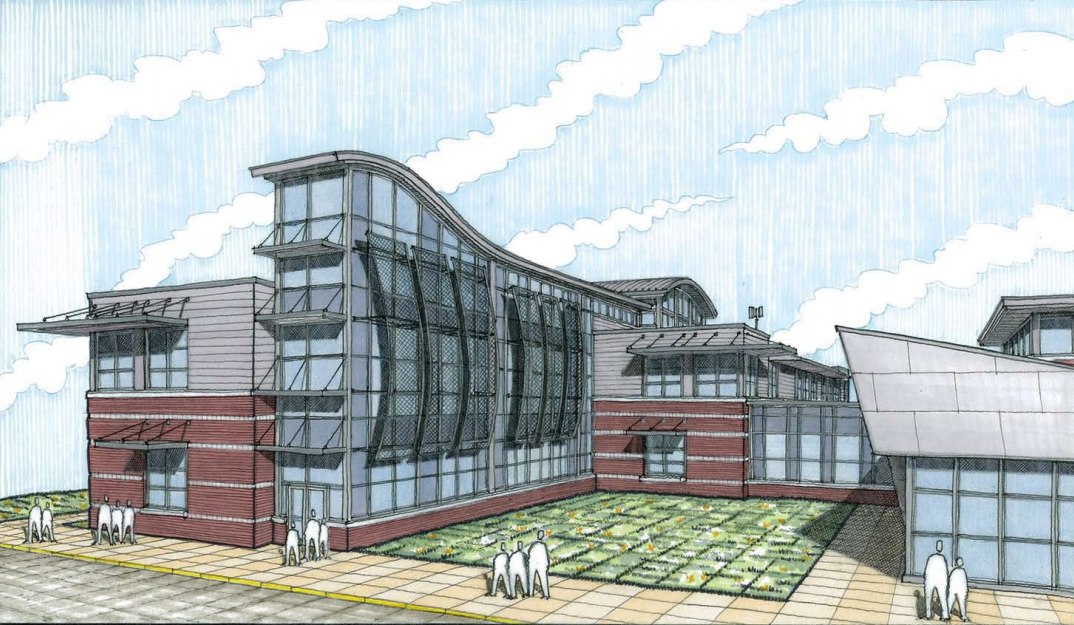 "Perspective- Courtyard View from East"
Architects: JC Pierce LLC
Engineering Consultants: Loftus Engineers, American Geosciences Inc, Phillips & Associates Inc
The Building
Name: Twin Rivers Elementary/Intermediate School*


   *Named Cornell  Elementary/Intermediate School during design process
Location: 1600 Cornell St, McKeesport, PA 15132 ‎
Occupancy: Educational
Owner: Mckeesport Area School District
Size: 127,000 sq-ft
Stories above grade/total levels:  2
Dates of Construction: February 2013-January 2014
Building cost:  $29 Million
Project Delivery Method:  Design-Bid-Build
Applicable National codes:  

IAPMO (UPC) - IAPMO Uniform Mechanical Code, 2006.
ICC (IBC) - ICC International Building Code, 2006.
ICC (IPC) - ICC International Plumbing Code, 2006.
ICC (IMC) - ICC International Mechanical Code, 2006.
ICC (IEC) - ICC International Electrical Code, 2006.
ICC (IFGC) - ICC International Fuel Gas Code, 2006.
ICC (IPSDC) - ICC International Private Sewage Disposal Code, 2006.
ICC (IECC) - ICC International Energy Conservation Code, 2006.
ICC (IFC): ICC International Fire Code, 2006.
ICC (IPMC) - ICC International Property Maintenance Code, 2006.
NFPA 70 - National Electrical Code, 2008.
NFPA 101 - Life Safety Code, 2006.
The Team
Owner:  Mckeesport Area School District http://www.mckasd.net
Architect:  J C Pierce   http://www.jc-pierce.com/
Project Manager: Pete Szymanski
General Contractor: PJ Dick.
http://www.pjdick.com/tpjwebsite.nsf/PJDick/Home?openDocument 
Project manager: Roberto J Frantangelo
Civil Engineers: Phillips & Associates, Inc.
1122 Mosside Blvd Wall, PA 15148
(412) 825-4090
Structural & MEP Engineers: Loftus Engineers http://www.loftusllc.com/
Project manager: Skip Fox
Environmental Engineers: American Geosciences, Inc.
Architecture
The Twin Rivers Elementary/Intermediate is of an innovative design that will thrust this old steel town of Mckeesport into the future. Much thought went into the design to make this the epitome of a 21st century school.
The single building will house kindergarten through sixth grade; however, two wings of the building will then act as their own school entity. Grades K-3rd on one side, 4th-6th on the other, and common areas, such as a gymnasium and a cafeteria, in the middle.
IBC (unsure of at this time)
Important Zoning Requirements:  Since the Twin Rivers School is to replace Cornell Middle School in the same site, there were no major zoning complications.
Historical Requirements: This building was not placed on a Historical site.  It was previously Cornell Elementary for the same school district.
Building enclosure:
Façade: Mainly Brick exterior
Glass curtain wall implemented near circulation areas
Roofing: Basic built up roof.
Sustainability Features:
Goal of LEED certification

As a team, JC Pierce and National Geosciences worked to get the project up to LEED standards. When the building is complete in early 2014, it is expected to receive a minimum of LEED Silver Certification.
Geothermal heating and cooling system

For an educational building, it was decided to use the mechanical system itself as an educational experience.  Some of the geothermal energy system will be visible from a glass enclosed mechanical room.
Grey water capture system

With this system intact, the school can save money on their water bill when the 800 students don't use the customary amount of water while flushing.
Significant Solar Shading

Louvers are to be placed above southern windows. Portions of the large curtain wall in the courtyard are to have metal mesh coverings to remove unwanted solar gain.
PART II

Mechanical Systems Design
Heating and cooling will be provided by a geothermal ground source heat pump system. Water to air heat pumps will be located in every classroom. The library and offices will be conditioned with variable air volume air handling systems with reheat. The gymnasium and the cafeteria will be serviced by single zone air handling units.
Ventilation for the specific zones will be accomplished with the air handling units. The classrooms will be serviced by two dedicated outside air systems.
Structural Systems Design
The Foundation comprises of shallow spread footing to the frost line with 4" slab-on-grade.
Framing:
The first and Second Floor framing is steel columns and beams. The roof is that of LH-series joists for the higher roofs of the cafeteria and the gymnasium.
Electrical Systems Design
Primary distribution system voltage: 208/120V, 3-Phase, 4 wire
Mechanical Loads
208V,3-phase: over 2 HP
208V, 1-Phase: between ½ HP and 2 HP
120V : less than ½ HP
Construction
The project is a design-bid-build project and the school district awarded contracts to JC Pierce and Gurtner for the construction.